This podcast content is for members of The C Method Academy only. The C Method Academy is our monthly members-only training and accountability program. Members get access to exclusive podcast content, Masterclass 'mini courses', Live Coaching Calls and our private community platform. If you want to rapidly develop your confidence, communication and leadership skills, I invite you to join us! Click here to learn more and join The Academy
[People] take and take and they never implement, and the person giving the advice never gets the reward of seeing it working…not enough people are willing to give before they take.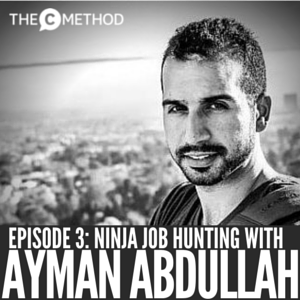 Ayman Abdullah is Business Development Sumo at AppSumo, a company that promotes great tools and products to "help you kick ass at work."
He also blogs about professional development, personal finance and lifestyle at BrokerChange.org.
When we did this interview, he was doing awesome things at Microsoft – and when the opportunity to work at AppSumo came up, he jumped at the chance.
It was extremely competitive – but it's no wonder Ayman got the job. He's done it before with other jobs and internships – even when he had NO industry experience. He even reached out to a well-known person to be his mentor – it took a long time and lot of work, but in the end he succeeded.
The way he thinks outside the box to get what he wants is incredible – and in this episode you're going to find out how he does it.
Ayman is proof that if you want something bad enough, and hustle your ass off, you'll get it. Enjoy!
Notes from the show:
Check out Charlie Hoen's 'Recession Proof Graduate'
How he reached out to his mentor – he friend requested on Facebook, said he wanted to work for free. Got not response, but worked for him anyway, and sent him stuff for months!
 Turns out, he didn't reply because he was busy with a book launch. After two months, he wrote to say "call me". And now they're good friends!
"When someone's a semi celebrity, they're getting thousands of emails a requests a week."
Craft your email to say "I'm going to do this anyway. Barring any objection, I'll come back in two weeks with the work completed."
Number one thing he learned from this experience? Everyone is human, and more than willing to help out people who are willing to put in the work.
Example of Benny Lewis from Fluent in 3 Months reaching out to Tim Ferriss: his only intention was to help Tim learn the Thai language. After that, Benny continued to help him. Only after that, did he ask if he could guest post on Tim's blog. And of course Tim said yes!
How to go about helping someone when you don't think you can help them
"Date your career before you marry it"
Whatever job you think is your ideal career – try it out before you jump into 3 years of school
"Fake internships" – how Ayman got an internship with a digital marketing firm even when they weren't taking interns. 
Use free work to find what you're passionate about.
What to do if you don't want to start your own business – show that you're not simply a student.
Show that you can break that mold. Go above and beyond your schoolwork. You then become a person who has years of experience more.
You don't need anyone to give you permission to do stuff. Wanna be a movie star? Make your own videos showing how good you are. Example of Jimmy Tatro, who started off on YouTube, and ended up with awesome Hollywood gigs like 22 Jump Street.
Connect with Ayman: