Are you a driven, high performing professional and want to take your career to the next level, but your lack of confidence is holding you back?
Or maybe you've reached a high point in your career — you've landed a challenging new job, you've been promoted or have taken on a new position — but you feel like you've been thrown in the deep end.
You find you're being asked to run meetings, lead teleconference calls, manage projects or present to key stakeholders…plus, people are now coming to YOU for advice.
These are all great responsibilities — BUT you've never had to do these things before, and no one's ever shown you how!
So, understandably, you may be struggling to speak with confidence and authority. You may feel like others are judging you on your level of experience. Or you may not know how to address a big team or speak to people at the executive level.
This is where having a personal coach can help. If you are committed to overcoming your fears and limitations, The C Method 1:1 Coaching Program may be for you.
Click here to apply for the program!
1:1 coaching with Christina has changed my life. Difficult situations and people no longer make me run and hide. I now have the tools, knowledge and confidence to deal with them head on in order to achieve the desired outcome that I was able to stop and identify first.

I am happier, more confident and satisfied with who I am. I am able to change the way I think, act, respond or don't respond. I now know I am capable of change and I have so many opportunities ahead of me to continue to benefit from what I have learned. Thank you Christina!
– Kellie, Customer Experience Manager | ON Semiconductor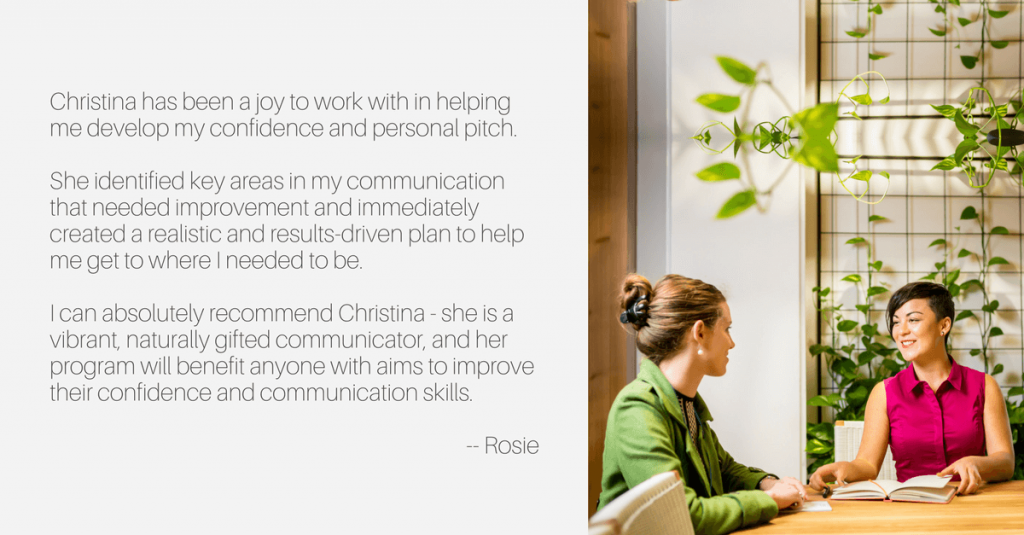 This program is for you if:
You want to speak with more authority to your team, your boss and external stakeholders
You get nervous when delivering presentations and answering Q&A from senior management and clients
You want to have more presence when you walk into the room, so that people take notice and show you respect
You want to be taken seriously and be looked up to as a leader and expert in your workplace and industry
You're passionate about what you do and committed to your personal and professional development
Click here to apply for the program!
Christina's ability to help her clients confidently communicate is the best I've seen. But what impressed me most was the way she listened, absorbed and creatively responded to my needs. I highly recommend Christina and will no doubt be using her in the future. Christina, I can't thank you enough.
– Marita, Project Manager | TANK Pty Ltd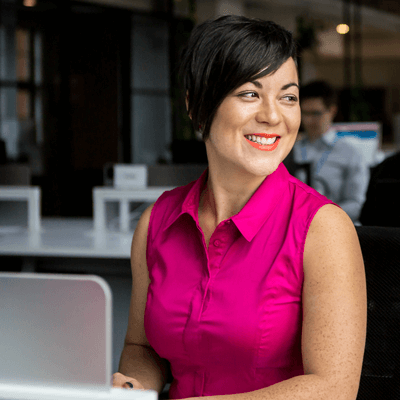 Hi there! I'm Christina Canters.
I'm a keynote speaker, communication skills specialist, and host of the top-ranked business communication podcast Stand Out Get Noticed (now at 1.3 million+ downloads!).
I come from a technical architecture background. As a student, I was terrified of public speaking.
In Architecture school, we were required to present our work frequently. Many of us would show up sleep-deprived and underprepared. Our work would often be criticised (harshly) by our tutors – in front of the whole class.
I got incredibly anxious before these presentations – to the point where my hands shook, my stomach turned in knots, and I broke down post-presentation in tears. Finally, I decided enough was enough, and I became determined to learn everything I could about overcoming my fear.
I developed an obsessive interest in public speaking and communication as a skill. Not only did my new skills serve me at university, they helped me thrive in the corporate world. During my time as a practicing architect, I saw how important it was to speak up, present effectively and communicate well in the professional environment.
In 2014 I left my job to help other professionals build their own confidence with speaking, and I've never looked back.
I'm passionate about helping people like you reach their full potential and achieve their desired level of success at work.
I don't want you to struggle with feeling inadequate, feeling like a fraud, stumbling over your words or blurting out an unintelligible tsunami of ideas that your boss struggles to make sense of.
I'll help you to overcome your fears, feel confident about yourself and abilities, and show those peeps at work who's boss.
When you work with me, you'll:
Immediately uncover the hidden barriers that are holding you back from achieving your potential
Discover your unique strengths and skills to use to your advantage
Feel confident and sure of yourself when running meetings, giving presentations, or taking questions from your team
Impress your boss with your well-presented and articulated ideas
Be the authority that people look up to
Build respect from your colleagues, clients and other stakeholders
Get your ideas across in a clear and concise manner with no need for second guessing
This is an application-only program. Only individuals who are fully committed to their own professional growth should apply. Click here to apply. You'll be asked to answer a few simple questions, and then we'll explore whether the program is a good fit!
Kind words from my past clients:
Christina helped me understand that how you see yourself is reflected in your performance and also impacts how others see you. Working with Christina to reframe that mindset has now allowed me to now get up in front of people and simply be me and most importantly have fun.
– Chris, Agile Consultant | Elabor8
I had the opportunity to work with Christina on my presentation and networking capabilities. In my finance role, it is often important for me to be able to convey financials to my team in a concise way. Christina worked on my delivery, tonality and body language. Since the course, I was able to elevate my position to Asia Finance and was relocated to Taipei HQ to continue to develop my career.
– Vildon, Head of Finance & Commercial | HTC
Working one-one with Christina has really helped me to understand and connect with my team and colleagues better. She is the master when it comes to enhancing and developing connection and communication. I've been using these techniques from our coaching work together and I highly recommend Christina to anyone looking to improve their communication at work.
– Mona, Associate | Property Beyond
I started working with Christina and The C Method back in August last year. I was having anxiety issues relating with public speaking and presenting myself confidently. It was a blocker for me progressing to my next career step. We focused on breaking my challenge into manageable parts that I could focus on such as breathing, grounding, pausing, standing still…we did a lot role playing, feedback and positioning. During this time Christina was a superstar, positive, can do, encouraging whilst being extremely systematic in her plan and approach and leaving me with a framework that I could rely on in the future. I can safely say that Christina has had a measurable impact on my career and confidence. Thank you Christina!
– Sue, Program Director | Outware Mobile
Frequently Asked Questions
When does the program start and end?
We will set the date once we chat and confirm your spot in the program.
How much work is this going to be?
I'll give you small challenges every week and things to implement in your daily conversations — there won't be much 'homework' per se. The awesome thing is you get to practice what we work on every single day! I'll be there to hold you accountable, but ultimately, you get out what you put in.
Do I need to be in Australia to be part of the program?
No, the program can be done from anywhere. If we are in different locations, we talk 1:1 by video Skype. All you need is a stable internet connection!
Where do I sign up and how much does it cost?
Start by completing an application form (which you can do here). I'll review your application and get back to you no later than one business day after receiving it. We will then book in a Discovery Call to explore if the program is a good fit. I look forward to speaking with you!
Click here to apply for the program!
I was originally drawn to Christina because of her genuine, down to earth, caring and laugh out loud funny personality. All the coaching tips I received from her were really practical and some have actually been invaluable life lessons.
– Sarah, Learning & Development Specialist | NLC Pty Ltd