Want to take the performance and productivity of your team to the next level?
The success of your organisation relies heavily on great communication. In my corporate career as an architect, we were expected to be able to speak and present well – yet I had never been taught these skills at university.
And it's the same across most industries. I've trained and coached people in industries including technology, engineering, academia, finance, real estate and healthcare, and the challenge is always the same – they are technically skilled, but are lacking the ability to speak up, articulate themselves and present with confidence.
If you're looking for a high-impact and enjoyable learning and development program to help your team reduce this skills gap, then my group workshops may be a great option for you.
We had an absolutely brilliant day and the feedback I have been getting back from the educators has been overwhelmingly positive. Many have already put into practice some of the techniques you taught us with great success. We are so grateful for your time and the effort you put into the class. I really only have very positive things to say. I thoroughly enjoyed it and wish it was longer. 
– Jessie Hand, CPR Kids
My workshops are suitable for people who:
Are smart, driven professionals
Are in (or aspire to) mid to high level management or leadership roles
Are required to lead meetings and teams, and/or present to stakeholders
Are ready to take their career and professional growth to the next level
Enjoy learning in a supportive group environment
How I work
I believe that people best learn when they are engaged, having fun and feel safe and supported. Which is why I always strive to create an inclusive, compassionate and enjoyable learning environment for all workshop participants.
Your team will be challenged to step outside their comfort zones, whilst being fully supported and encouraged by both myself and the other group members.
All workshops include a high level of practical implementation and practice – from my experience, skills tend to stick when they are practiced immediately. Participants will have ample opportunities to not only implement what they learn, but to also reflect and observe on their learning, and receive feedback.
Each workshop can run for a half day, full day or 2 days. I prefer to conduct training in-person, but I can also train via video call if in-person is not possible.
Want to learn more? Let's chat!

Results for your team include:
Increased confidence in self and leadership capabilities.
Higher visibility as an industry thought leader and expert
Clear and consistent communication
Higher levels of trust within teams
Increased overall leadership effectiveness and productivity
Higher levels of ability to influence and impact others
Deeper awareness of self and others' behaviour
Greater ability to maintain engagement when speaking
Stronger relationships with stakeholders
How your organisation will benefit:
Higher levels of productivity and output of work
Improved quality of work
Happier staff and improved team morale
Increased staff retention
Increased sales, referrals and opportunities from stronger client relationships
Higher levels of professionalism from your staff
Stronger brand representation both within and outside the organisation
Want to learn more? Let's chat!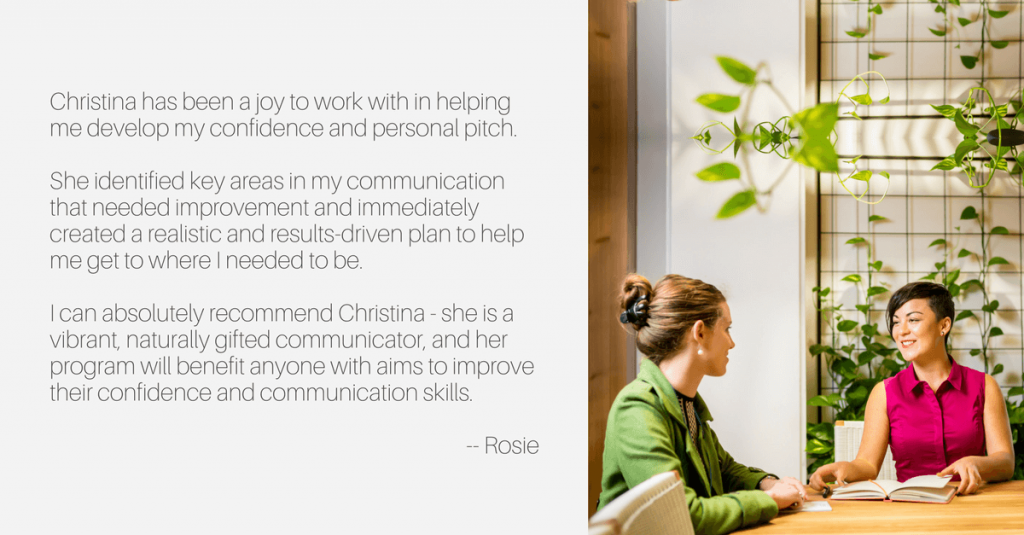 Workshop topics:
See below for the four key workshops I deliver. If you wish to have a mix of development areas for your team, that is absolutely fine – let's chat about how I can tailor a workshop for you.
1. Speak Up & Lead
This program will equip participants with the tools and skills to speak up, be assertive and become an all-round more effective communicator and leader.
Key components:
Shift your limiting beliefs about yourself and your abilities
How to show up with self-awareness and confidence
How to articulate your thoughts and ideas clearly
Skills for connecting powerfully with colleagues and clients
Create a clear and compelling 'personal pitch' to explain your role and what you do
Non-verbal & body language techniques to increase presence and authority
I have walked away with valuable tools that help me be more confident in general, speak up with confidence in any situation, understand who I am speaking to and adjust my style for more effective communication. I have also networked for the first time! One of my colleagues has already noticed, saying: "I can see differences in your confidence level and assertiveness when you communicate and present."
– Kellie, workshop participant
2. Impactful Public Speaking
Participants will learn the mindset and skills to prepare and deliver presentations that are persuasive and engaging, but also authentic to them.
Key Components:
How to create a strong mindset for increased confidence and less anxiety
How to plan and structure a presentation
Creating a clear and compelling message
Storytelling skills and why it's ok to be vulnerable
Body language techniques for projecting confidence (even when you're not feeling it!)
Techniques for answering Q&A with conviction
"Christina makes you feel at ease and speaks from experience, which makes the workshop
super informative and valuable. I definitely recommend her to anyone who wants to present
better, whether it's their first presentation or 100th — it suits all levels."
– Matt, workshop participant
3. Working Well with Others
Teamwork makes the dream work! In this workshop, participants will learn skills to build productive working relationships with everyone from colleagues and senior management to external partners and clients.
Key Components:
Why we get along with some people but not others
How to understand your stakeholders' needs and wants
Techniques for building rapport
How to facilitate productive meetings
How to work effectively with different communication styles
Communication tools for having difficult conversations
I'd like to thank Christina for the wonderful workshop that she ran for my team. As designers, it's vital for us to be able to communicate effectively with a broad range of people from across the business. Christina provided the team with a few simple techniques that I'm confident the team will be able to take away and implement in their day-to-day. It was a fun and interactive workshop. I can happily recommend Christina as a trainer/speaker. She is a terrific communicator and facilitator.
– Robert Sherer, SEEK.com
4. Introduce Yourself With Impact
Ensure your business and brand are represented effectively and consistently with this fun workshop. Participants write and practice their own 'personal introduction' they can use in presentations, meetings, networking events, even social barbecues!
Key Components:
Why you are not your job title
Discover and clearly communicate your value
How to articulate what you 'do' in your role and the results you create
How to talk about yourself in a way that feels good
Skills for making small talk (and enjoying it!)
The long-term results of Christina's workshop for Vision Australia have been amazing. Even the most shy person got up and spoke to a roomful of people, confidently talking about themselves, their dreams and challenges and the impact the program had on them. The workshop Christina ran laid a very solid foundation that introduced the participants to key communication concepts. But the most important thing was the way Christina used her deep experience and knowledge to help the participants rapidly get confident with the techniques. I would highly recommend Christina!
– Trudy Rankin, Vision Australia / West Island Digital
What participants will be given:
High levels of group interaction
Lots of opportunities to implement their new skills
Individual attention and support from Christina
Worksheets provided during the session
Complimentary access to exclusive online video Masterclasses after the training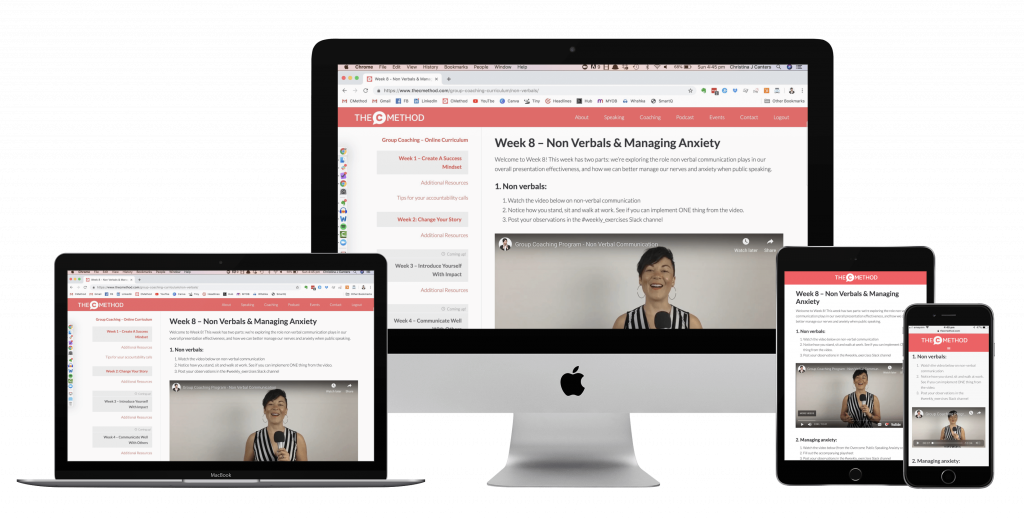 About your trainer
Hi there! I'm Christina Canters. I'm a communication skills speaker, trainer and coach. In 2013 I left a promising career in architecture to start The C Method, as well as my podcast Stand Out Get Noticed, which is all about helping ambitious professionals to communicate powerfully.
Since then, the podcast has received over 2 million downloads across 280 episodes, which I am quite proud of! I am also the CEO of Australia's premier podcast development and training company, Podcast Services Australia.
My training consists of a mix of technical skills and mindset work. Participants are encouraged to self reflect, and we work to shift any limiting beliefs that may be stopping them from achieving their desired outcomes.
Looking for something else?
Who have I worked with?
I have had the pleasure of working with many talented and ambitious professionals from industries including: STEM, orthopaedics, management consulting, architecture, education, superannuation and agile consulting. Participants in my programs have been from companies including: