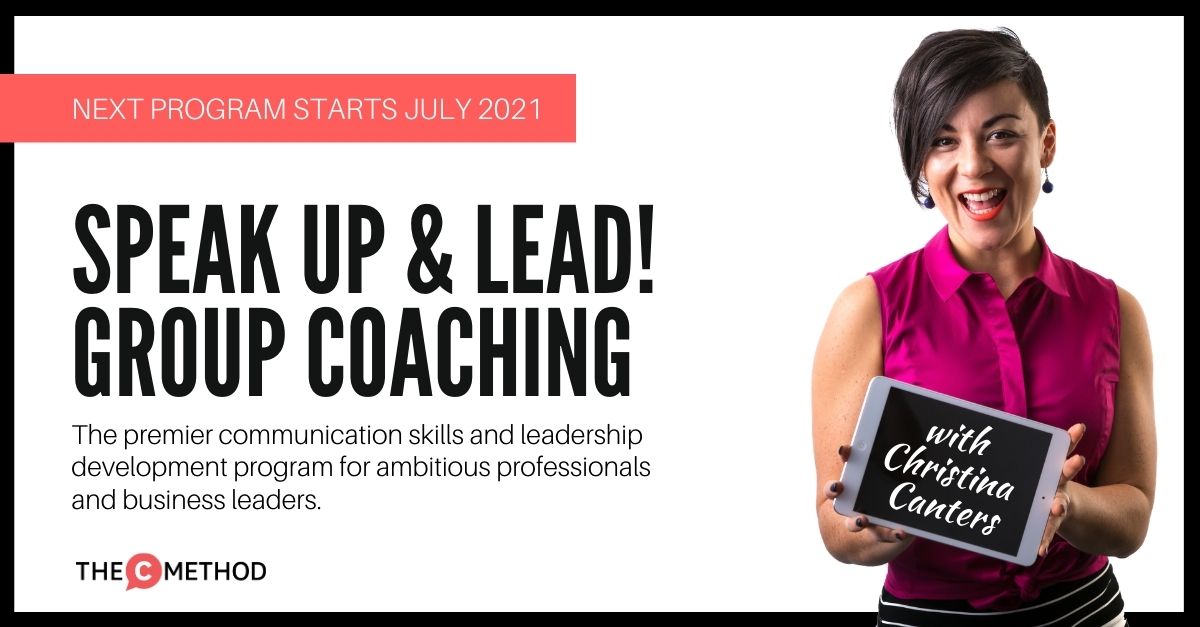 Click here to apply for the program!
Ready to dramatically increase your influence, presence and confidence at work? This program is for you.
You are an ambitious, high performing professional woman. You're kicking goals at work — perhaps you've landed an awesome new job, you've been promoted or are now leading a bigger team. You go girl!
However, with this new role comes an increasing expectation to lead and perform well.
You've been given new responsibilities and challenges: you're being looked to for advice and guidance, asked to run meetings and training sessions, lead teleconference calls, present frequently to your team, clients, or the executive board…plus, you're now expected to attend networking events, mingle with colleagues and clients, and engage with your team.
Which is all fantastic and you love a challenge — BUT you've never had to do these things before, and no-one's shown you how to develop these skills, let alone provide a safe environment in which to do it.
As a result, you may:
Feel like you have limited influence in your organisation
Lack confidence in your abilities as a leader
Fear being judged by your colleagues and senior management
Struggle to articulate your ideas clearly and concisely
Hold yourself back from speaking up in meetings
Feel anxious and nervous about speaking in public
Struggle to engage with and make meaningful connections with colleagues
Feel like you're not getting the best performance from your team
You know you're good at your job and that you have what it takes — but you also know that if you can't communicate effectively and with confidence, you will struggle to make an impact and take your career to the next level.
Know that you're not alone — and with the right guidance, you CAN achieve the success you want.
That's what this group coaching program is all about. It's designed to equip you with the tools and skills to help you become a more effective all-round communicator and leader, so you can feel more confident and be more productive in your day-to-day interactions with your team and colleagues.
The women's leadership coaching group has literally improved my work and personal life. I have walked away with valuable tools that help me be more confident in general, speak up with confidence in any situation, understand who I am speaking to and adjust my style for more effective communication. I have also networked for the first time!

The ladies I got to know are amazing and I am so fortunate for this opportunity to grow emotionally. In only 8 short weeks my colleagues are already noticing, here is one comment I have received: "I can see differences in your confidence level and assertiveness when you communicate and present."
– Kellie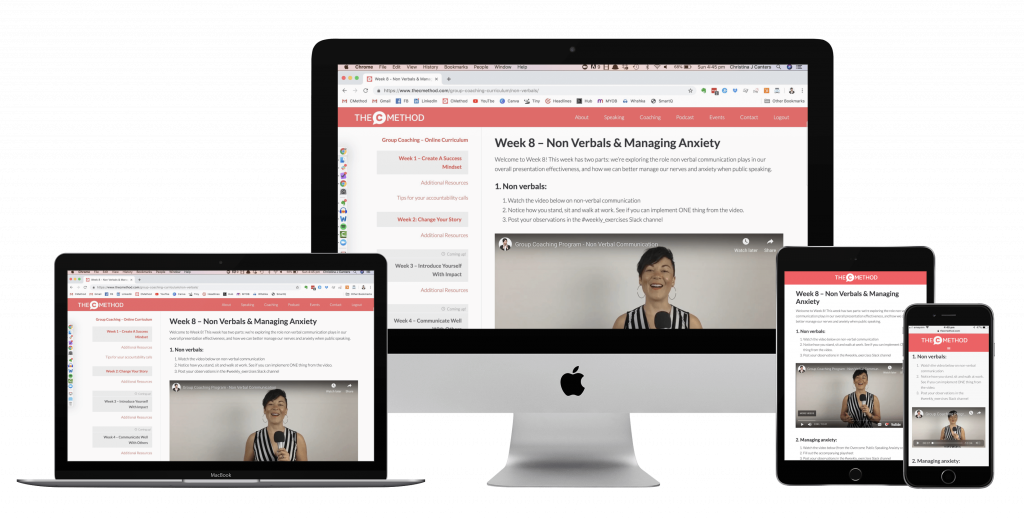 What's included in the program?
1. Access to the Group Coaching Program online curriculum
Get access to 10 training modules which include: written materials, video lessons, podcasts and worksheets. The curriculum is accessible across all devices for easy access on-the-go.
2. Weekly group coaching and mastermind calls
Each week we have a 90 minute group video call via Zoom, where you will have direct access to Christina for your own 1:1 coaching. All calls are recorded for your reference.
3. Access to a private mastermind Slack channel
Outside the weekly calls, you'll have access to the group's private forum to post feedback and questions to the other members and Christina.
Click here to apply for the program!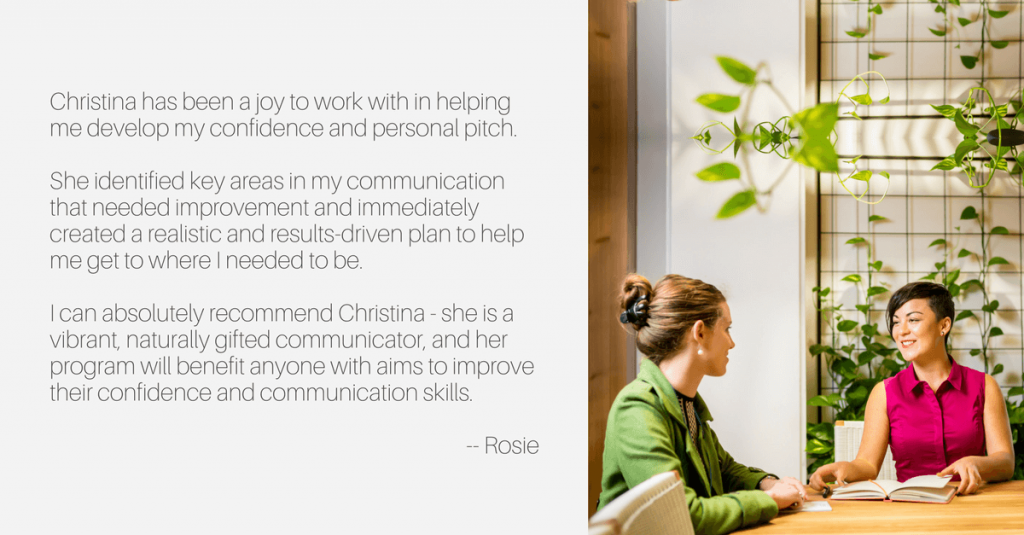 Who is this program for?
The program is for you if you:
Are a smart, driven professional woman
Have at least 10 years of career experience
Are in (or aspire to) mid to high level management or leadership roles
Are ready to take your career and professional growth to the next level
Are willing to invest in yourself
Enjoy learning in a supportive group environment
This program is NOT for you if you:
Prefer to learn in 1:1 environments (in which case, consider applying for 1:1 coaching with me :))
Are a new graduate
Are still 'exploring' your career options (nothing wrong with that, it's just not the right fit for the program :))
Are looking for a 'quick fix' for your challenges
Are price shopping or looking for a 'cheap' way to improve your skills
Do not view professional growth as an investment in yourself
It was a wonderful experience to be part of Christina's Group Coaching Program. It was a well made curriculum and a thoroughly planned program which has given me a lot of improvement in a lot of areas where I needed to address my weaknesses.

Sharing experiences with the lovely group of women from all the different levels in their career and from different industries was another beautiful experience I have had during the program.

I would strongly recommend this program to any woman who's feeling stuck in her career and needs help to move on to the next level.
– Maria
Thank you again Christina for the opportunity to be part of the online Group Coaching Program. You have helped me to learn to voice my concerns, love and accept who I am and to become a stronger person.

I learned in the past eight weeks to see the best in me, be confident and know I am capable of achieving my goals. I learned that it is okay to be vulnerable, to ask for help and, most of all, I changed my mindset, especially when I face difficult challenges.

I will continue to keep a positive perspective and ask for support and know it is okay to not be perfect!
– Linda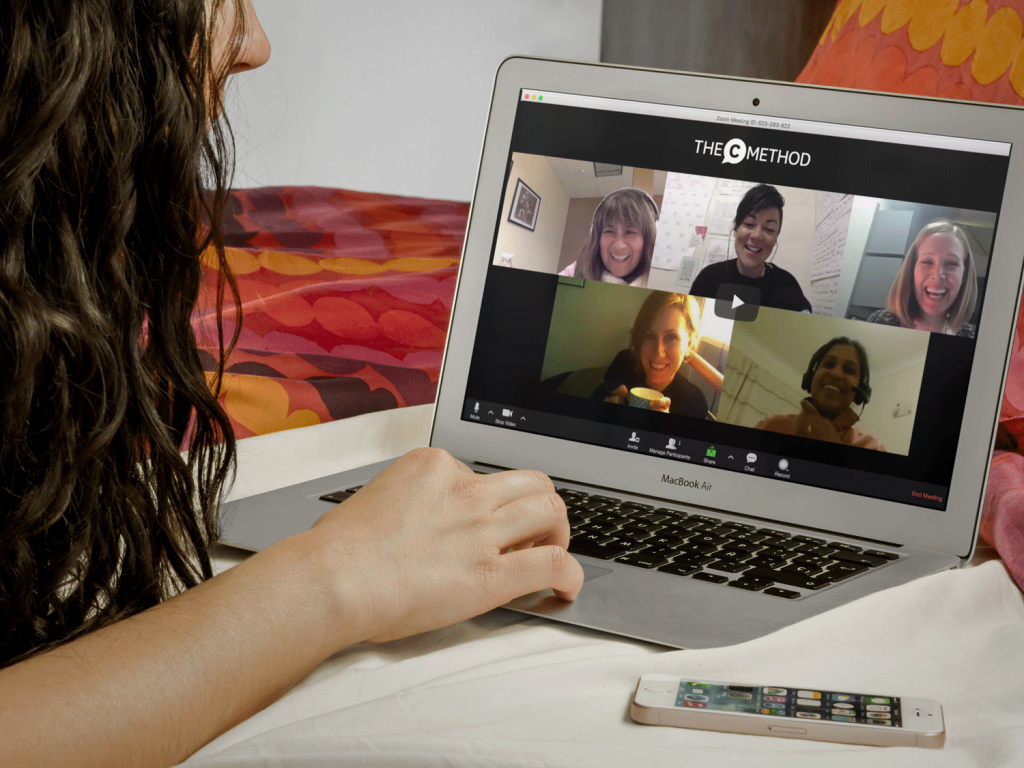 I am so glad I joined the group coaching program! Not only were my goals to improve confidence in my presentation skills met, I now have amazing support material to refer back to whether I'm holding a staff meeting, doing a presentation or delivering a speech.

The most valuable part of the experience was the mindset shift that gave me the confidence to show my authenticity and vulnerability instead of being held back by it.

Two months on from graduating from the program, I am using the skills on a daily basis to improve my encounters both in my professional and personal life. Thanks Christina!
– Tahnee
What does the program cover?
1. The keys to being an effective leader
Develop a strong mindset and overcome your limiting beliefs about yourself and your abilities
Learn to communicate with and build strong relationships with colleagues, clients and other stakeholders
How to make 'small talk' and have meaningful conversations
Articulate your ideas and opinions clearly, without fear of being judged
2. Build a strong professional presence
Create a clear and compelling 'personal pitch' to explain your role and what you do
Use non-verbal communication to increase presence and authority
Feel confident when talking about yourself at networking events
Create a powerful and consistent personal brand
3. Be an engaging public speaker
Plan, write and deliver clear and engaging presentations
Reduce your nerves and anxiety when public speaking
Feel confident and prepared for Q&A and impromptu speaking
Lead meetings with authority
How does the program work?
Start by completing an application form (which you can do here). I'll review your application and get back to you no later than two business days after receiving it. We will then book in a Discovery Call to explore if the program is a good fit.
Start the Training. Gain access to the online training modules, meet the other course members and begin the program.
Develop Through the Program. The program consists of:
1. 10 weeks of development (includes videos, podcasts, exercises and worksheets)
2. 1:1 coaching through weekly group calls, led by Christina
3. Access to a private Slack group for feedback and support
4. Weekly tracking to keep on track of your goals
5. A final Graduation Call, where you will deliver a 5 minute presentation to the group.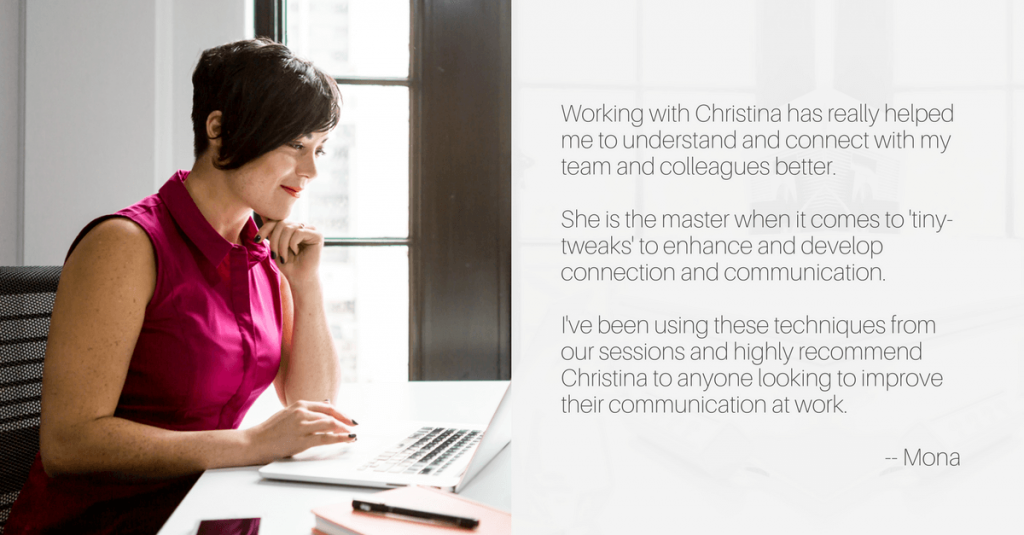 When does the program start and end?
The next round of the program starts in July 2021, exact dates TBA. When you apply for the program and set up a Discovery Call with me, we will discuss the exact timing of the calls — I want to make sure it suits everyone in the group!
How much work is involved?
You will be expected to attend the weekly group coaching calls, which will go for 90 minutes. You'll be given a small challenge to complete every week and share with the rest of the group. There are also additional online training modules for you to complete, which include about 20 minutes of video.
Ultimately, you'll get out of this program as much as you put in. Participants who are actively involved in the online Slack channel and engage with the group get the most out of the program.
Only people who are committed to their own personal and professional development, and who are willing to participate in the group will be accepted into this program.
Do I need to be in Australia to be part of the program?
No, the program can be done from anywhere. All you need is a stable internet connection!
Do you run this program privately?
Yes! If you want to help the women in your organisation fulfil their potential and take their communication and leadership abilities to the next level, let's talk. Email me at cc@thecmethod.com. I will be happy to explore how we can tailor a program to suit your team. The program can be run in-person in Australia, or online if you're based overseas.
Who have you worked with?
I have had the pleasure of working with many talented and ambitious women from industries including: STEM, orthopaedics, management consulting, architecture, education, superannuation and agile consulting. Participants in my coaching programs have been from companies including: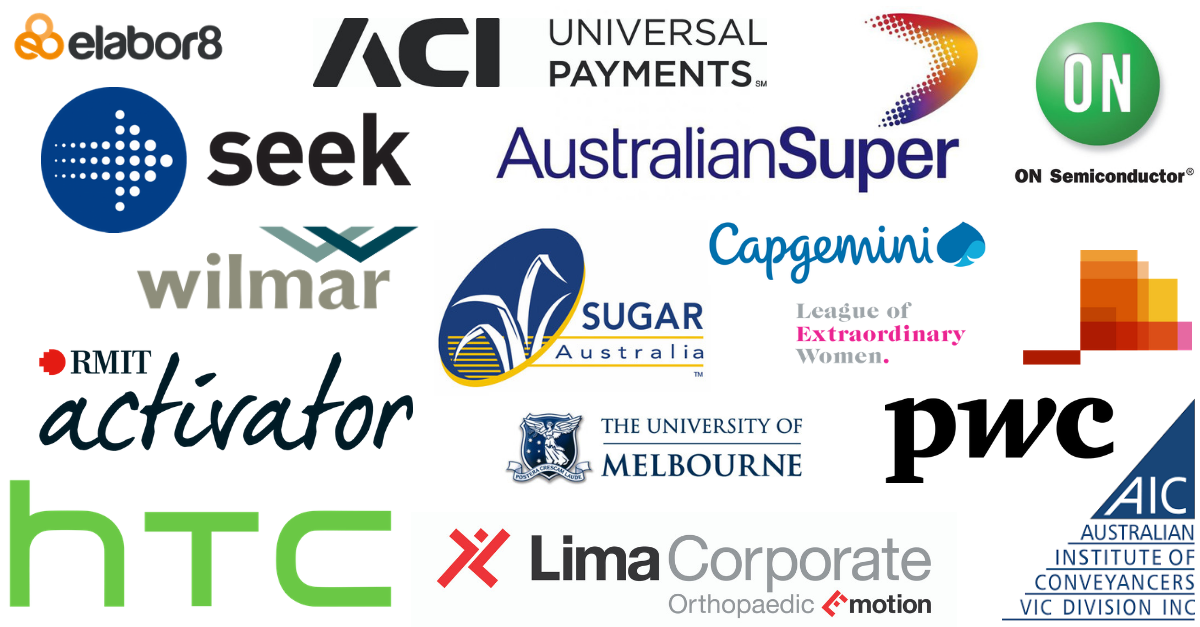 This is an application-only program. Only individuals who are fully committed to their own professional growth should apply. Click here to apply. You'll be asked to answer a few simple questions, and then we'll explore whether the program is a good fit!
Click here to apply for the program!
Have a quick question? Shoot me an email: cc@thecmethod.com.