---
The Academy is currently closed as I am working on some exciting new programs.
If you're looking for personalised training, please click here to learn more about my 1:1 coaching program, or contact me to enquire about group training for your organisation.
---
Join the C Method Academy – our members-only training and accountability program, where you'll learn to let go of self doubt, find your voice and speak with impact.
The C Method Academy has completely enhanced the way I communicate and how confident I feel expressing my business and what I do. Now people reach out to me and say: "What did you do? How are you doing this so confidently? And how are you not afraid to speak publicly? Then I send them to you.
– Lauren, Academy member
Do you ever:
Feel like you have limited influence in your organisation?
Lack confidence in your abilities as a leader?
Struggle to articulate your ideas clearly and concisely?
Feel like an imposter – like you don't deserve to be in your role?
Feel anxious and nervous about speaking in public?
Fear you'll be judged?
Or struggle to follow through on your actions and goals?
You're not alone! We have an encouraging community I'd love you to be a part of, who are learning to tackle these same challenges in the Academy, right now.
What makes The C Method Academy different?
While other leadership programs focus on how to lead other people, The C Method Academy has a deep focus on getting to know yourself first.
Being an effective leader (and team player) starts with the self, which is why you'll learn to develop a deeper sense of connection to your own emotions, needs and wants. You'll learn the fundamentals of emotional intelligence, how to build resilience and how to coach yourself in difficult situations. So you'll not only achieve success, you'll enjoy it!
"The C Method Academy helped me no longer feel alone in my struggle with anxiety, and has given me a structure and strategies to manage my thoughts and behaviour."
– Angela, Academy member
In The C Method Academy, you will:
>> Cultivate Courage <<
Learn to speak authentically, clearly and concisely. Start to exude confidence and let go of fear.
>> Expand your influence <<
Learn to captivate your audience wherever you are. When you speak, people will listen.
>> Make New Friends <<
Become part of the community. You no longer need to feel alone on the journey.


What's included in the membership?
1. ONLINE MASTERCLASSES
Each month you get access to brand new content, consisting of video lessons, worksheets, templates and resources. Topics include: public speaking, workplace communication, professional presence, confidence-building, mindset, emotional intelligence and leadership.
2. EXCLUSIVE PODCAST CONTENT
Can't get enough of the Stand Out Get Noticed podcast? As a member, get access to the ENTIRE back catalogue of the podcast. Over 200 episodes are available exclusively to Academy members. These can't be accessed anywhere else!
3. LIVE SESSIONS
Twice a month we have LIVE video sessions. Where you have the opportunity to get your questions answered in real-time, either by myself or other industry experts!
The timing of sessions are mixed up to accommodate different time zones and are recorded in case you can't make it. PLUS, there's a channel where you can post your questions prior to the session, so you can get your questions answered.
4. ACCOUNTABILITY + SUPPORT
You'll join our private Slack channel where you can share your learnings, questions and feedback with our passionate, like-minded community, who are all there to support you in your journey of accelerated growth.
Imagine a place where you learn all the tools you need to level-up your speaking, communication and confidence. A space where you're seen, heard and encouraged to be you. And are accountable to all the things you set out to do. A place that'll accelerate your growth, and lead you to stand out and get noticed. That's what The Academy did for me.
– Sarah, Academy member

Who is Christina Canters?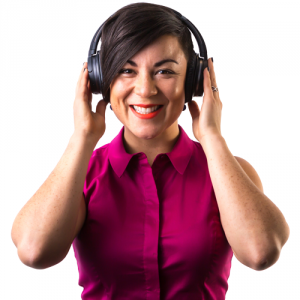 Hi, I'm Christina! The founder of The C Method, and host of the podcast, Stand Out Get Noticed.
In 2014, I left a promising career in architecture to help intelligent professionals succeed in the workplace by developing strong communication skills.
I believe that anyone can learn to communicate better – as long as you're willing to get outside your comfort zone, take small steps towards achieving your goals, and have some fun while you're doing it!
And I am so excited to be able to support you on your journey through The C Method Academy.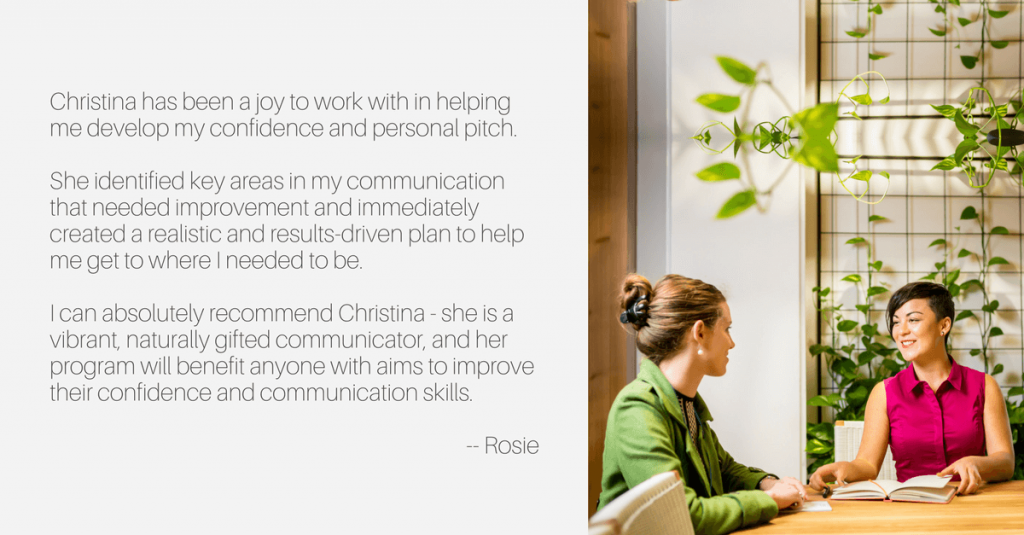 What is the time commitment?
Each masterclass contains a series of 3-4 short videos (5-10 minutes each) and accompanying workbook. You will be encouraged to do the exercises and post your questions and observations in the Slack channel.
The live sessions run for 60 minutes and are held twice a month at different times to accommodate as many time zones as possible. The live sessions are recorded in case you miss them.
Do I need to be in Australia to be part of the program?
No, the program can be done from anywhere. We currently have members from Australia, the UK, USA and the Middle East! All you need is a stable internet connection and a willingness to learn and have fun!
How does payment work?
I am offering membership at the very affordable investment of $45 USD per month OR $432 USD (save 20%!) when you sign up for the year.
You can pay by any major credit card or Paypal and will be automatically billed every 30 days (for monthly members) or every 365 days (for yearly members). If you wish to cancel, you can do so at any time. Just send us an email and we'll cancel your billing from the next cycle.
How is The Academy different to your other programs?
In The Academy, you have access to a large support community – people from all over the work who are learning and developing alongside you. The focus is on the community and you are encouraged to share your wins, questions, comments and feedback with the group. You also get to 'choose your own adventure' and pick the masterclasses that are most appropriate for your needs.
My Group Coaching Program and 1:1 Coaching Programs are for people who want a more structured and personalised training program. These programs also give you a much higher level of access to me, with guaranteed 1:1 attention and deep coaching on a regular basis.
Have a quick question? Shoot us an email: support@thecmethod.com.