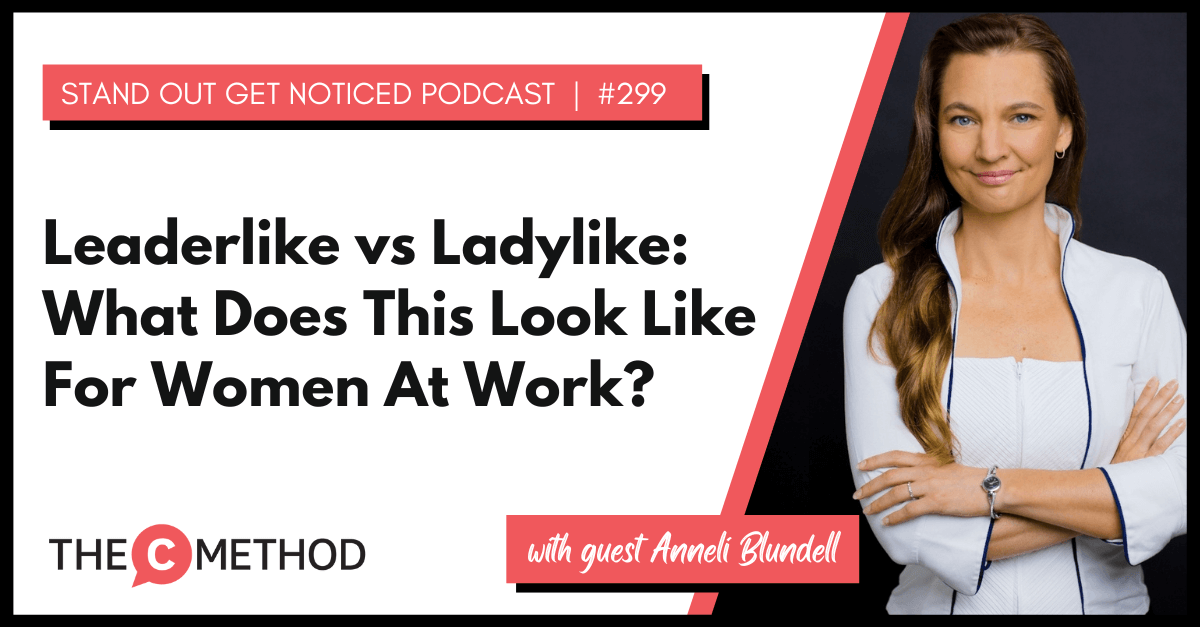 Do you find it challenging to stand out and be heard in a male dominated work environment?
If so, you're not alone – and know there's nothing "wrong" with you. Unbeknownst to many women in the workplace, there are a number of hidden environmental and cultural factors that hold them back from accelerating in their careers compared with their male counterparts.
In this episode of Stand Out Get Noticed, I am thrilled to be chatting with author, speaker and trainer Anneli Blundell. Known as the People Whisperer, Anneli is on a mission to humanise the leadership landscape and change the way we see each other. She has become the trusted advisor for many executives and leaders when it comes to increasing their influence, engagement and interpersonal impact for better business results – for themselves, for their teams and for their companies.
In this conversation, we explore the challenges facing women at work. You'll learn what the barriers are, why they exist, and how to navigate them.
Click here to connect with Anneli!
Notes from the episode:
The challenge facing women today: distinction between 'leaderlike' and 'ladylike'. We've been conditioned to believe that women should act a certain way, and that leaders should act a certain way.
Women get confusing or conflicting advice for example: "be more authoritative" then "tone it down"
Most women don't know that this is a thing. It's important to move from "personalisation" to "normalisation". It's not just you the individual who has to change, it's also the culture and the attitudes of the people around you.
Yes women need to work on themselves, just like everyone else. But society HAS to meet women there.
Men expect debate and ritualistic competition, but women go for ritual support.
Does it even matter if we're not ladylike in the workplace? You get to decide how much to care – unless it's negatively impacting your career.
NICE = Nothing In me Cares Enough (to give you the truth!)
At what cost is being nice? We grow at the intersection of challenge and support – don't your team members deserve this?
If you're too nice, people won't respect you because they don't TRUST that you will give them the feedback when they need it.
Balance between warmth and strength. You need to do BOTH.
"You can be palatable, or you can be effective."
Telling a woman to "just speak up" is not helpful. Don't assume it's just the individual, it could be environmental.
About Anneli's book, The Gender Penalty
Work is a game originally developed by men, for men. Though the players have changed, the rules to succeed have not. When today's talented women play like men, they often get punished for not being 'ladylike', and when they play like women, they can get punished for not being 'leaderlike'. Welcome to the gender penalties that sideline women from the game of work.
The Gender Penalty is a playbook for navigating career success in a male-dominated environment. If you want to stand out without stepping on toes, get what you want without compromising who you are, and make your mark without becoming someone you're not, this book is for you.
Click here to check out Anneli's book!