As a leader, it's critical that you are clear and memorable when you speak and present. How else are you going to influence and impact your team and organisation?
I had the absolutely pleasure of attending the Professional Speakers Australia annual convention in Melbourne over the weekend. It was such a joy to meet and experience so many successful and experienced speakers.
One key takeaway was how important it is to create an experience for your audience. No longer is it good enough to simply stand there, deliver content and tell people stuff – if you want to stand out and make a memorable, lasting impression on your audience, you need to create an experience for them.
From what I learned and experienced at the convention, I've put together 7 ways to make your messages memorable. I challenge you to give at least one of these a go in your next meeting, presentation or conversation!
7 Techniques For Being Memorable When You Speak and Present
1. Tell a story
Lisa Mcinnes-Smith was the last speaker of the convention, and was an absolute standout. She is in the top 3% of keynote speakers in the world. I cried, I laughed, I cried some more. She shared stories of her childhood and what it was like growing up in a family of professional tennis players. And I noticed that her husband, Colin, sat at the back of the room taking notes and marking down every time she got a reaction from the audience. And I realised – it doesn't matter HOW seasoned or experienced or good you are as a speaker – you can always improve and learn something new.
See what I did there? As humans, we are wired to listen to stories. Stories evoke emotion and enable us to form a picture in our minds, which helps us to remember. Throughout the convention, every single speaker used storytelling to make a point. So have a go at bringing more stories into your communication!
See below for other episodes I've done on storytelling:
2. Use a metaphor
A metaphor can be defined as "a figure of speech in which a word or phrase is applied to an object or action to which it is not literally applicable." There are many cliched metaphors – like "Let's get our ducks in a row", or "Don't cut corners" – avoid these if you can! Instead, think of a metaphor you can use to illustrate a point.
For example, each of these techniques I am sharing with you is like a tool in your 'communication tool belt'. Like a carpenter who needs to pick the right tool for the task at hand – whether it be a hammer, chisel or tape measure – you can choose an appropriate technique to add more depth and meaning to your messages. Which tool will you add to your tool belt?
In her convention workshop, art therapist Bel Ryan from Ignite Wellbeing Co got us to make an object out of arts and crafts to represent our speaking businesses. My art piece was an "empty cup about to be filled" – which to me, translated to "there are so many opportunities for me that are about to come to fruition".
3. Do an activity
"Tell me, and I will listen; Teach me, and I'll remember; Involve me, and I will learn." — Benjamin Franklin
This is one of my favourites, and is a brilliant way to wake up a disengaged or tired audience. One thing I often do is say "Turn to the person next to you and share one thing you learned from that video / speaker / section" – and then give them 60 seconds to chat.
At the convention, Ian Stephens spoke about the business of speaking. To illustrate a point about the importance of tracking your numbers, Ian said: "Close your eyes – you may be able to see a bit of light coming through, but you still can't see much. If you don't know your number of contacts, number of proposals, or monthly revenue, then you are running your business…in the dark." BOOM.
4. Share a quote
It's very easy to pick a theme and google it, ie "Quotes about preparation", or "Quotes about productivity". You could even share a line from a film or TV show, or lyrics to a song ie: "As the great philosopher Lizzo once said: "If I'm shinin', everybody gonna shine, I was born like this, don't even gotta try!"
5. Draw a model
This is a technique I am still working on, and find quite challenging. But as with everything, it's a learnable skill! A model is a simple drawing that illustrates a point. A well known and effective model is Simon Sinek's Golden Circle, which you may have seen in his hugely popular TED talk, Start With Why.
A model can be a Venn diagram, a triangle, a ladder, or a 4 x 4 matrix – whatever works to get your point across.
For example, let's say you're presenting internally about teamwork. You could say: "In our organisation, there are 3 things that enable us to work together as a team: communication, trust and empathy…."
See below for different models you could use. BONUS POINTS if they all start with the same letter – maybe it's "communication, connection and creativity" – or if you want to be funny, "communication, connection and…croissants!"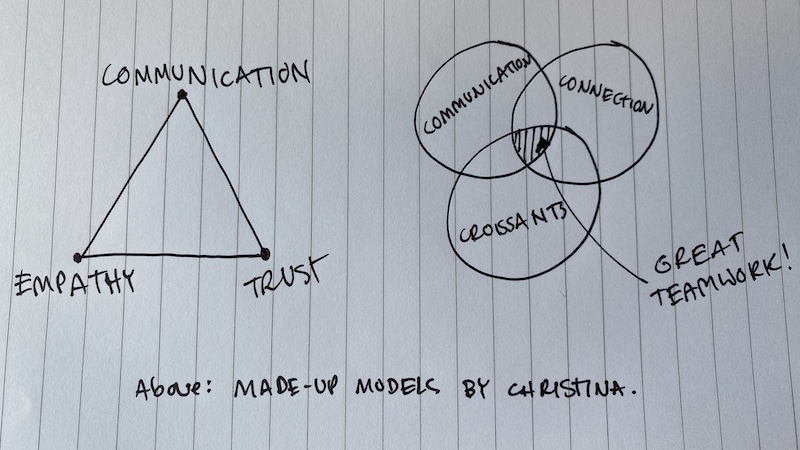 6. Use a physical prop
The wonderful Lisa McInnes Smith demonstrated this so well at the convention by wearing a tennis hat and bringing a tennis racquet up on stage with her. She used these props to demonstrate how she practiced tennis as a young girl. She also brought a basket of chocolates and threw them out to the audience. That's a great way to get your audience's attention!
I get it, it's not always appropriate to throw chocolates (although some would argue it's always appropriate), and your prop doesn't have to be large or super impressive – as long as it adds value to your message. Ask yourself: if my message stronger and more memorable with this prop? If so, then use it! If not, and if you can't think of a good reason to use the prop, then leave it out.
And the final technique for being memorable when you speak and present…
7. Do the opposite
Do you have a point you want to make that may be a little controversial, or different to what other people think? Pick a quote, or an approach, and show how you think differently about it.
For example, I could say something like:
"In Dale Carnegie's How to win friends and influence people, he writes to be "hearty in your approbation and lavish in your praise." Instead of being hearty and lavish, I believe it's more important to be genuine and consistent when we praise people. And here's why…"
"…but it's never been done that way before!"
You may be thinking: "Well, Christina, these techniques are all great, BUT I only have 5 minutes to present high level market updates to senior executives who just want the short sharp facts so WHAT DO I DO?!…"
Yes I get it, and maybe that's how it's always been done, but what if you were the one to shake it up a bit? Wouldn't that make you memorable? Maybe you can be the first person to actually deliver market updates that are engaging and impactful!
These techniques don't need a lot of time. It can take 5 seconds to share a very quick metaphor, or 10 seconds to share a quote. For example, you could say: "Bobby Unser once said 'Success is where preparation and opportunity meet', and we know that our recommendations today will prepare you for future investment opportunities." Boom. You're welcome.
Which one will you try?
Now that you're equipped with a tool belt of techniques, it's time to pick which tools you will use to craft your masterpiece of a message! Follow me on instagram @christinacanters, and tag me in a post – either sharing your message, or write it out and take a photo, I don't mind! I'd love to see which of these techniques you are going to implement.