I've been practicing at BYAV the last few weeks, and have been so impressed I HAD to feature her on Founder Friday!
To the non-yogi, you could describe Bikram as 'yoga in a sauna'.
They heat the room to 39 degrees and you work through a series of 26 poses over 90 minutes.
You breathe. You rest. And you sweat.
Oh boy, do you sweat.
You've never really sweated until you've experienced the intense heat of Bikram. And it was this that got Jade hooked.
After trying different yoga styles for a number of years, Jade discovered Bikram.
"Any yoga I would go to, they tell you to switch off your brain, and I couldn't switch off, so I'd get frustrated, and I wouldn't stick at it," she says. "Bikram was the first style where my brain would actually switch off."
She explains that for her personally, the heat acts as a mental distraction, which keeps you (mentally) in the room. It also helps you to work harder, challenging you both physically and mentally.
I can attest to that. When you're bending over and trying to touch your forehead to your knee while keeping your arms outstretched and hips aligned and weight in your front foot and eyes open and breath steady whilst sweat is pouring up your nostrils and your throat is choked…
…it's hard to think about anything else.
Jade's story
I imagined Jade had always been a cool, calm, centred yogi, but I discovered this was not the case.
She was previously an IT project manager, where she dealt with big businesses, working long, stressful hours. She loved the job, but eventually realised the ongoing stress was taking a toll on her health. Plus, the demanding hours didn't suit the lifestyle she wanted for herself.
So she left her job, and took some time to reassess.
She realised that it was yoga that had been helping her through the stresses of work, and that it was something she wanted to help others with too.
So she began hunting for a yoga studio to purchase. Her time came last year when she was offered to buy BYAV, and she jumped at the chance.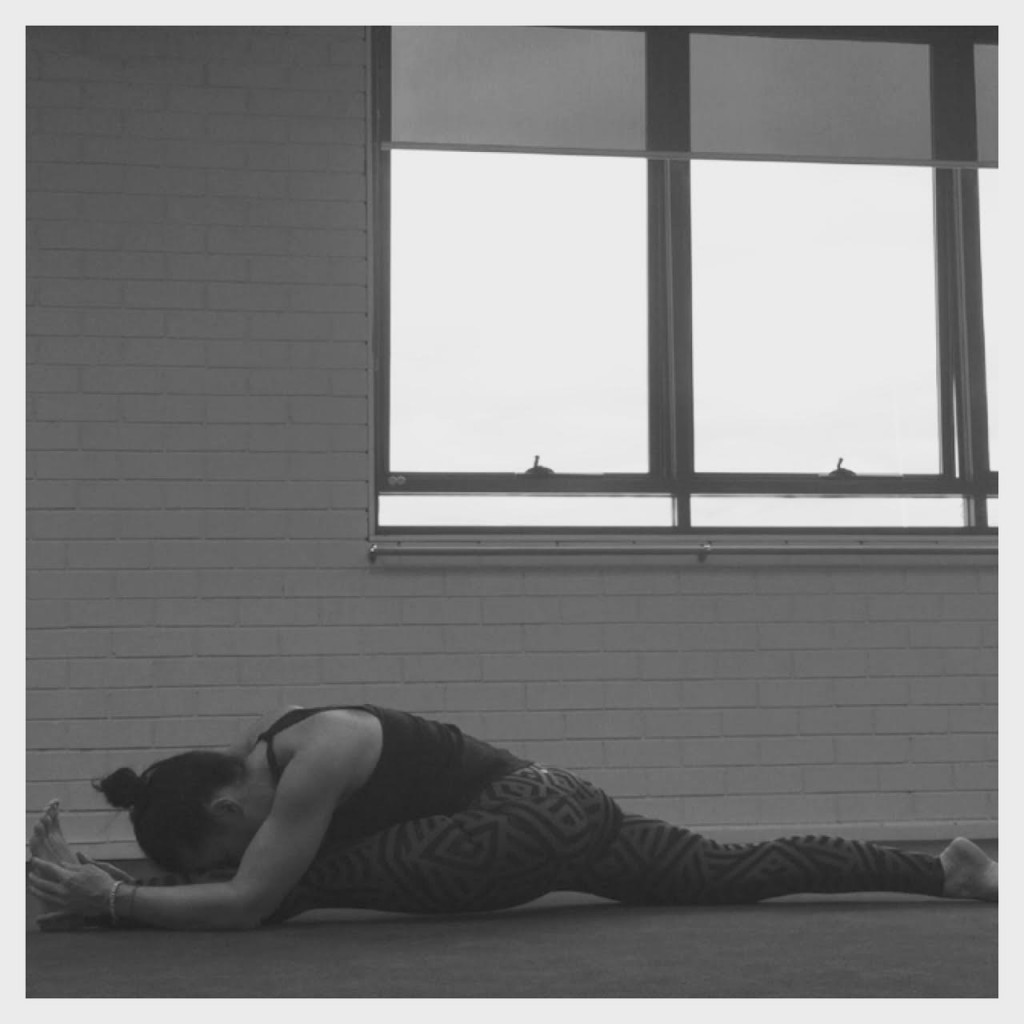 BYAV now has classes 7 days a week, and offers Bikram and Yin yoga styles. The community has been building solidly, with their first big charity event next Saturday 13 June to raise money for mental health.
Jade was inspired to put on the event after the positive reaction she received from her community after opening up about her battle with depression. In an article for Natural Beauty Expert, she writes:
I truly believe the yoga room, a committed practice and the wonderful warming community associated is your best friend in times of need. Whether that be depression, having a bad day… the list goes on. Half the battle is simply showing up, but trust me… IT IS WORTH IT.
And with the mental shifts came physical changes.
Yoga has helped her lose an incredible 40 kilograms – and keep it off. She explained that she would lose the weight, but then it would creep back on.
Doing yoga helped her regain balance: "It was a constant battle with weight and body image, and everything that goes with it…Bikram has made me realise that when I get stressed, my eating patterns get impacted. As soon as I get back into the room, it all rebalances out."
"Bikram is the one thing that has taught me to accept and love my wobbly bits. And because now I'm more accepting of my body, I find it easier to manage my weight."
It's made her into a big softie too, apparently: "Getting in touch with my emotional side has been the biggest challenge, but that's been the biggest growth for me too. I'm more in tune with my emotions than I used to be."
I ask what she loves most about what she does.
"It's the connection with the students that makes me realise I'm doing the right thing," she says. "And being able to encourage people to get to a point that they didn't think they could get to. I love seeing people progress."
Another thing Jade does extremely well to connect with students is remember EVERYONE'S name. It's amazing.
She (and the other instructors at BYAV) make a point to use students' names when encouraging them in class: "Push that knee straight, Sarah. Lift your leg higher, Nick. You've got it, Amy."
The only other people I've seen do this are the coaches at CrossFit-U West Melbourne (but that's another story. Watch this space!)
Jade believes that using people's names is critical for making a good connection with the students, and as a student, I agree. It's little things like this that make you feel like you're a part of something. You feel like the instructors really care about you.
Plus, it stops you slacking off in class 😉
Jade's tips for your first Bikram class:
In class, just breathe. Breathing WILL get you through.
Try your hardest, whatever that may be. Every day is different. If you sit down on your mat, it doesn't mean you've failed. It means you're looking after yourself. Or you need a moment. And that's ok.
Drink lots of water before class.
---
Follow BYAV:
Facebook | Twitter | Instagram | Pinterest
---
So if you're looking for something to warm you up this winter, I encourage you to give Bikram a try! Come along to the Bikram Yoga Ascot Vale charity event on Saturday 13 June. Classes will be running all day, they are pay-by-donation, plus there will be live music and yoga-by-candlelight. Click here to join the Facebook event and register!