Last night my business 'The C Method' won 3rd Prize in the 2015 RMIT Business Plan Competition, one of Australia's most prestigious competitions for budding entrepreneurs.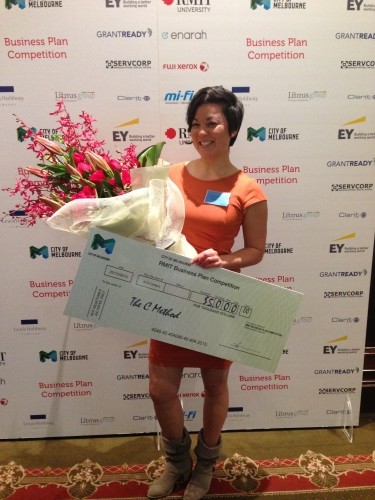 I won a $5,000 cash prize, a year of business services, a virtual office space at Servcorp, and a huge frickin' bunch of flowers.
Not to mention a direct endorsement from RMIT and massive exposure for my brand.
It was awesome.
The award ceremony at the Melbourne Town Hall last night marked the end of the 8 month-long competition that involved 3 rounds of judging, 171 initial entries, and over 100 support people involved, including judges, mentors, sponsors and RMIT staff.
You may have heard me mention it on the podcast, and I thought I'd write a quick post about the competition and what led me to picking up one of the main prizes.
What's the competition?
The RMIT Business Plan Competition is run every year. It's open to teams of students and staff members of RMIT. Not everyone in your team needs to be from RMIT, but the team leader needs to be, and also needs to play a key role.
Hang on, I hear you ask. Since when were you an RMIT student?
Well, I was actually involved in the NEIS program earlier this year. NEIS (New Enterprise Incentive Scheme) is a government incentive that helps new businesses get set up. You complete a Cert IV in Small Business Management, write a business plan, and they give you mentoring and some financial support for the first 12 months of your business. There are many training organisations that offer the Cert IV through NEIS, and I happened to do mine through RMIT.
And as an RMIT student, I was eligible for the RMIT Business Plan Competition. Boom!
Entering was a no brainer. I mean, I already had a business plan, right? I didn't even have to make anything up! So I jumped on the opportunity.
---
---
Here's how it played out:
Round 1:
Answer a series of questions about your business. What's the opportunity? What problem are you solving? What's your idea? How will you enter the market? And so on. It was a simple web form to fill out – I basically copied and pasted from my NEIS plan.
Number of entries: 171
Round 2:
Submit your full business plan. Must be 20 pages maximum, with 10 pages of appendices. Now, this was not a simple copy and paste. My NEIS plan was 70 pages long. With only 20 pages, there was zero space for waffle. Every single word I wrote HAD to communicate an important point. Condensing it down was harder than I thought.
But RMIT was awesome – they ran multiple training workshops to help us write our plans. We learned about advanced marketing and financials, and even had former winner Ethan Glessich of enarah run a productivity workshop with us. Super cool! (If you want to learn more about how to save time with Ethan, listen to our podcast interview here).
33 entries made it to Round 2.
Round 3.1:
Now, I was walking on hot coals at Tony Robbins in Sydney when I got the email that I'd made Round 3. I thought 'Sweet! Only the pitch left and I'm good!'
When I got back to Melbourne a few days later, I read the email more closely: You have until noon on Friday 2 October to incorporate the judges' comments and resubmit your business plan.
That was 48 hours away. Ho-ly-shit. So I madly fixed up the plan and submitted on time, fighting off a migraine and almost passing out in the process. Not a good time. Needless to say, I didn't produce a podcast episode that week.
11 entries made it to Round 3.
Round 3.2:
The PITCH. You have 10 minutes to present your business to a panel of judges – Shark Tank-style – and 10 minutes of question time.
This is what I'd been looking forward to. I KNEW I'd be able to deliver a kick-ass pitch (you know, being a public speaking expert and all. No extra pressure there at all…) so I knew if my Business Plan was also strong, I had a good chance at winning a prize.
The final business plan was worth 70% of the total score. The pitch was worth the other 30%. Of the actual pitch, here's how they weighted it:
Content (what you say): 25%
Delivery (how you say and present it): 35%
How well you answer Q&A: 30%
The effectiveness of your slides: 10%
Apparently this was the first time they had weighted 'delivery' so heavily. That was my strength. Yess! I had a good feeling about this.
Writing the content, however, was a real challenge. I'd never had to pitch my business before. And 10 minutes is NOT a long time.
Anyway, I won't go into too much detail here about the actual pitch – I'm going to leave that for next week's podcast episode, where I'll share how I wrote my pitch, the pitch itself and also my tips for calming the f*ck down before a big important presentation.
I will say that I did the best I could with the time I had to prepare, so I was happy.
What happened on the night
After drinks and mingling, we sat down in the Melbourne Town Hall for the formal proceedings. There were a handful of short speeches from the main people involved in the comp, and then Daniel Flynn, founder of Thankyou, gave an incredibly inspiring keynote.
Then it was on to the awards. There were a bunch of sponsored awards that included cash prizes and professional services, and they announced the main 3 prizes at the end.
Here's how the awards went down (as I remember):
Award 1: Likeagirrrl
Award 2: KISA
Award 3: KISA
Award 4: Likeagrrrl
Award 5: Likeagrrrl
Award 6: Maxine McQueen
Award 6: KISA
…and so on. My heart started to sink. I'm out, I thought to myself. There's nothing here for me.
But lo and behind, they moved on the main awards and announced The C Method as the winner of 3rd Prize! Aww yeaa!!
As expected, KISA won the $10,000 second prize, and Likeagrrrl won the big $25,000 first prize. I'm so happy for both the other winning teams – they are going to make a huge impact on the world. Likeagrrrl creates activewear to help women break out of poverty, the sex trade and human trafficking, and KISA designs mobile phones specifically for people who are aged, visually impaired, or living with dementia or arthritis. Both extremely worthy businesses, and I wish them all the best moving forward.
So now what?
Umm, I'm taking a vacation, clearly.
No in all seriousness, the prize money plays a very small part in winning a main prize in this comp. Even simply participating in the comp has taught me a lot, I've gained huge clarity over my business model and I've made amazing connections. I know there will be many opportunities that come out of this – it's just a matter of me looking out for them and grabbing them with both hands! Yep, world domination is comin' your way. Watch this space.
One last thing…
If there's one lesson I can share with you today, it's to BE OPEN TO OPPORTUNITIES AND TAKE THEM. I had no idea that doing NEIS at RMIT would lead to this. But I saw an opportunity, and I took it. The other 30 or so people doing NEIS with me had the exact same opportunity, yet I was the ONLY person that took it. And look what happened.
I didn't know how it would pan out, but I just figured it out as I went. I think Branson sums it up best:

Touche.
I just wanna say a massive thank you to RMIT for this opportunity, to Marcus Powe, RMIT's Entrepreneur in Residence for his advice and support (and for asking the difficult questions), my mentor David Shave for all his help and putting up with my crazy ideas. Also to Calvin Coyles for helping me rework my pitch over a 1am kebab at Stalactite's. Also to Sammy and Alexar for your pitch feedback, and to my beautiful parents for their love. Finally, to Lizzay, Mel, Sylvia and Beatrice for being part of my team. Goodness, this is sounding like an Oscar speech. Oh well. You made it to the bottom – great job and thanks for reading!