This podcast content is for members of The C Method Academy only. The C Method Academy is our monthly members-only training and accountability program. Members get access to exclusive podcast content, Masterclass 'mini courses', Live Coaching Calls and our private community platform. If you want to rapidly develop your confidence, communication and leadership skills, I invite you to join us! Click here to learn more and join The Academy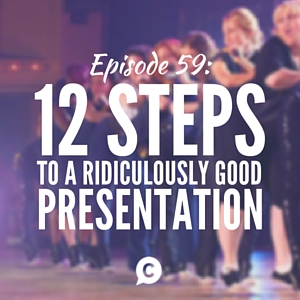 Do you have an important presentation or speech coming up?
Maybe you're frantically writing it, making sure you've included all the info you need, and structuring it well with an introduction, a body and a conclusion.
You may have even made time to practice it!
But simply writing your speech and practicing it does not ensure a smooth, stress-free speaking experience.
There's actually a lot more to it!
I've made plenty of errors as a speaker – arriving on the wrong day, presenting to the wrong audience and so on…
…but it's meant that I've learned a lot!
Like Henry Ford said:
"Failure is simply the opportunity to begin again, this time more intelligently."
Over time, I've learned a lot about what to do, what not to do. And in this episode, I'd like to share with you the 12 essential steps that I carry out before every presentation to ensure it runs as successfully as possible.