This podcast content is for members of The C Method Academy only. The C Method Academy is our monthly members-only training and accountability program. Members get access to exclusive podcast content, Masterclass 'mini courses', Live Coaching Calls and our private community platform. If you want to rapidly develop your confidence, communication and leadership skills, I invite you to join us! Click here to learn more and join The Academy
I've been speaking a lot during my time here in the Philippines.
My Group Vocational Exchange team and I have presented at Rotary functions that varied in size from 15 to 100 people.
I spoke to 500 business students at the PLV College, I've got 2 more seminars prepared for other universities, and this weekend I'll be speaking at the Rotary District conference to 700 people.
In this episode, I share 7 tips for speaking to (and winning over) an international audience.
Why is this relevant to you?
Maybe you're running a workshop or speaking overseas as a visitor, just like I am. Maybe you're living and working in a foreign country, or maybe you're living in your own country, but have international colleagues, clients and visitors.
Or maybe you're presenting a webinar or being interviewed on a podcast, where the majority of the audience won't be the same nationality as you!
One of the first fundamental rules of being an effective speaker is to know your audience. 
If you know your audience is from another culture and/or English is their second language, it's very important to tailor your message and the way you present it, so you can be understood, and so your message resonates and connects with them. Make sense?
7 Tips for Speaking to an International Audience
#1. Research and learn about cultural differences
This is very important if you don't want to offend your audience. Check if there are any words, topics or gestures that may offend. Also ask about how people typically participate. I found that Filipinos love to engage with speakers – they'll ask questions, respond to questions, laugh and get involved. Some cultures don't do this! So it's worth checking to avoid any nasty or embarrassing surprises.
#2. Make an effort to speak their language
I learned how to say "good evening", "how are you", "thank you" and "I love you all" in Tagalog, the local language. It always impresses, even if my pronunciation is a bit off!
---
#3. Teach them something about your country and language
This is a great way to get your audience involved. After you greet them in their local language, teach them how you say "hello" in your language!
#4. Acknowledge your accent/nationality
If you don't, your audience will sit there wondering where you're from, or what accent you have, rather than listening to the wonderful things you have to say.
You can also address anything 'weird' about you. For example, my black hair and semi-Asian looks can be confusing for cultures who think of Australians as blond or brunette. So, I always mention I have Malaysian heritage.
My colleague, Lauren, is a vegetarian, which is quite the oddity here in the Philippines. She often gets asked if she's "the vegetarian". It's funny, and worth addressing.
#5. Speak slower and more clearly than normal
Sounds like a no brainer, but remember that an international audience needs to process your accent before they understand what you're saying. Just because your accent is normal to you, doesn't mean it's normal to them.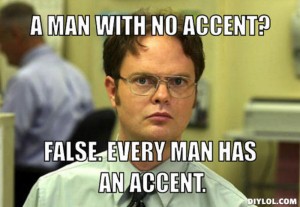 When I'm in America, and here in the Philippines, I actually pronounce my 'r's more, so that I'm more easily understood. For example, when I say my surname, Canters, with my Aussie accent, it sounds like "Candice", so I make sure to add the 'r' sound every so slightly.
Of course, don't talk so slow as to be patronising! That's just rude.
#6. Avoid slang
This includes local terms for things. For example, Australians call breakfast "brekkie", we call flip flops/slippers "thongs", we say "cool" when me mean "ok". We say "toilet", when in the US it's "bathroom", in Canada it's "washroom", and in the Philippines it's "comfort room".
Also, be aware if your audience understands imperial or metric systems. You don't want to be talking about how hot is is in degrees Celsius – your audience will think you're mad because they're thinking in degrees Fahrenheit.
#7. Listen in to find out the final tip!