This podcast content is for members of The C Method Academy only. The C Method Academy is our monthly members-only training and accountability program. Members get access to exclusive podcast content, Masterclass 'mini courses', Live Coaching Calls and our private community platform. If you want to rapidly develop your confidence, communication and leadership skills, I invite you to join us! Click here to learn more and join The Academy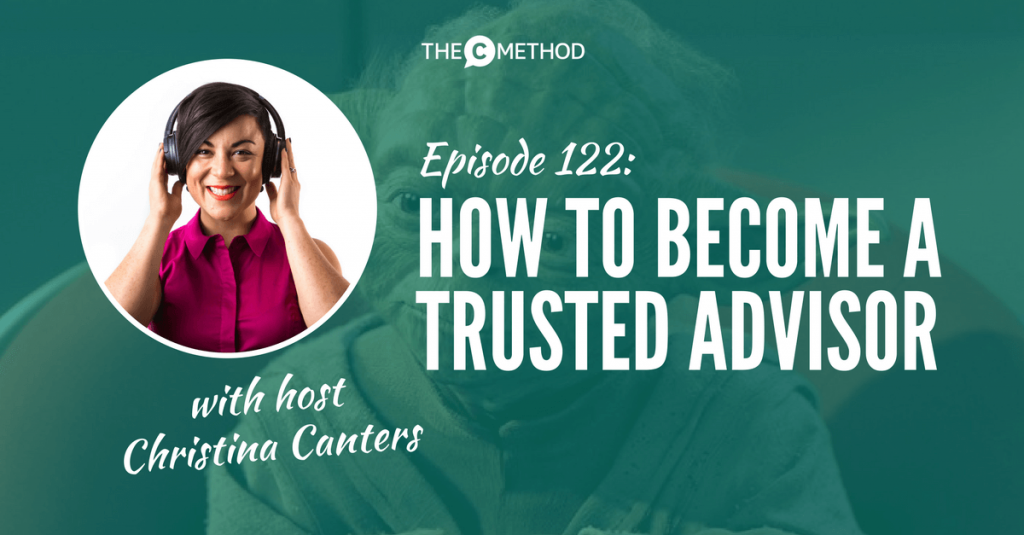 Do you want to gain the trust and respect of your clients, colleagues and stakeholders?
Want to be the go-to person for your area of expertise? And have great working relationships with all your stakeholders? Or do you simply want to accelerate your progress to the top?
A trusted advisor, become you must.
But it's not that easy. It takes time, discipline and hard work. You may not have as much experience as the more senior people in your field or your company, but there are ways for you to rapidly increase your progress. And that's what this episode is all about!
I'll be sharing powerful tools you can implement to get you acting the part of a trusted advisor, and as a result, eventually becoming exactly that. Like Mary-Anne Williamson said:
ACT the part of the successful person you want to become.
First, let's explore some common characteristics of a trusted advisor:
A trusted advisor is in the working relationship for long term, not short term gain.
A trusted advisor puts client interests first
A trusted advisor can demonstrate large amounts of value, from the start to the end of a project
A trusted advisor is reliable — they do what they say they will do
A trusted advisor is credible — a true expert in their field
A trusted advisor is genuinely passionate and authentic
A trusted advisor is proactive — with their own time management and with projects
A trusted advisor connects emotionally to clients, and is not afraid to ask the difficult questions
This list is NOT exhaustive, but something to get you thinking.
3 reasons why you may want to become a trusted advisor:
You'll be indispensable to your company or clients. There are a LOT of jobs being outsourced right now; having technical skills is not enough. Do not allow yourself to become dispensable!
It's more profitable for you! This means: better salary, promotions, recognition, more opportunities, etc. If you're a business owner, you can charge more for your services.
When you become a trusted advisor, you have the respect of your clients and colleagues. You'll have better working relationships with them, which means you'll be more productive. And time is money
Listen to the podcast to find out HOW you can start to act and, therefore, BECOME a trusted advisor within your organisation and to your clients.
Links & additional resources: