This podcast content is for members of The C Method Academy only. The C Method Academy is our monthly members-only training and accountability program. Members get access to exclusive podcast content, Masterclass 'mini courses', Live Coaching Calls and our private community platform. If you want to rapidly develop your confidence, communication and leadership skills, I invite you to join us! Click here to learn more and join The Academy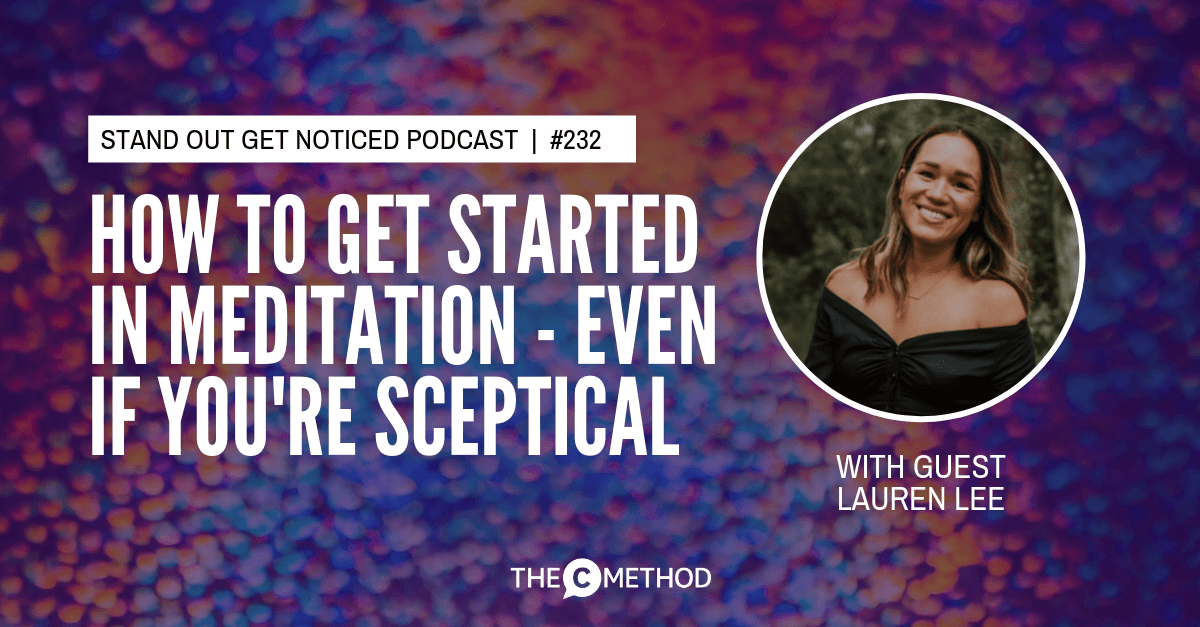 It seems like everyone's talking about the benefits of meditation.
Improved concentration, less stress, increased happiness, better relationships, stronger self awareness…it's hard to ignore the list of benefits often sited from studies and research on the topic.
But you still may be doubtful. I know I was for a very long time!
Perhaps you've tried it and realised you can't sit still for prolonged periods of time. Perhaps you don't know how to start or what style of meditation to work with. Maybe you think it's a bunch of woo-woo that 'other people' do – not you.
If that is the case, I highly encourage you to give this episode a listen. Our goal is to open your mind to the idea of meditation as a TOOL to help you achieve more clarity and success in your career or business.
And I'm super excited to introduce you to my guest, Lauren Lee (@innerrebel.co).
Lauren is the founder of Inner Rebel Co., where she helps women develop and strengthen a positive inner voice through meditation and events.
She is a certified 200RYT yoga teacher, holds a certificate in meditation from Boise State University and a featured meditation teacher on Insight Timer.
Lauren is also one of the brilliant founding members of The C Method Academy – and it has been absolutely wonderful working with her and seeing her progress.
In this conversation, you will discover:
What is the 'inner narration' that occupies our mind
What happens when the narration spins out of control
How meditation can be used as a TOOL to be aware of this narration
Why the goal of meditation is not to STOP the thoughts
The biggest mistake people make when meditating
Different types of meditation
How to get started in the most simple, time effective way possible
Connect with Lauren: