This podcast content is for members of The C Method Academy only. The C Method Academy is our monthly members-only training and accountability program. Members get access to exclusive podcast content, Masterclass 'mini courses', Live Coaching Calls and our private community platform. If you want to rapidly develop your confidence, communication and leadership skills, I invite you to join us! Click here to learn more and join The Academy
I sent a custom made luggage tag to Tim Ferriss. These are the things we have to do now. There's just so much noise."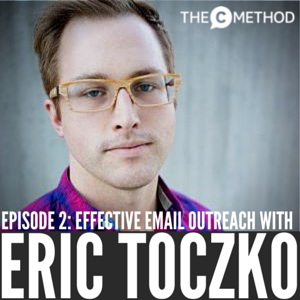 I am very excited to welcome Eric Toczko, founder of RingAround, as my very first interview guest on the 'Stand Out Get Noticed' podcast!
This week, we're talking NINJA EMAIL STRATEGIES.
But first – have you heard of RingAround?
It's a crowdfunding platform for jewellery. Here's how it works: Have an idea for a piece? Send them the design, they'll make a 3D model of it, create a campaign, and if it hits the sales target, they'll manufacture it and send the final product to you and your buyers.
In Eric's words, they're "saving the world from boring jewellery". Amen to that!
Before RingAround, Eric played a large part in building CustomMade, an online marketplace that connects customers and designers with artisan craftspeople ('custom makers'). As part of his business development role, he connected with YouTube celebrities, bloggers and influential fashionistas to collaborate on jewellery designs.
And all mostly through email. Reaching out to people is something Eric is very skilled at, and he believes that outreach is something that many people aren't good at, because they're not a) creative enough and b) not tough enough!
We were introduced by our mutual friend (and marketing extraordinaire) Lauren Holliday, and I was very excited to chat to him about his outreach methods, what makes a successful email, and how do you get people to a) open your email, and b) respond favourably.
Notes from this episode:
Eric once made a custom luggage tag for Tim Ferriss to get his attention. Did it work? Yes!
"These are the [creative] things we have to do now. There's just so much noise."
When connecting with people, Eric always tries to "focus on being friends first, not just transactional." It's not just about trying to get something out of this person. So what do you do? Simply ask them one question. The more specific the better.
Eric uses virtual assistants to research each person and find current news and info – anything to personalise an email. All you need it to find one thing about them that's unique. For example, if you're targeting custom jewellers, have your VA collect the name of one unique item on each jeweller's website. (Put this information into a spreadsheet, and if you are doing an email blast, use the mail-merge function to insert that unique item into a tailored email.)
Personalised email outreach is great, but it's difficult to scale up. Therefore, get an assistant to help you out!
I ask if he uses assistants to find people to connect with. He says you can if it's logical (ie CEOs of specific types of companies who work in X industry on LinkedIn), but if there's an individual he's really interested in, he'll do his own research. (And then you're learning about them at the same time!)
For CustomMade, he reached out to the top 200 people on YouTube to ask if they wanted to design a piece of jewellery and collaborate.
How Eric gets a 50% open rate on cold outreach emails:
Subject line: "Hi [first name] – love your [thing you love on their website]"
How to personalise your emails – get your assistant to check out their site and find something they love. In the body of the email, write "I love your ____!" referring to that specific thing. Boom!
Of course, if you want them to take action on your email, you've got to offer them something unique.
Another way to reach out – send a Fedex letter with tracking. Once they've received it, follow up with a phone call. If you want to be REALLY ballsy, don't send anything, but call anyway and say "Did you get my package?"
Tools + tips for being an email ninja:
If you're connecting with a YouTuber, you can get their email address from their channel information. If the email address is "info@domain.com", replace the "info" with their first name. Too easy!
Rapportive – Gmail plugin. Tells you if you have someone's correct email address (their LinkedIn profile appears if correct).
Vsnap – Allows you to create a 30 second video to embed in your emails. Great way for getting attention! Update: since the time of recording, it seems that Vsnap is no longer taking new customers. Boo! Do you know of an alternative?
Linked In – use Inmail with the paid version to email ANYONE. Eric's had lots of success with this as not many people use it.
Sidekick by Hubspot – you can tell when people open and click links on your emails. Click here to get an invitation.
Connect with Eric