This podcast content is for members of The C Method Academy only. The C Method Academy is our monthly members-only training and accountability program. Members get access to exclusive podcast content, Masterclass 'mini courses', Live Coaching Calls and our private community platform. If you want to rapidly develop your confidence, communication and leadership skills, I invite you to join us! Click here to learn more and join The Academy
Have you ever had to sing to a live audience of 500?
By yourself?
And impromptu?
I can imagine a lot of people would rather die.
But this exact thing happened last week when I spoke to 500 graduating business administration students at Pamantasan Ng Lungsod Valenzuela – one of the most prestigious business colleges in the Philippines.
I was honoured to be their guest speaker on entrepreneurship and communication. My seminar was all about the importance of strong communication as a skill, and I shared confidence-building tips and my method for creating a strong elevator pitch.
At the end of the seminar came Q&A. The audience asked fantastic (and challenging) questions – the first one being: "What is your biggest regret in life?" (they like to hit hard, these Filipinos!). But the one that made my heart pound was a "request":
"Ma'am, you write in your bio that you like to sing and play ukulele. Can you sing us a song?"
Damn. I knew I should have left that bit out.
With a thousand eyeballs fixed on me, I had no choice. I took a deep breath, and sang.
Moral of the story? When you're speaking, be prepared for anything.
How did I stay calm in what would have been a crippling moment of panic for many?
Listen to the episode find out.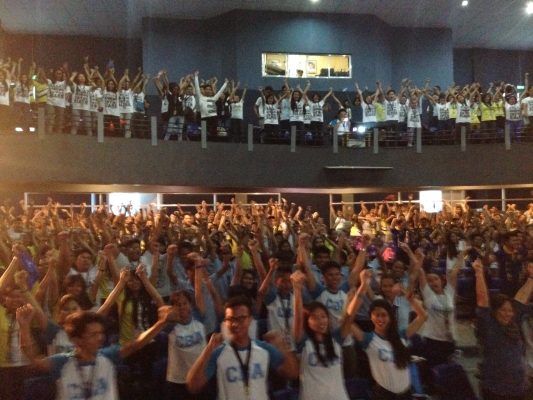 I also answer the public speaking-related questions I was asked, including:
What do you do when you have a mental blank?
Structure your presentation. When you know you have 3 or 5 or 9 points you want to make, you're less likely to have a mental blank. I expand on this in the episode.
Be authentic and honest with your audience. Simon Sinek once asked his audience "I've just had a mental blank – what was I talking about?" Someone called out and prompted him, and he said "thank you" and continued on. Click here to watch the video.
What do I do to reduce my nerves beforehand?
Breathe deep. Place your hands on your belly and take 10 long, deep breaths, pushing your belly in and out. I also share two critical mindset shifts you need to make to manage your nerves.
What do you do when someone tries to pull you down?
It's not about you – it's about them! For more detail, listen to Episode 28: How to Deal with Negative Emotions.
What do you do with a disruptive audience?
When you're speaking, remember that YOU'RE in control. This is YOUR time to shine. You need to communicate this to the audience – not by directly saying it, but by using strong body language, powerful pauses and engaging the audience.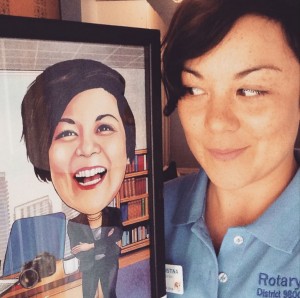 Thanks again to Pamantasan Ng Lungsod Valenzuela for having me speak, Ms. Angeleca S.J. Villena for organising it on the day, and Ghe and Rona for showing me around the school and being my personal bodyguards for the day.
To the students who participated, you were an awesome audience, and well done on getting involved, having fun and laughing at my jokes.
And thanks for the beautiful gift! Yes, it was a caricature of my face. Love it. 
Mahal ko kayong lahat!
PS for more photos, visit the PLV Marketing facebook page.
---