"This
I went to a floatation tank this week, where I spent an hour in complete claustrophobic sensory deprivation.
Why? It's all part of my quest to become a mindful zen master. It's something I've been wanting to practice and build up to for a while, so I'm finally trying a few things and and sharing them on the podcast.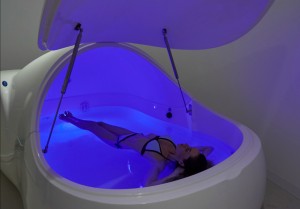 I can already hear you asking: How does this relate to communication skills?
Here's the deal:
If you want to be more effective at speaking with people (whether 1 on 1 or to a group), you need to have a high level of self awareness.
Listening and being present is a powerful communication tool, and it's impossible to be mindful when you're constantly thinking about other stuff, or being distracted by your phone.
And developing this ability starts with listening to yourself.
I cover more on how to be a better listener and conversationalist in my free 10 day 'Small Talk Made Simple' class. To join, simply enter your name and email in the box below:
What does mindfulness looks like when it comes to your communication?
Being present when speaking with others
Recognising when you have nerves when public speaking, and being able to deal with them
Being able to focus on the goal of your presentation, and the big picture message, instead of being distracted by your nerves and fearful thoughts that try to take over
Being aware of how other people communicate and how to read what they're really saying
How can you start practicing mindfulness?
I'm no way saying I'm a super calm zen master. In fact, I've been putting off doing a meditation practice because I seriously thought I couldn't do it. I can't just think about nothing! But as with all skills, of course, it takes time and practice to build up.
But you don't have to sit cross legged on a grassy knoll for hours and levitate for it to count as Attention Training. Here are a few things you can do to get started:
Go for mindfulness walks. I do this every day, first thing in the morning. I leave my phone at home, and focus on the environment around me.
Try a floatation tank!
Download a meditation app and start small. I've downloaded the Headspace app, which starts you off doing 3 minute meditations
Stop scrolling through Facebook and Instagram! This trains your brain to get distracted.
Do an activity that forces you to focus on that one thing. It could be hot yoga, surfing, running, rock climbing, Crossfit, etc.
Try working through a mindfulness adult colouring book!
How to practice mindfulness in your daily communication?
When people speak, really listen to them, instead of thinking what YOU'RE going to say.
Avoid simply nodding your head and saying "Ok, cool…"
(This may be difficult if you're a very analytical person, and you find yourself trying to pre-empt their answer, and think of your answer to that, like you're 10 steps ahead in the conversation, trust in the conversation!!)
When public speaking: notice any nerves that come up, acknowledge them.
Take some deep breaths to regain focus on your body.
Focus on WHY you're delivering that presentation. Why is it important? How can you make this the best experience for your audience?
If you're still feeling anxious and have trouble focusing when public speaking, join my Overcome Public Speaking Anxiety Course.
Links mentioned in the episode:
Interested in trying a Floatation Tank? In Melbourne I went to the Gravity Floatation Centre.
I'm reading Leadership Step By Step by Joshua Spodek (listen to our interview here). In the book, the first few exercises are all about developing self awareness and mindfulness — in order to become a better leader. (NOT an affiliate link)
I'm also reading Uncertainty by Jonathan Fields, where he writes about how Attention Training (AT) plays a huge part in the creative process, being able to generate new ideas, staying focused and producing amazing work. (Also not an affiliate link)