This podcast content is for members of The C Method Academy only. The C Method Academy is our monthly members-only training and accountability program. Members get access to exclusive podcast content, Masterclass 'mini courses', Live Coaching Calls and our private community platform. If you want to rapidly develop your confidence, communication and leadership skills, I invite you to join us! Click here to learn more and join The Academy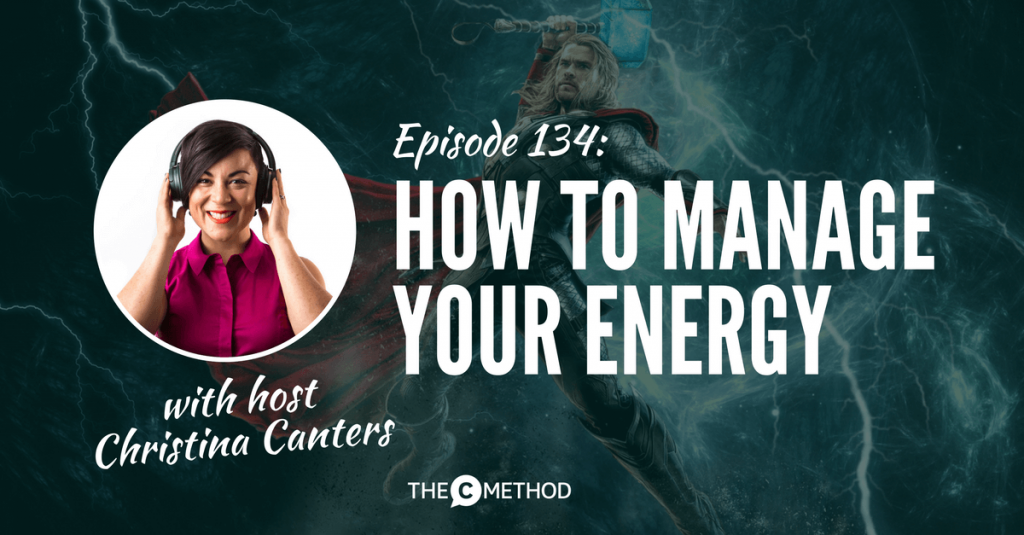 I've learned that in my business, I have to be very strategic about how I spend my time in order to run it successfully and sustainably.
I have recently had a LOT of exciting things happen, such as signing on a number of new 1:1 coaching clients, running corporate workshops, travelling interstate to run training, and getting involved in numerous networking events.
All this is GREAT, BUT, I started to feel a bit overwhelmed with it all. And my fear was that I would run myself into the ground and NOT be my best self for my clients.
So my coach and I talked about: what are the activities that drain me energetically the most? What energise me? And how can I recognise when I'm at capacity, so I know when to say no to things, and as a result, maintain a high level of physical and mental health, and perform at my best?
Having gone through this process, it's really helped me to deal with that overwhelm. And I'm sure I'm not the only one who is going through this, which is why I'm doing a podcast on it 🙂
And if you're wondering — 'What does this have to do with communication and speaking, Christina?'
This has EVERYTHING to do with communication and speaking.
On this podcast, I talk a lot about putting yourself out there if you want to build a strong professional presence, be recognised for your efforts, be first in line for that promotion, feel good about yourself and your contribution, or make a big impact in your business.
And by 'putting yourself out there', I mean: giving presentations, saying yes to opportunities, practicing pitching yourself, going to networking events, running meetings, etc.
But you won't be as effective at these things if your energy levels are suffering.
For example, if you're exhausted and slightly irritable as a result, you're not going to be able to lead your team effectively. If your brain is fuzzy, it will be difficult to find the right words to articulate your ideas clearly. If you're rushing from meeting to meeting without a break, you're not going to be as alert as you could be. If you're stressed and anxious, it will hold you back from confidently delivering a great presentation.
If you want to perform at your best and really make an impact in your workplace or business, managing your energy levels is absolutely critical. Because if you don't you're going to burn out, and then you're no good to anyone!
How to manage your energy
1. Write down the types of activities you do on a daily/weekly basis.
You can focus on all your work tasks, or you can focus just on the activities where you are required to speak, for example: meetings, training sessions, networking events, dinner parties, coffee catch-ups with friends, etc.
2. Rank them in order of most energising to most draining.
Look at the top 3 things that are the most energising, and the 3 that are the MOST taxing on your energy. It doesn't mean you shouldn't do them, or that you can't do them well. It just means it takes more energy for you to do these well as they don't come naturally to you.
3. See if you can reduce the number of draining activities, or limit them.
Set yourself a maximum quota for each activity per week, and don't book them back to back, make sure you build in time around them for restoration.
4. Write down a list of activities that rejuvenate you or bring you joy.
This could be reading, exercising, meditating, yoga, sleeping, walking, listening to podcasts, drawing, etc. And don't write down what you THINK should be rejuvenating. Only write it down if it works for you!
5. Build in time to do these activities into your week. 
Schedule them in. I've been building in 'restoration time' between energy-intensive activities, for example, doing 10 minutes of meditation, then going for a walk, instead of jumping onto email or another work task. This keeps my head clear and relaxed for the next meeting.
6. Learn how to say NO.
You need to take care of YOU. No one else is going to do it for you. If you are the type of person who looks out for everyone else's needs before yours, remember that you're doing them a disservice if you are not fully recharged and restored!
What do YOU do to restore yourself? What particular activities energise you or drain you? Leave a comment below!