This podcast content is for members of The C Method Academy only. The C Method Academy is our monthly members-only training and accountability program. Members get access to exclusive podcast content, Masterclass 'mini courses', Live Coaching Calls and our private community platform. If you want to rapidly develop your confidence, communication and leadership skills, I invite you to join us! Click here to learn more and join The Academy
Want to be more assertive in the workplace? Click here to register for the upcoming FREE webinar on the Keys To Assertive Communication!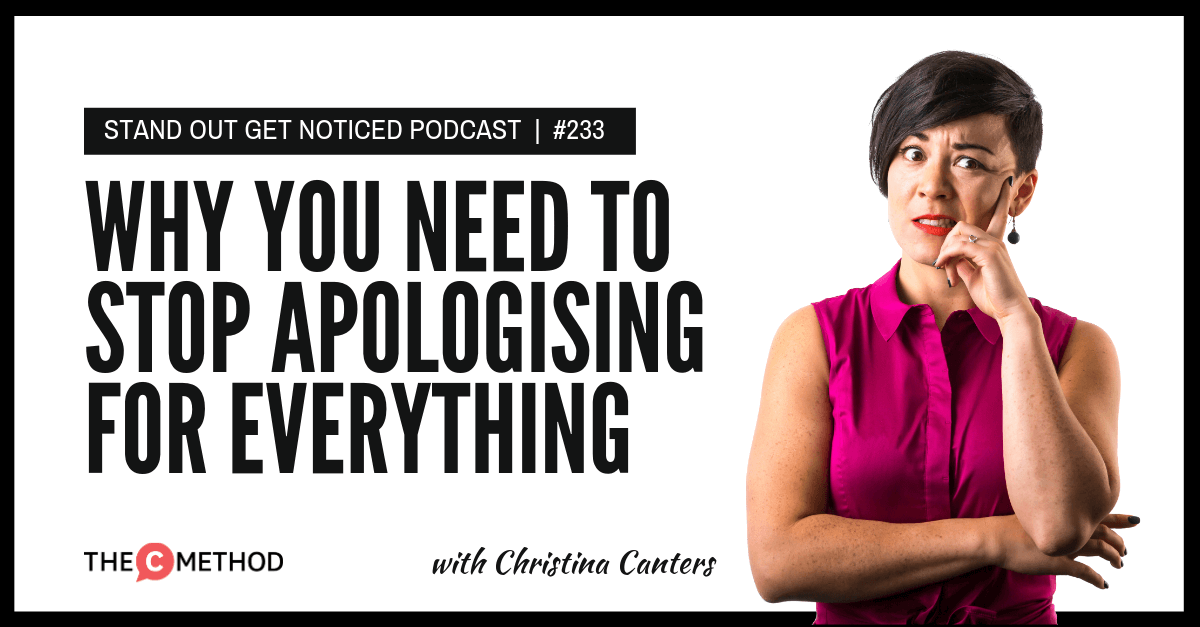 I was in the USA in early September, and was fortunate enough to attend Day 1 of the US Open.
The finals were played after I got back to Australia, and I was very excited when I heard that Canadian Bianca Andreescu won the women's tournament against Serena Williams.
Serena is an incredible champion; arguably the best tennis player EVER. And Bianca defeated her.
What an amazing achievement! Yet, in the post match interview, Bianca said to the crowd:
"I know you guys wanted Serena to win, so I'm so sorry."
She apologised for winning the US Open.
Now, many news outlets took this to be quite humorous and made comments like "Oh how Canadian to apologise".
But to me, it's a clear example of a destructive habit many of us have – apologizing unnecessarily.
Do you notice yourself doing this? Saying sorry for things you really shouldn't be sorry for?
Saying things like: "Excuse me sorry," or "Sorry, I have a question" or "What's your name, sorry?"
It may seem harmless, but apologising unnecessarily can be detrimental to your self esteem, your communication and your impact in the workplace.
In this episode, we explore why it's harmful, how apologies show up in our communication, and how to shift this habit. I want to give you PERMISSION to stop apologising and to start being more assertive and impactful in your communication!
How to stop apologising for everything:
Observe yourself. Be aware of apologetic language. Does it come up more in certain situations? With certain people? You may like to get feedback from your family or colleagues.
Ask yourself: "WHY am I apologising?" Is it out of a desire to be liked? Fear of upsetting someone? Perhaps as a child it was instilled in you to be polite? Or do you believe that you don't deserve to be sharing your ideas or taking up space?
Remove the apologies from your language. For example: Say "Excuse me" without the sorry: "Excuse me, I need to get through, thanks!" When you're in the way and someone says "Excuse me", say "Of course!" or "No problem!" or "Sure thing!" with a smile. You CAN be polite without saying sorry.
Practice taking up space. I was at a broadway jazz dance class the other day, and the teacher kept telling us to make our movements BIGGER, to take up more space. He said "As adults, we worry about taking up space, and we make ourselves small. Dance allows us an opportunity to get big and take up space".It was a great reminder. Think about the times where you've sat up the back of a meeting room, or the yoga studio, or curled up in the corner of a cafe, or sat hunched over with your legs crossed at your desk – trying to make yourself as small as possible. So to practice taking up space, I challenge you to sit in the front row in meetings and at events. Sit up straight. Spread out your notepad and bag if you can – literally take up more space.