This podcast content is for members of The C Method Academy only. The C Method Academy is our monthly members-only training and accountability program. Members get access to exclusive podcast content, Masterclass 'mini courses', Live Coaching Calls and our private community platform. If you want to rapidly develop your confidence, communication and leadership skills, I invite you to join us! Click here to learn more and join The Academy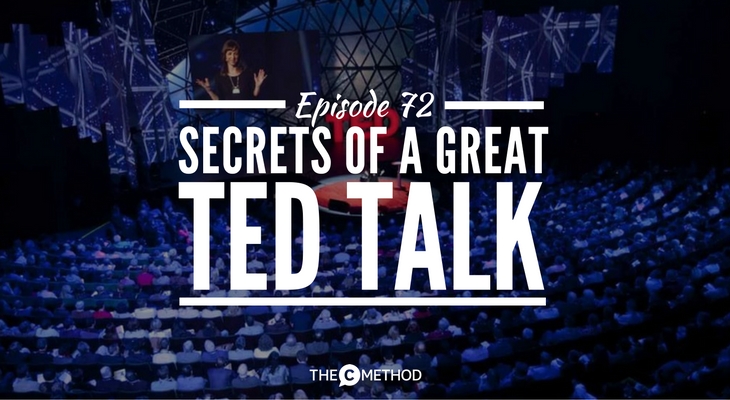 The first TED talk I ever saw was by a woman named Mel Robbins.
She came out on to the stage and wowed the audience with her humour, surprising statistics and thought-provoking insights.
She inspired me to think differently about the way we live our lives, and since then, I've been a huge fan of TED talks.
In this episode of Stand Out Get Noticed, you'll discover the secrets behind the super successful Ted talks; the ones that have been viewed millions of times, the ones that have inspired movements and launched their speakers to worldwide recognition.
Even if you're not planning on delivering a viral Ted presentation on the world stage, you'll discover how you can apply these techniques to your own presentations to make them even more engaging, inspiring and successful.
Never heard of TED talks?
TED stands for "Technology, Education, Design". The TED conferences are platforms in which expert speakers share their ideas on education, business, science, tech and creativity, and the TED website gives global exposure to the talks.
What makes TED talks successful is their short time frame (maximum 18 minutes), their weight on storytelling, and their emphasis on sharing ideas in an intriguing and different way.
Click here to visit the official TED website!
Make sure you listen to today's bonus episode too!
Click here to listen to the interview Natalia Dewiyani and I did with TEDx Melbourne curator Jon Yeo. We talk a little bit about TED, but it's mostly Jon's take on ideas, life and death – not entirely related to the themes of this show, but it's still really interesting, so make sure you check it out!
The resource I used for this episode:
I was inspired by the book Talk Like Ted: the 9 public speaking secrets of the world's top minds, by Carmine Gallo.
Click here to check out the book. (Not an affiliate link)
I'm not going to share with you everything in the book (that would take way longer than 18 minutes!), but I will share with you 4 key points he writes about that I found really interesting and useful.
These big ideas are:
Be passionate
Master the art of storytelling
Teach me something new
Stick to the 18 minute rule
My favourite TED talks, plus ones I mention in the episode: