This podcast content is for members of The C Method Academy only. The C Method Academy is our monthly members-only training and accountability program. Members get access to exclusive podcast content, Masterclass 'mini courses', Live Coaching Calls and our private community platform. If you want to rapidly develop your confidence, communication and leadership skills, I invite you to join us! Click here to learn more and join The Academy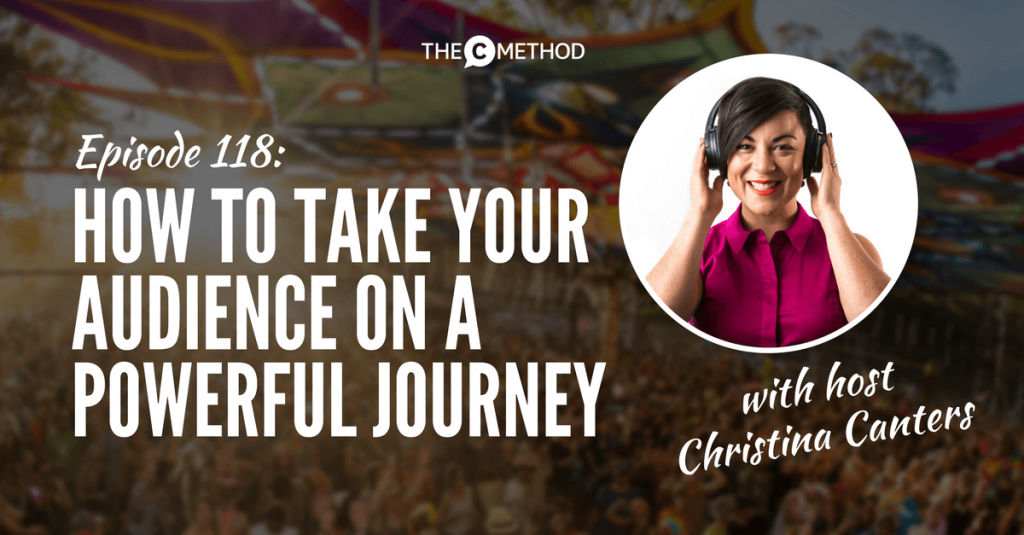 A number of years ago, my boyfriend at the time wanted to take me to a fancy restaurant for my birthday.
But he wanted to restaurant to be a surprise, so he made me wear a blindfold in the car. He thought it would be fun.
But it was horrible! I couldn't see where I was going, so I got motion sickness. I had no concept of time, so I couldn't tell when the journey was going to end. Plus, it didn't help that my boyfriend got lost and had to turn around and backtrack in confusing loops.
All I wanted was to get out of the car!
In much the same way, when you deliver a presentation, it's like you're the driver, and the audience is coming along for the 'ride'.
You're leading them on a journey, and it's very important they know WHERE you are going, HOW LONG the journey will take, and that you don't lose them along the way.
Because if you don't…
Your audience will get confused.
They will start wondering when morning tea break is.
They will lose interest in what you're saying.
And ultimately, you will not get the results you want.
In this podcast, I share 6 ways you can be a great 'tour guide' for your audience. Scroll down for a summary 🙂
How to take your audience on a powerful journey
1. Know where you are going
It's important that YOU know where you're going and how you're going to get there, otherwise your audience is going to get lost with you.
So what's the ONE big takeaway for your audience? What's the end result? What are they going to walk away with?
It's very important you know your destination.
2. ACT like a great tour guide
You wouldn't want to follow a tour guide who hesitates and seems unsure of where they're going. It's the same with being a great speaker.
So pay attention to your non verbal communication. Listen to my podcast about speaking with authority here, or check out the interview I did with non verbal expert Blake Eastman.
3. Be clear about timing
If you have a time limit, STICK TO IT. This shows respect for other people's time. You can even say: "In the next 10 minutes I'm going to share…"
Even throughout your presentation, you can use time indicators: "This is a 60 second animation showing how…"
This works the same in general conversations when approaching people. For example, picture this: you grab your boss as she's running from one meeting to another, and you say "Can I talk to you about that project?" In her head she's thinking "How long is this going to take?"
Make the other person feel comfortable by setting some clear time indications, and signposts, for example: "Have you got 5 minutes? I just have 2 quick questions on that project".
If they have 5 minutes, they'll say yes. If not, they'll say "Come back to me in an hour."
But they'll respect you for respecting their time.
4. Don't lose your audience
I once went on a tour of the city Prague in the Czech Republic. There were lots of different tours going on, and each guide was carrying a different coloured umbrella so you could easily follow them.
Similarly, bring your audience along with you, and check to make sure they haven't gotten lost down a side street or distracted by a gelato cart 😉
Does a good tour guide start talking before everyone has made it to the next stop? No! They wait until everyone has made it and, they check that they haven't lost anyone. And when they walk it's at a pace that everyone can keep up with.
So make sure your audience is still with you. Are they making eye contact or are they looking at their phones? If they seem to be losing engagement, change it up. Sometimes I make people get up and move around, which gets their energy up again.
5. Point out what's important
A good tour guide won't show you a view of the city and say "Look at all the buildings!" It's too vague. Instead, they'll point out interesting landmarks and share a few cool facts about that one thing.
Similarly, if you're presenting a graph or table or list of information, don't make the audience try to read the whole thing. Instead, say something like:
"The important thing to know here is…
"The point on the graph that is really interesting is…"
Hans Rosling does this really well in his TED talk based around statistics:
6. Be excited about what you're presenting
I once went on a tour of Scotland with Haggis Tours, and the tour guide was so excited and enthusiastic, I couldn't help but be excited about it too. Even when it rained, she exclaimed: "This isn't rain, this is liquid sunshine!"
The tour guides at Museum Hack do this exceptionally well too. Listen to my interview with Museum Hack's founder, Nick Gray, about how to turn 'boring' information into an exciting presentation.
A lot of people stress about being "interesting". Instead, I say focus on being "interested". That way, it's not about YOU, it's about the content you're presenting. And when you show genuine interest in your content, your enthusiasm will be contagious.
Hopefully you're inspired to think about how you can be a better tour guide for your audience! If you're still struggling to write a concise and compelling presentation, download my FREE speech and presentation writing template. It takes you through the exact process I go through when I create my own presentations. You'll save time, and feel more confident and prepared. Click here to download it.