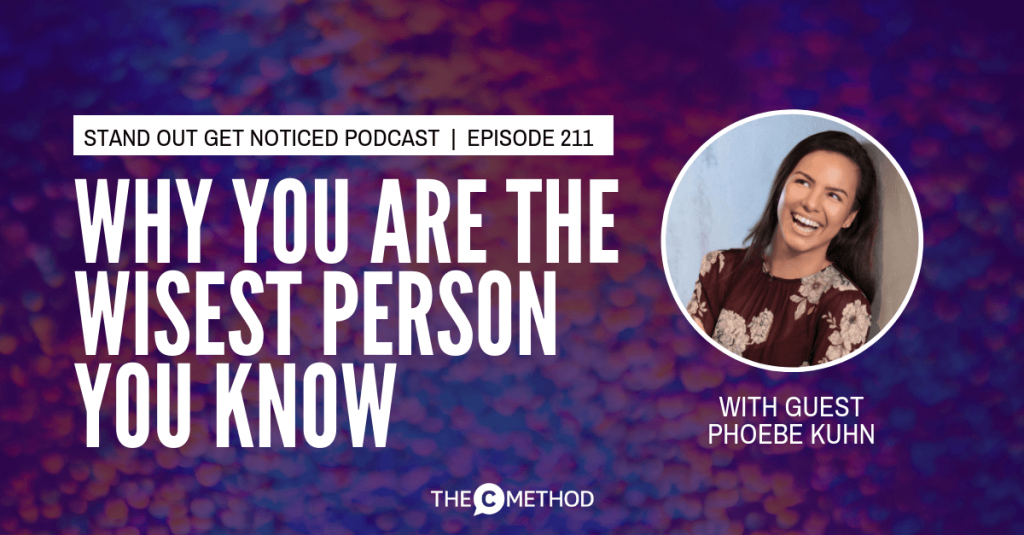 I believe in intuitions and inspirations…I sometimes FEEL that I am right. I do not KNOW that I am.
– Albert Einstein
When was the last time you asked yourself for advice on a big decision?
My guest this week, human behaviour specialist and coach Phoebe Kuhn, believes we all have a deep inner wisdom that knows what is best for us.
However, many of us have lost this connection to ourselves, and as a result, we can feel lost and we lost trust in our decision-making abilities.
In this conversation, Phoebe and I discuss what intuition is, why it's important to reconnect with ourselves, and how we can learn to trust ourselves, make the best decisions for ourselves, and live our most authentic lives. You may not believe it right now, but you're about to discover that YOU are the wisest person you know!
About Phoebe:
Phoebe Kuhn is a Journalist, Filmmaker, Soon-to-be-Author, Creative Storyteller, Anthropologist & Coach all in one. She works with chronically depressed women who long to be in the spotlight – those who are ready to be seen, transformed and broken free. She brings her clients 'The Art of Transformation' by activating their creative field of play. She writes and speaks on the topics of Vulnerability, Moving through Fear, Infinite Potentiality & Inspired Action.
In this episode, we discuss:
What is 'intuition'?
Why listening to your intuition doesn't make any rational logical sense
Book recommended by Phoebe: Lost Connections by Johan Hari (not an affiliate link)
How disconnection from ourselves and others can cause depression
Why losing connection to ourselves and our intuition can reduce our ability to relate to each other.
When you are connected to yourself, it's magnetic; people want to follow you.
Why asking for permission is a disempowered state.
What is the difference between receiving advice and feedback
The problem with taking advice literally
How to reconnect with your intuition and inner wisdom