This podcast content is for members of The C Method Academy only. The C Method Academy is our monthly members-only training and accountability program. Members get access to exclusive podcast content, Masterclass 'mini courses', Live Coaching Calls and our private community platform. If you want to rapidly develop your confidence, communication and leadership skills, I invite you to join us! Click here to learn more and join The Academy
Want to promote yourself and your work in a way that feels good? Join the FREE 10-day Small Talk Made Simple class and start communicating with more impact and confidence. Click here to join the class!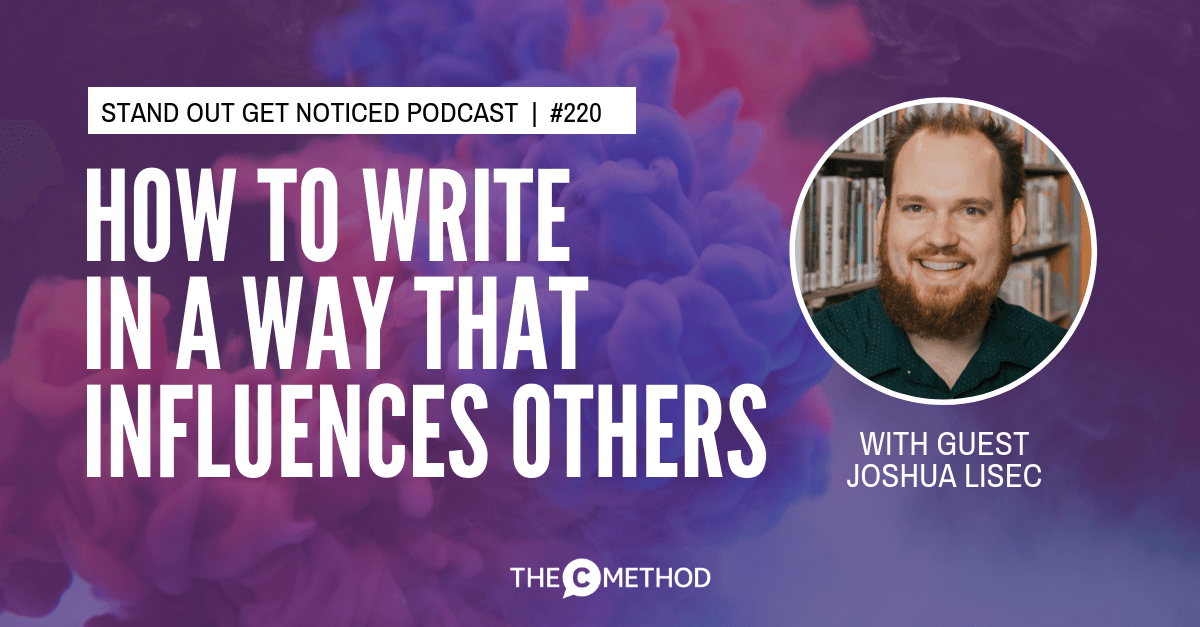 How much thought do you give to your written communication?
In this episode, we're diving deep into how to make your emails, reports, blog posts and other written content more effective.
And I am very excited to welcome Joshua Lisec to the podcast as my special guest.
Joshua is the founder of The Entrepreneur's Wordsmith LLC, the first Certified Ghostwriter in Ohio, #1 International Bestselling Ghostwriter, a Forbes Contributor ghostwriter, a TEDx speaker, a leading authority on Author Voice Authenticity, and a two-time published novelist. Since 2011, he has ghostwritten forty books.
In this conversation, Joshua shares is '6 Pillars of Influential Content', which will help you to be more influential and persuasive with your written communication.
You can apply these tips to email, reports, speeches, books, blog posts – any type of written communication. Let's do it!
Joshua Lisec's 6 Pillars of Influential Content
Credibility: What is YOUR UNIQUE set of accomplishments that sets you apart from others? This is beyond your certifications or qualifications. Think about: what will raise eyebrows?
Connection – How does this content CONNECT to the audience's desires for results? You as a communicator are not existing in a vacuum. You are expected to help others produce results. Whatever your topic is, how is this topic going to lead to MEASURABLE RESULTS? Ask the question "Why is the audience here?"
COMPELLING – Share the most simple, understandable version of your message. No matter what is going on for your audience, they still need to be able to process the message. Think FOUTH GRADE level language.
COUNTER INDUSTRY – this is the insight YOU have into the most common ways people try to get results, and they are doing it WRONG. What is counter productive? Go against what common industry knowledge is and share something different.
CALL TO ACTION – the most overlooked – what do you want people to do? Don't wait until the end to ask people. Pre-suade or prime people – mention at the beginning AND at the end, what you would like them to do.
CIRCULATION – word of mouth – what is it that your reader tells others about what they took away?
Links mentioned in the episode: