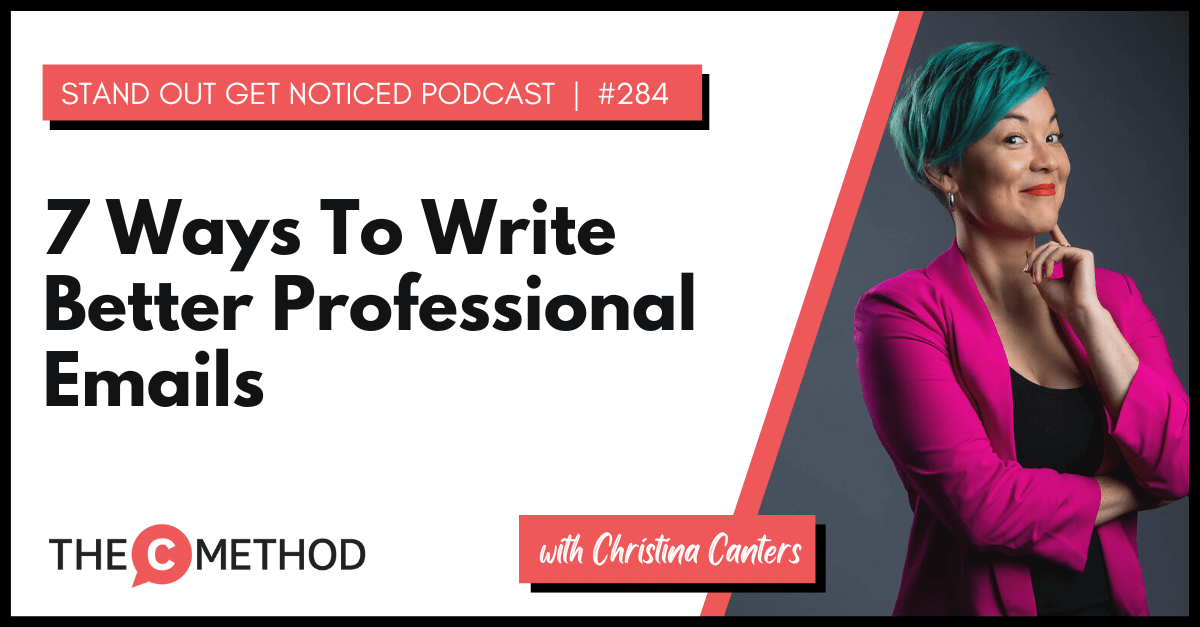 As a leader, I'll bet you spend a lot of time receiving and sending emails. But is your email communication as effective as it can be?
In this episode, I explore 7 ways you can write better professional emails.
Why is this important? If you are able to improve the way you write emails, you'll:
Be more productive – you'll spend less time writing them, and less time going backwards and forwards with others
Get to a resolution much more quickly
Be seen as more professional, eloquent and capable
Have more respect as a leader
Improve your verbal communication – written communication gives you extra time to think about your message – this can then flow over into your verbal communication.
7 Ways To Write Better Professional Emails
1. Ask: "Is email is the best channel for my message?"
Not all messages are best communicated via email.
If you're not sure if email is the best option, consider the following:
How long is your message? If it requires a lengthy response, a phone call might be quicker.
What is the tone of your message? If it's something positive or neutral, email is probably fine. If it's something negative or sensitive, a phone call or meeting may be better.
How well do you know the person you're emailing? If you're emailing someone you don't know well, a phone call or meeting may be a better way to establish rapport.
2. Ask: "Who is my recipient?"
It's important to think about your recipient's communication preferences, as this will help you best communicate with them. For example:
Are they quite formal or more casual?
Are they to the point or more wordy?
Do they use exclamation marks and emoticons?
Do they ask "how are you" at the start?
This is super easy – simple match your email communication style to theirs, in order to build rapport. We tend to like people who are like us – this works with both verbal communication AND written communication.
Learn more in this podcast on Communication Styles.
3. Make it clear what the email is about
Here are two ways to do this:
1. Start with a clear subject line – I used to get really annoyed with Aaron when he would send me a meeting invitation titled "initial podcast discussions". I never knew who the meeting was with! You can put the action in the subject line for example: "Q4 report – approval by COB Monday."
2. Put the main action point of the email at the START. This means the recipient doesn't have the read the rest of the email for context if they don't want to. For example:
Hi Sam, can you please send me your branding guidelines?
We're getting started on the initial design for your podcast artwork, and we want to make sure we're meeting your organisation's requirements for colours, fonts and so on.
4. Structure your email
Dot points are your friend! Do not write a stream of consciousness. You can include separate dot point lists for:
What was discussed in the meeting
Questions you have
Action steps for the recipient
Here's an example of a stream of consciousness email I received from a client (names have been changed):
Can we please schedule Sarah's training session for anytime on the 2nd June (or if not, is there another available time that week?) Tim has begun reaching our to possible interviewees and we're aiming to get a few done in the week of 7th-11th of June, with the week of 21st -25th June as backup if things need to be rescheduled/postponed, (Maria is on leave from 14th-18th June and we'd prefer to have her here for the recording). Will this work for you? We'd like to try to get 5 recordings done (but minimum 3)in that week, although not sure if that goal is too optimistic – what do you think? I know it will depend on where each guest is located…but other than courier time is there anything that you foresee may be an issue?
I spent a long time staring at this email, not sure of how to start with a response. I ended up exiting the email, thinking I'll get back to it later, and then I forgot about it. Not good!
5. Offer solutions, not more questions
Whenever you find yourself asking a question in your email, show that you've already thought of solutions. For example, when setting up a meeting, instead of "When are you free for us to meet?", GIVE OPTIONS. You are not doing them a favour by throwing the ball back in their court. A better way is:
Here are some times and dates I have available:
Date/time #1
Date/time #2
Date/time #3
Please let me know which of these works for you. Or, suggest an alternative and we'll go from there.
Here is an example of email I recently sent to a client:
Are you happy for me to directly email everyone with a link to the session recording? If not, I can send it to you to forward to the participants if that works better.
Also, please let me know if a Dropbox link is OK, if not I can do We Transfer or Google Drive.
The client wrote back:
Happy for you to send it to the group directly and a Dropbox link should be fine.
Presenting solutions saved her from having to think about other options herself.
This is a WONDERFUL skill to have in general – to show that you have THOUGHT about the possible answers yourself instead of outsourcing the thinking to someone else. Check out Brooke Castillo's episode on Superthinking, which dives deeply into this topic – it's fantastic!
6. Be specific about what you want your recipient to do
Don't write vague questions like "Thoughts?" Instead, be specific ie:
Please review my attached presentation. Can you please let me know:
1. Is there too much text on slides 1-3?
2. Are you happy with the layout of the diagram on page 5?
3. Does the explanation of the concept on page 8 make sense to you?
7. Final tip for writing better professional emails: Remove all apologetic language
I feel very strongly about this one. Apologetic language makes you appear less powerful, less assertive and unsure of yourself. It includes language like:
"I'm just writing about", or "I'm just touching base"
"I'm sorry to bother you, but…"
"I'm sorry if you already told me this but…
"I don't want to take up too much of your time…" (you're taking up their time by making them read that)
Instead, start with a greeting or another comment to soften the opening of the email, for example:
"I hope you're doing well!"
"It was great to meet you on Monday…further to our discussion…"
If this is something you struggle with, check out the Just Not Sorry Plugin for Chrome.
Other resources:
If you found this episode on how to write better professional emails helpful, please share it with a colleague or friend who could also benefit from improving their email communication!
If improving the overall communication and productivity of your team is a priority for your organisation, get in touch. I'd be happy to explore what a tailored communication skills training program could look like for you.