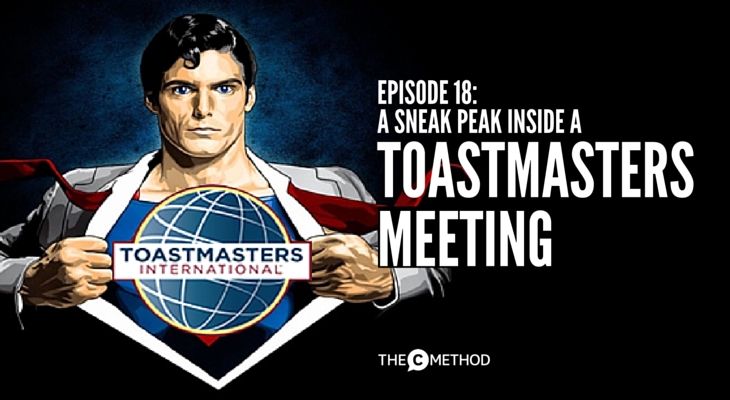 No, Toastmasters is not about drinking wine and toasting to each other's good health. Or eating ham and cheese toasties.
It's about helping you with public speaking and effective communication. And this week, I'm taking you inside a Toastmasters meeting.
Whenever I tell people I go to Toastmasters, they often ask "What's that?" Then I talk about it with such zest, I end up inviting them to a meeting (and they actually come, too!).
If you want to commit to improving your own public speaking and leadership skills, the best thing you can do (apart from hiring me ;)) is to join a public speaking group.
Why?
Because it provides a safe and encouraging environment for you to PRACTICE your speaking. Develop skills here, then when you give a presentation with ACTUAL consequences, you'll be prepared and ready.
Toastmasters is one such organisation.
It's become so successful, it's reached over 100 countries. In inner city Melbourne, I counted 37 clubs alone! Earlier this year, I joined the 'ANZ Talk of the Town' Toastmasters. They meet twice a month on Monday evenings. The meetings go for 2 hours, and are extremely well run and organised.
Want to see for yourself what Toastmasters is like?
Go to 'Find A Club' on the Toastmasters website, type in your location, then contact a club of your choice. Just a warning – response rates may vary. Some clubs will have their own Facebook page or website and may prefer to be contacted through there.
You can attend for free as a guest 2 or 3 times, then if you want to sign up it should be only $150 or so for the year.
Listen to the episode to hear exactly what goes on in a Toastmasters meeting. Also, you'll get to hear my very first prepared speech…eep! (Also see video below)
Thanks to speakers Saurabh, Ajit, Graham and Travis, and also to the rest of the Toastmasters at ANZ who let me record them and fling the sweet sounds of their voices all over the internets.