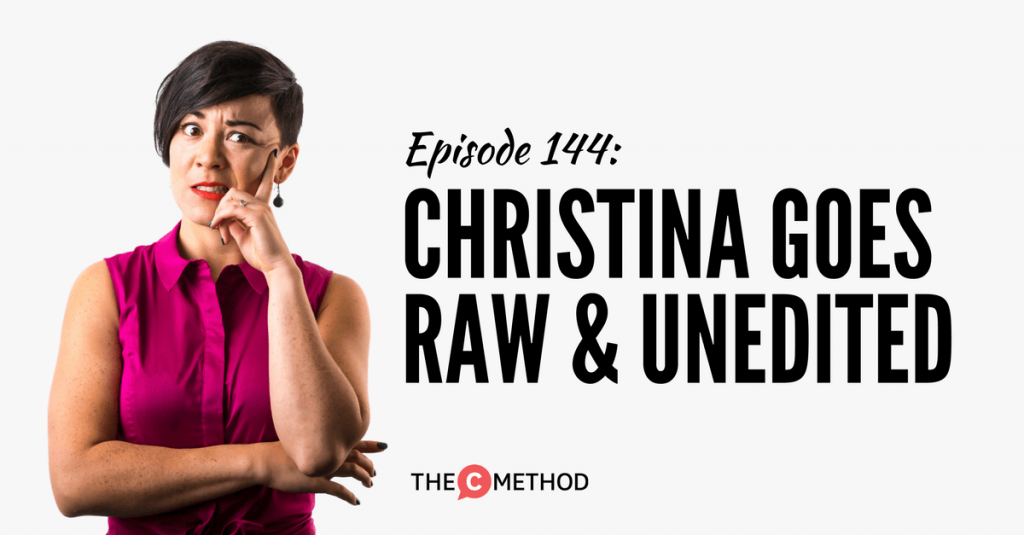 This week, my business coach, Farnoosh Brock, challenged me to record my podcasts in a single take, with no edits.
My mind frantically threw me every reason it could to keep me in my comfort bubble: "What if I don't come across as professional? What if it ruins the listening experience? What if people don't like ME? What if? What if? WHAT IF???"
But I knew if I wanted to take my show to the next level (and save myself the time of doing the damn edits), I had to push through and challenge myself to do it. 
And I challenge YOU to think about what you have been doing to keep yourself in your comfort bubble. Yes, we all create them for ourselves. They are there to protect us, but real growth and opportunity is outside that bubble. And to get out of the bubble, we have to experience some discomfort.
But as soon as we push out of the bubble, we immediately create another one for ourselves. And then another, and then another. You just keep expanding and expanding the bubble. And the only way you will see rapid growth and reach high levels of success, is if you're willing to constantly push through each layer of bubble as it comes up.
I realised I had pushed through a number of comfort bubbles with my podcast, but was still sitting comfortably inside one, with the ability to edit my podcast as the 'safety net'. So I've busted through it, by recording this episode in a single take, and leaving it unedited and unpolished. Of course, the quality is still there, but it's helped me to not be so worries about the little imperfections.
"Everything you've ever wanted is on the other side of fear."  – George Addair
Links mentioned in the episode:
Thanks to my kick ass business coach Farnoosh Brock of Prolific Living for setting me this challenge! Have a look at the work she does if you want to take your business to the next level.
My Burning Man podcast, where I recorded it in the back of the RV — my other 'raw' and unedited podcast, which received unexpected positive feedback.
Want to understand more about your fears and anxiety? Check out this podcast on how to deal with your anxiety I did with life coach and naturopath Shaun Resnik.