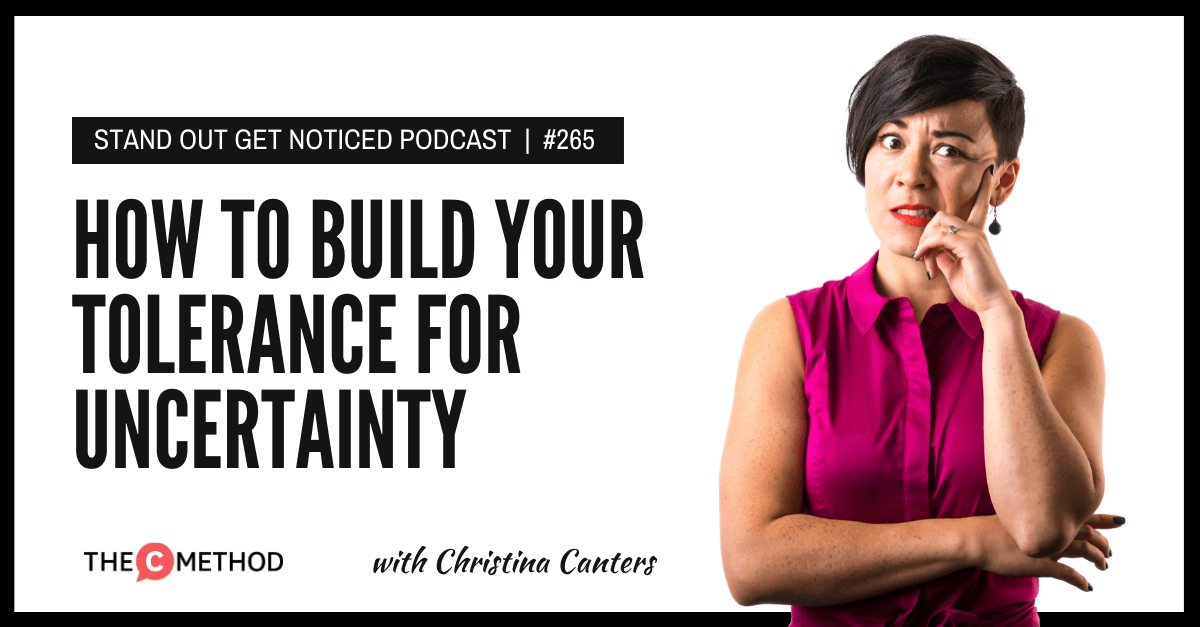 Do you have a need to control everything? Does insecurity make you anxious?
This week on the Stand Out Get Noticed podcast, we're exploring what it means to build your tolerance for uncertainty – and how to do it.
I was inspired to do this episode as I've been learning a lot recently about how I personally deal with uncertainty. Being 19 weeks into my first pregnancy, I am experiencing MANY unknowns.
I have to deal with not knowing how my body will respond. I don't know what I'll feel like eating. I don't know if I'll be able to sleep tonight. I don't know if I'll develop a weird rash.
Just last week (no, this isn't a rash story) I woke up at midnight with a deep pain in my abdomen. I had no idea what it was. I was so worried I got Aaron to drive me to the emergency.
After a thorough check up, the doctor said: "It seems like you've got indigestion. Here's a mylanta and a panadol. Go home."
Great. Just another uncertainty to deal with.
In addition to all of this, Aaron and I have encountered a much more serious uncertainty during the pregnancy, the story of which you will hear on the podcast.
And I share this because I truly believe that developing a tolerance for uncertainty is a powerful skill to have. Not only will it help to reduce your anxiety and worry, you'll feel more confident that you can handle all types of situations.
Note: the stories and topics addressed in this podcast may be confronting for some people. If you find yourself feeling anxious or depressed or with suicidal thoughts, please reach out to Beyond Blue for professional help.
In this episode you will discover:
What 'uncertainty' is and why so many of us find it difficult to manage
Why we have a deep need for comfort and control
In reality, we can control very little in life – and we need to learn to accept this truth
How to tell if you have a low tolerance for uncertainty, including common behaviours
The mindset shift you can make to start to get comfortable with uncertainty
Small steps you can take to slowly build your tolerance for uncertainty
Did this episode resonate with you? Have you reflected on your tolerance for uncertainty? Connect with me on LinkedIn and let me know!
PS: The uncertainty of public speaking creates a lot of anxiety for many. I've created a checklist to help you feel more prepared – without spending too much time overthinking it. Get your free checklist by filling out the form below!