This podcast content is for members of The C Method Academy only. The C Method Academy is our monthly members-only training and accountability program. Members get access to exclusive podcast content, Masterclass 'mini courses', Live Coaching Calls and our private community platform. If you want to rapidly develop your confidence, communication and leadership skills, I invite you to join us! Click here to learn more and join The Academy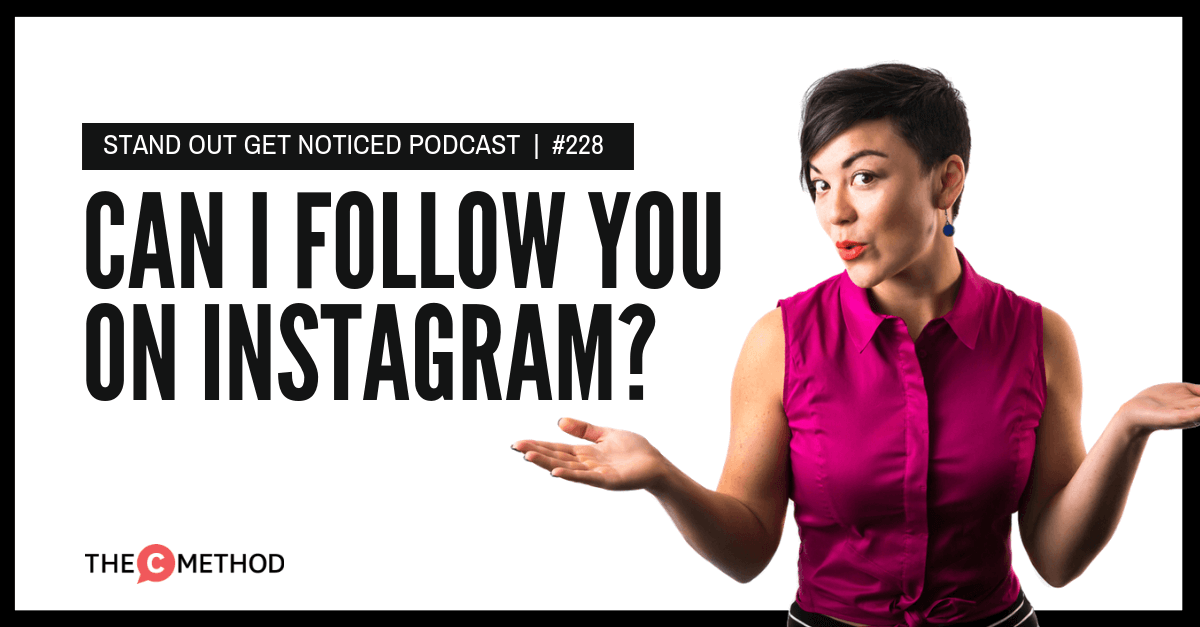 I am taking a break from the regular topics and format of this podcast while I am travelling. If you're looking for communication and leadership skills-focused podcasts, make sure you hit up some of my previous episodes! Regular programming returns 11 September 2019.
I'm in serious need of an Insta-education
When I met with personal branding expert Suzanne Chadwick (@suzchadwick) for an interview for an upcoming episode (coming soon!), she said "Ok, let me just do a quick insta story!"
I was like: "What's an insta story?"
She looked at me like I had just told her to kick a puppy.
"WHAT!? You don't…ok, we need to fix this. Right now."
And she proceeded to give me a crash course in all things Insta.
Now, I am fully aware of how powerful Instagram is for connecting with audiences, building a following and growing a brand.
However, I've been having success with LinkedIn, and the thought of directing my efforts into yet another social media platform sounds exhausting to me.
Up until now, I have been using Insta for personal travel pics ONLY, with the main focus to document my travels (and perhaps draw some envy from the folks back home. Mean, but true).
But I am curious about what this platform could bring for my audience, my community and the reach of the podcast and The C Method.
So where to start?
I want some awesome people to follow! And this means…YOU.
So…are you on Insta? If so, I would love to connect with you and get more acquainted with this 'new' platform. Here's what I invite you to do:
Let me know what type of content you would like to see from me on Insta
Take a screenshot of the Stand Out Get Noticed podcast episode you are listening to right now (or take a photo of yourself listening) and post it, tagging @cjcanters and with hashtag #standoutgetnoticed
I can't promise any mind-blowing gifs or emoji-decorated stories, but I will do my best to share more tidbits of my daily life.
I look forward to connecting!
Yours in #foodporn and #gymselfies (kidding),
Christina