This podcast content is for members of The C Method Academy only. The C Method Academy is our monthly members-only training and accountability program. Members get access to exclusive podcast content, Masterclass 'mini courses', Live Coaching Calls and our private community platform. If you want to rapidly develop your confidence, communication and leadership skills, I invite you to join us! Click here to learn more and join The Academy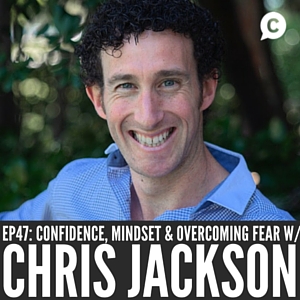 It's only through taking action we conquer our fears, and on the other side of that is real confidence.
Can you learn confidence, or is it all in your head?
This week I'm chatting with Chris Jackson: Perth-based life and success coach, personal development junkie and proud wearer of loud leggings.
He coaches groups and individuals to help them find their passion, break through the barriers holding them back, and live to their full potential.
In this conversation you'll learn: how Chris overcame his fear of talking to women, the right mindset you need to be confident in social situations, what he teaches his coaching clients to help them overcome their fears, what he learned from Tony Robbins, plus much much more.
Also, a big thanks to the awesome podcast listeners who left podcast reviews in Stitcher. You rock! Here's one from BinTeo:

It's super easy to leave a Stitcher review, all you need is an email address and something nice to say 🙂 Click here to leave a review – it helps the show immensely! 
---
Connect with Chris
Listen to Chris' ultimate personal development playlist:

Or click here to listen on Soundcloud