This podcast content is for members of The C Method Academy only. The C Method Academy is our monthly members-only training and accountability program. Members get access to exclusive podcast content, Masterclass 'mini courses', Live Coaching Calls and our private community platform. If you want to rapidly develop your confidence, communication and leadership skills, I invite you to join us! Click here to learn more and join The Academy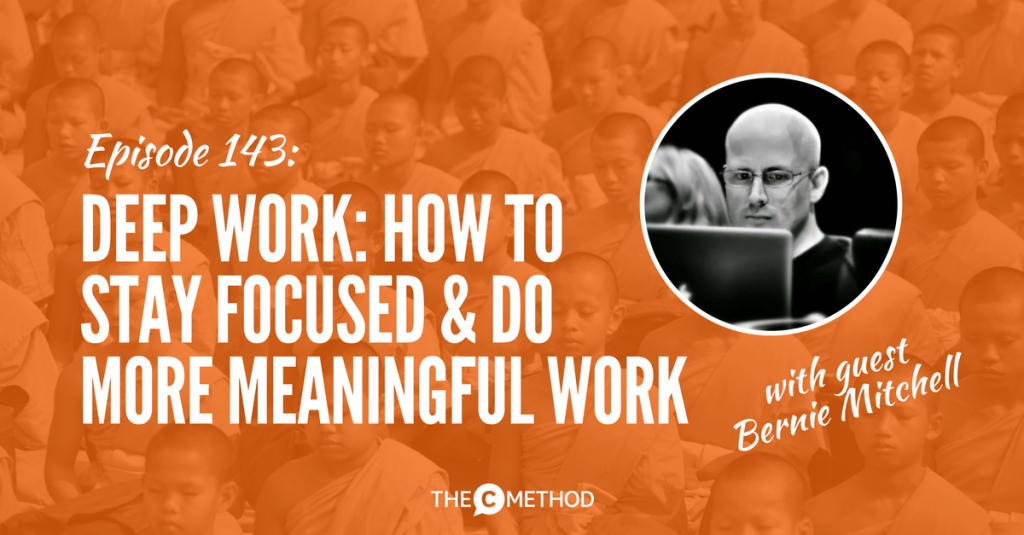 I want to share a concept that has the potential to help you produce the best work you're capable of, master difficult things, and as a result, stand out and make you more valuable in today's economy.
It's the concept of 'Deep Work', a term that was coined by author Cal Newport in his book of the same name. I was introduced to it by my friend, Bernie Mitchell, who recommended I read the book. It resonated deeply with me, especially as I am constantly working towards being a more productive, skilled and focused human.
Read: Deep Work: Rules for Focused Success in a Distracted World (not an affiliate link)
Here's a quick overview of the book:
Deep Work: Professional activities performed in a state of distraction-free concentration that push your cognitive capabilities to their limit. These efforts create new value, improve your skill, and are hard to replicate.
Shallow Work: Non-cognitively demanding, logistical-style tasks, often performed while distracted. These efforts tend not to create much new value in the world and are easy to replicate. I would add that they don't lead to a feeling of work satisfaction.
Newport argues if you spend enough time in a state of shallowness, you permanently reduce your capacity to perform deep work. So the more we spend on email, social media, running around to meetings, re-organising our folders, etc, the more difficult it is to then be able to focus intently on one thing.
Newport calls deep work, "the superpower of the 21st century." One big idea from the book: the ability to quickly master hard things and the ability to produce at an elite level, in terms of both quality and speed, are two core abilities for thriving in today's economy.
So if you want to stand out at work, become indispensable and recognised for your skills, be the go-to expert in your field, AND feel a deep sense of satisfaction in your work, learning to master the skill of deep work is absolutely critical.
About Bernie Mitchell:
I invited Bernie to join me on the podcast to share his thoughts on Deep Work, and how he's implementing the concepts in his own professional life. Describing himself as "one of those dyslexic, excited Labrador type of people", Bernie has found that learning how to stay focused has allowed him to accomplish more meaningful work, do more for his community and find a sense of mental calm too.
He is a blogger, podcaster and co-runs @Work Hubs, a co-working space in London. He's passionate about co-working, creating thriving communities, collaboration and figuring out how to become a better person.
Connect with Bernie: