This podcast content is for members of The C Method Academy only. The C Method Academy is our monthly members-only training and accountability program. Members get access to exclusive podcast content, Masterclass 'mini courses', Live Coaching Calls and our private community platform. If you want to rapidly develop your confidence, communication and leadership skills, I invite you to join us! Click here to learn more and join The Academy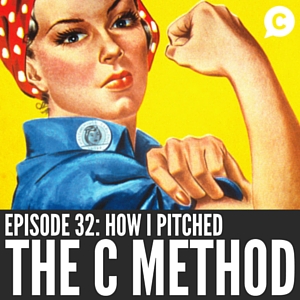 If you've ever had to pitch your business before, you'll know it's pretty bloody nerve-wracking.
For me, pitching The C Method in the final round of the 2015 RMIT Business Plan Competition was the highest-stake presentation I've ever done.
And the fact I was pitching my business, this thing I've been working so hard for, this thing that represents everything I stand for – it was like holding my heart in my hands and offering it up for slaughter.
But I did it. And it worked. And I won 3rd Prize.
In this episode, I share with you how I wrote my pitch, the pitch itself, plus 5 things that helped to calm my nerves before the big presentation. Listen in if you've got an important preso coming up – or if you simply want to learn more about the art of writing a kick-ass pitch.
Christina's 5 Tips for Calming The F*ck Down Before a Big Presentation
1. Get a good sleep the night before.
This will help you focus. And don't drink coffee. You will already have nervous energy – you don't need caffeine to exacerbate it.
2. Practice your intro and outro over and over again.
Why? Because once you nail the intro, you'll be confident with the rest of it. And the first 10 seconds of any presentation are key to making a great impact. And finishing strong is also important. Practice it on the day as well, so by the time you get in there, it just rolls off your tongue.
3. Go to the bathroom and power pose in front of the mirror.
Stand like Wonder Woman or Superman – your physiological state will tell your brain that you are strong, powerful and confident. Then, jump around get your energy up. Tell yourself you are a rock star. Say "I'm excited!" instead of "I'm shitting my pants." Keep this strong energy up as you enter the presentation room.
4. Practice deep, diaphragm breathing.
Put your hands on your belly and take deep breaths in and out, feeling your belly rise and fall. This type of breath is designed to calm us down. Most of us breathe into our chests when stressed, which is how you breathe when you're doing a high intensity workout. Great for running away from a mammoth, not great for pre-presentation nerves.
5. Be performance ready, ALL THE TIME.
This means – practice speaking whenever you can. This is why I go to Toastmasters. When you're used to getting up and speaking, getting up and speaking, getting up and speaking, the whole act of getting up and speaking becomes normal, and it removes that anxiety you have about standing in front of a group and having people look at you.
So those are my 5 key tips. Even if you implement only a couple of them, you'll be in a much better position. And if you do – please let me know if they worked! I shared the breathing tip with the team who pitched after me – and they told me afterwards that it really helped. See – it works!
Keep on rocking it