This podcast content is for members of The C Method Academy only. The C Method Academy is our monthly members-only training and accountability program. Members get access to exclusive podcast content, Masterclass 'mini courses', Live Coaching Calls and our private community platform. If you want to rapidly develop your confidence, communication and leadership skills, I invite you to join us! Click here to learn more and join The Academy
People don't value and consequently protect their own attention. And as a consequence have a whole series of habits and processes that really rob them of time every day.
Do you wish you had more time? As in, an extra day to get things done?
Sounds impossible, right? Well, my guest this week is a time-generating magician! I'm serious!
Ethan Glessich is the founder of enarah, a consultancy that helps companies and individuals reclaim their time. In this conversation we talk about how to increase attention and focus, so you can be more effective with how you spend your time.
In 2013, enarah picked up multiple awards in RMIT's Business Plan Competition, giving Ethan exposure to numerous industry heavyweights. He took advantage of this opportunity and used his new connections to further develop the strategy behind enarah, which helped him turn it in to the success it is today.
The lesson? If you want to succeed, always go for opportunities and seek mentors wherever you can!
---
---
Notes from the Episode:
The 'TECO' method Ethan uses with clients: Time, Energy, Control and Outcomes
The biggest thing that holds people back from being effective at time management
Attention is one of the most valuable resources we have as humans.

Think about where your attention is going. Your ability to concentrate is very fragile. Your attention goes to really subtle things. But it's also our unique capability.

Think about professional athletes! Where is their focus? Do you think Nadal is getting email pings in the middle of a serve?

30-40% of an office day is spent on emails.

Every ping fractures your attention

Tim Ferriss – ask for forgiveness, not permission.

Work with your team to be more productive, not just as an individual.

Avoids 'desk bombing'

Attention span is different to attention.

How Ethan uses his perfectionism – you can be a perfectionist with your TIME

"Whenever you have a group's attention, you have this responsibility to deliver something to them. Because it's not just every minute you're spending, it's  a minute multiplied by every person who's people receiving value."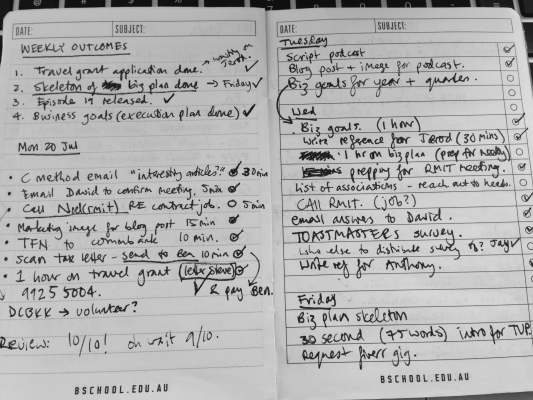 Connect with Ethan: