This podcast content is for members of The C Method Academy only. The C Method Academy is our monthly members-only training and accountability program. Members get access to exclusive podcast content, Masterclass 'mini courses', Live Coaching Calls and our private community platform. If you want to rapidly develop your confidence, communication and leadership skills, I invite you to join us! Click here to learn more and join The Academy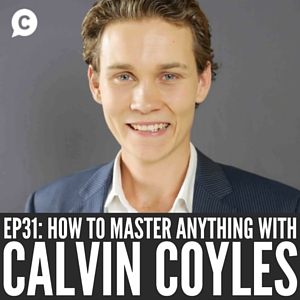 There are so many energy vampires in our lives…if you want to stand out and get noticed – just be a great person! Be a great person people want to be around.
My guest this week is Calvin Coyles, CEO and founder of Young and Wildly Successful, Australia's fastest growing personal development company.
I've been helping YWS out with some coaching and sales, and thought it would be awesome to get Cal on the show to share some of the wisdom he's taught me.
Notes from the episode:
"Be so good they can't take their eyes off you." – Steve Martin
Rich Dad Poor Dad – book you need to read 🙂
Learn how Calvin built a million-dollar business in under a year – at age 25!
Why Calvin believes in mentorship so strongly
Did you know it takes 68 days to create sustainable habits that will lead to to mastery?
3 levels of learning: the 'dabbler', the 'high achiever' and the 'master':
The dabbler: Jumps from one thing to the next. Has a fast learning curve at the start, but as soon as they hit a plateau, they quit and move on to the next thing. And it happens in all areas of their lives – relationships, sports, activities, jobs etc.
The high achiever: Starts something, and does whatever it takes to make it work. Hits a plateau, gets frustrated and tries harder and harder to break through. Eventually they do break through, only to hit another plateau. Plus, they've stressed themselves out and worked themselves to the bone in the process, and there's no energy left to enjoy the rewards. Cue: burnout.
The master: Understands there will be highs, lows and plateaus – and prepares for them. Finds a mentor who has gone through it all before, asks them how they did it, and models their success. Once they've learned everything they can from that mentor, they find another one who is even more successful.
How to master something: 1. Do a self audit, 2. Map out what success looks like, 3. Find someone who's done it before, and model them.
Look to your friends and family – see what areas THEY are successful in, and ASK THEM how they did it.
Want access to awesome mentors?
Cal has been mentored by some phenomenal people (which explains his success at just 25 years of age!) and he's brought all of them together to share their expertise in one place, the Online Success Academy – click here to learn more. **Please note I do not make any commission through this link.
Finally – are you in Melbourne?
I'm running a free event on Thursday – the Success Intensive – with Young and Wildly Successful. Watch the video below to learn more. Spaces are LIMITED, so sign up now 'cos I don't want to you to miss out. I would be very sad 🙁
When: Thursday 29 October, 7.00-9.00pm
Where: Hub Melbourne, 673 Bourke Street (near Spencer Street)