This podcast content is for members of The C Method Academy only. The C Method Academy is our monthly members-only training and accountability program. Members get access to exclusive podcast content, Masterclass 'mini courses', Live Coaching Calls and our private community platform. If you want to rapidly develop your confidence, communication and leadership skills, I invite you to join us! Click here to learn more and join The Academy
Be generous, be kind, treat people well…but also be strategic.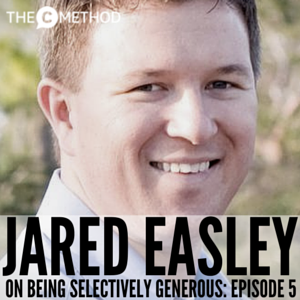 I am super pumped to be chatting with 'Starve The Doubts' host and my good friend, Jared Easley.
In the podcasting and online business world, Jared is known for being one of the most helpful, generous and sincere guys out there.
We met when I was doing Cliff Ravescraft's Podcasting A-Z course, and I hadn't experienced that amount of sincere support from someone I'd only just met. It was a breath of fresh air and very encouraging!
However, Jared has learned some very important lessons – including that being helpful and 'nice' to everyone doesn't mean they will reciprocate. In this interview you'll hear a story that made him rethink the way he goes about building relationships.
This is a very different side to the Jared Easley you may be used to hearing.
---
---
Notes from this episode:
"When I do see someone who is creative and generous and working hard, I really try to help them…[helping people] is a part of my DNA. So it's a nice complement to this line of work [online business]."
People love to hear the story of how you've overcome a struggle – but not if you're still struggling!
Why sharing vulnerability is really important for connecting with people
"Nice doesn't necessarily generate business."
You should treat people the way you want to be treated, but…there is a limit to that.
We're not endless resources – there is a time and place for being generous
The story of how Jared went out of his way to help someone promote their book: he used his connections to get them on other people's podcasts, like Entrepreneur on Fire. And then the author put out a webinar on how to create a 6 figure book launch – essentially bragging about how much money they made, without acknowledging the overwhelming help they received from others. Would he do that again? "I will gladly say no!"
"Be generous, be kind, treat people well, but also be strategic."
More direct with people who just want to take.
Essentially, sending people to something like Clarity is a polite way to say "no". It's a really good filter. If they truly value your time, they'll pay to speak with you.
If you want to use Clarity, sign up and do some free calls to get reviews.
The story of how Jared reached out to Seth Godin – he wrote his message on a giant rubber ball with a sharpie marker. Sent it. A week later he got an email. Totally worked! (Didn't work for Oprah though)
Why you don't need to land the "big name guests" all the time
At the time, Jared thought getting high profile guests was the best way to have a successful podcast…but he learned it doesn't have to be that way.
"Stop Chasing Influencers" – Kimanze Constable  and Jared's book.
Lesson from the book – don't get so focused on what the 'big boys' are doing, then lose sight of what you're actually doing in YOUR own business. Learn instead how to become an influencer yourself.
"Having conversations with people who share good stories, who want you to win – those are the people I want on my podcast."
These people are more likely to share your podcast anyway, as they're super proud to be on there! They are honoured to be featured!
Interviewing famous people can be extremely nerve wracking – hear about Jared's 'train wreck' interview with Guy Kawasaki
TIP: Power of the post edit – re-record yourself asking an intelligent question…
How to get people's mailing addresses if you want to send them something cool – check the bottom of their emails if you're on their list!
Links & resources mentioned:
Connect with Jared:
…or simply leave a comment below!
The video I sent to Jared: