This podcast content is for members of The C Method Academy only. The C Method Academy is our monthly members-only training and accountability program. Members get access to exclusive podcast content, Masterclass 'mini courses', Live Coaching Calls and our private community platform. If you want to rapidly develop your confidence, communication and leadership skills, I invite you to join us! Click here to learn more and join The Academy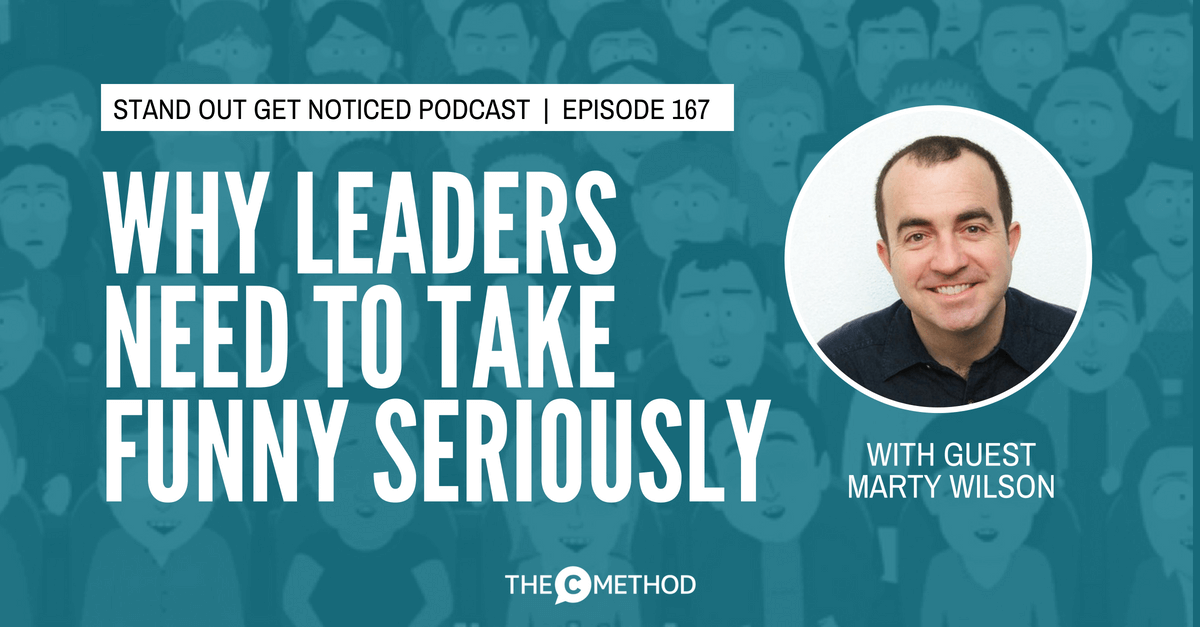 Want an unfair advantage when it comes to creating engagement and influence in your company?
Being funny may very well be your magic sauce! In this podcast, Marty Wilson – professional speaker, 2008 Australian Comic of the Year and author of 'More Funny More Money' – joins us to share why bringing humour into the workplace can make you more effective, engaging and influential as a leader.
(Oh, and if you're already thinking "I'm not funny!", it's ok, you don't need to be naturally funny. As you're about to hear, it's a skill you can learn.)
Marty also shares his top tips on HOW you can bring more funny into your communication, with real examples of what it looks like. And he should know. Apart from being a seasoned stand up comic, one of his specialities is helping people in business to bring more humour and storytelling into their speaking and leadership, and that's exactly what we're talking about today.
Connect with Marty:
Notes from the episode:
Being funny – people think you need to be a natural at it, or it's a dark art, but it's a learnable skill.
People who laugh at themselves, it shows they have good psychological wellbeing.
Engaging – if you can wrap a message in humour or a story, it makes you more engaging, as your brain has to figure it out. It involves all the different memory centres in your brain.
Being humorous builds your credibility – doctors rated with a good sense of humour are more successful.
What types of humour can you use in the workplace?
Best place to start is to tell funny stories. Don't say "I've got a funny story". Ask your friends, spouse, "What are the top 3 funny stories I tell again and again?"
When you tell your own stories, you look more confident, your shoulders go back, you smile more, your eyes light up, which makes you more engaging and believable.
The message you can take from a story is different for everyone. Draw multiple messages from your story.
Why stories are so powerful – your prefrontal cortex quickly decide if they believe or not
Different part of the brain listens to stories, the deeper emotional part, the limbic, listens.
What holds people back from bringing more humour into their communication?
"You can take what you do seriously without taking yourself seriously."
Don't tell jokes, tell stories.
Make fun of yourself as a human being, NOT as your profession.