This podcast content is for members of The C Method Academy only. The C Method Academy is our monthly members-only training and accountability program. Members get access to exclusive podcast content, Masterclass 'mini courses', Live Coaching Calls and our private community platform. If you want to rapidly develop your confidence, communication and leadership skills, I invite you to join us! Click here to learn more and join The Academy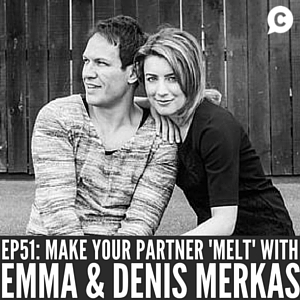 Meet Emma and Denis Merkas, founders of Melt: Massage for Couples, a company that helps couples reconnect and strengthen their relationships through, yep, you guess it: massage.
So far on the podcast, I've focused on building relationships in a business/work context – so I'm excited to be exploring a form of communication specific to your relationship with your partner.
Denis is a massage therapist, and Emma is a relationships expert and writer. As a husband and wife team, they run video courses and live training workshops in Melbourne for couples of all age groups.
You'll learn the saucy story of how their business came to be, what massage does for relationships apart from relaxing tight muscles, how Emma and Denis deal with the challenges of running a business as a married couple, plus much more.
Learn more about their online training and live workshops at couplesmassagecourses.com.
Notes from the episode:
How 'Melt: Massage for Couples' was born
Their clients are people who want to reconnect with their partner, and are looking for new ways to do something nice for each other
The other benefits of couples massage: helps with Post Traumatic Stress Disorder, helps people break down barriers and communicate more.
Great way for couples to find their way back to each other.
Massage is so effective because when done correctly, it's a non sexual touch. It's caring, not threatening. You can get close and intimate with your partner without having to be sexually intimate.
Massage is a form of non verbal communication that builds trust and intimacy.
How the pottery scene from Ghost inspired the 'Melt' massage program
Why Emma and Denis don't want you to try to be a massage therapist
How they maintain a healthy work/life balance, after working together for 8 years
Watch the hot pottery scene with Patrick Swayze and Demi More from Ghost:

ghost pottery scene by m_buciuman