This podcast content is for members of The C Method Academy only. The C Method Academy is our monthly members-only training and accountability program. Members get access to exclusive podcast content, Masterclass 'mini courses', Live Coaching Calls and our private community platform. If you want to rapidly develop your confidence, communication and leadership skills, I invite you to join us! Click here to learn more and join The Academy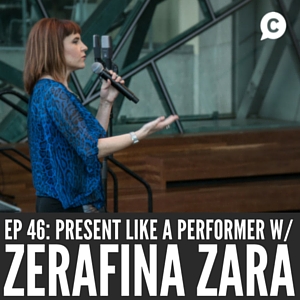 People often tell you to be 'natural' when presenting, but what if you 'naturally' do stuff that looks really weird?
I'm excited to introduce you to my guest this week, communication skills expert, singer/songwriter and holder of the coolest name ever, Zerafina Zara. 
In her training, Zerafina draws on research in the latest neuroscience in communication, movement and education. She has twenty years experience in coaching voice and movement at Universities, with leaders and professional performers in the music and public speaking industries.
Zerafina has coached Grammy and ARIA award winners, and has worked with Mushroom Music and Paul Kelly's band. You know how I like to call people 'rock star'? Well, Zerafina is, quite literally, a ROCK STAR!
She believes that being 'natural' on stage is "overrated", and she explains why in this conversation.
We also talk about non-verbal communication (and what the politicians do wrong), how to confidently move around the stage, how to best improve our speaking effectiveness, plus much more.
"When you communicate better you connect better with other human beings and it makes you have better relationships."
Links we mention:
Connect with Zerafina:
---