This podcast content is for members of The C Method Academy only. The C Method Academy is our monthly members-only training and accountability program. Members get access to exclusive podcast content, Masterclass 'mini courses', Live Coaching Calls and our private community platform. If you want to rapidly develop your confidence, communication and leadership skills, I invite you to join us! Click here to learn more and join The Academy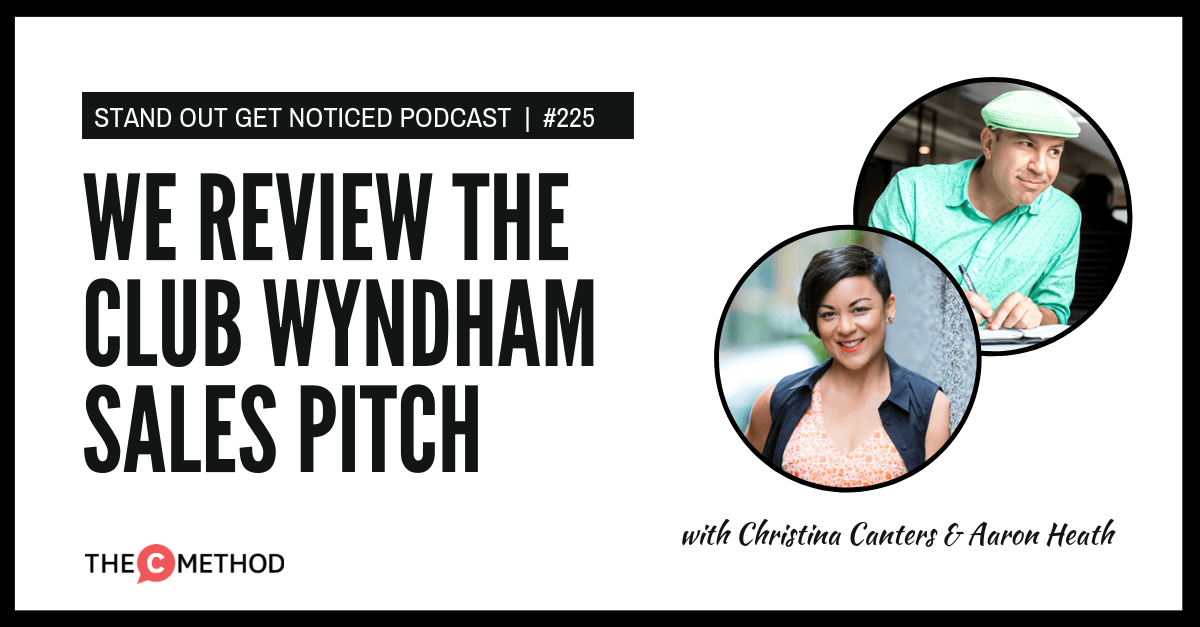 We are in Orlando, Florida for Podcast Movement 2019 (yay!).
And you know what else is in Orlando, Florida?
DISNEYWORLD. Double yay!
With the conference being in the vicinity of the enormous theme park, we decided to arrive in Orlando early to spend a day chasing down Mickey, riding rollercoasters and dodging screaming children. (It is, after all, where dreams come true).
At our nearby hotel, we were offered half price tickets to Disney.
HALF PRICE TICKETS!!? Woo hoo!
But with all good deals, there is always a catch. In this case, the catch was: sit through a 90 minute presentation at the Wyndham Resort to learn about their 'Club Wyndham' timeshare program.
Normally, I'd be like "90 minutes!! My time is worth way more than half a Disney ticket!" BUT, when you're on holiday, your normal rules around time and value go out the window (otherwise you wouldn't possibly spend money to wait for hours in line for a 2 minute ride…)
So the next morning, we arrived at the Wyndham and met our person customer experience manager Michael (we gave him this title, it sounds better than 'sales rep').
After an initial chat, we went into a room with about 30 other people, where we met Mark, who gave a 30 minute presentation on the program.
About 5 minutes into the presentation, I thought 'This would be a great podcast!'
Why? Because Mark was a BRILLIANT presenter. As an observer, the experience was done extraordinarily well, and we were very impressed.
So, Aaron and myself recorded this podcast to share what we thought of the Club Wyndham sales and presentation experience – what they did well, and what we can learn from them.
(Oh, and you're probably wondering – did we buy anything? Listen to the podcast to find out!)