This podcast content is for members of The C Method Academy only. The C Method Academy is our monthly members-only training and accountability program. Members get access to exclusive podcast content, Masterclass 'mini courses', Live Coaching Calls and our private community platform. If you want to rapidly develop your confidence, communication and leadership skills, I invite you to join us! Click here to learn more and join The Academy
So you've worked on becoming a better speaker.
Now you're at a point where you want to go out there and present at conferences, schools, organisations and/or networking events.
All of these are valuable opportunities for you to share your message, get more exposure for your brand, and hey – potentially make money.
But you might be thinking:
How do I get these speaking opportunities? How can I get known as a speaker in my industry? And – here's the big one – how do I get PAID to speak?
To give you some guidance, I'm very excited to have professional speaker, speechwriter and author Peter Billingham on the show.
I first interviewed Peter on my podcast DesignDrawSpeak, back in 2013 – he was the second person I had ever interviewed! Click the link at the end of this post if you want to hear more from Peter, plus how nervous I was as a newbie interviewer 😛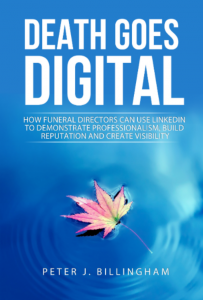 Peter recently launched a new speaking business, 'Death Goes Digital' as a case study to show people how to start a speaking business from scratch.
He wrote a book, 'Death Goes Digital', launched a website, and has been speaking at conferences in the funeral industry all around the UK.
But it hasn't been easy. In this conversation, Peter shares the 5 steps he's taken to start and grow his speaking business, as well as the hurdles he's faced (and currently facing) along the way.
So if you want to build authority in your niche, get more opportunities to speak at events, and get PAID to speak, this episode is for you.
Links mentioned in the episode:
Get in touch with Peter:
One last thing – are you a co-work enthusiast?
I'm speaking at the 'People at Work Summit', an online conference this Friday, 21 April. It's all about co-working and the future of work. If this is your thing, click here to register. Use 'thecmethod' code to get $10 off the registration price. Aww yeah!