This podcast content is for members of The C Method Academy only. The C Method Academy is our monthly members-only training and accountability program. Members get access to exclusive podcast content, Masterclass 'mini courses', Live Coaching Calls and our private community platform. If you want to rapidly develop your confidence, communication and leadership skills, I invite you to join us! Click here to learn more and join The Academy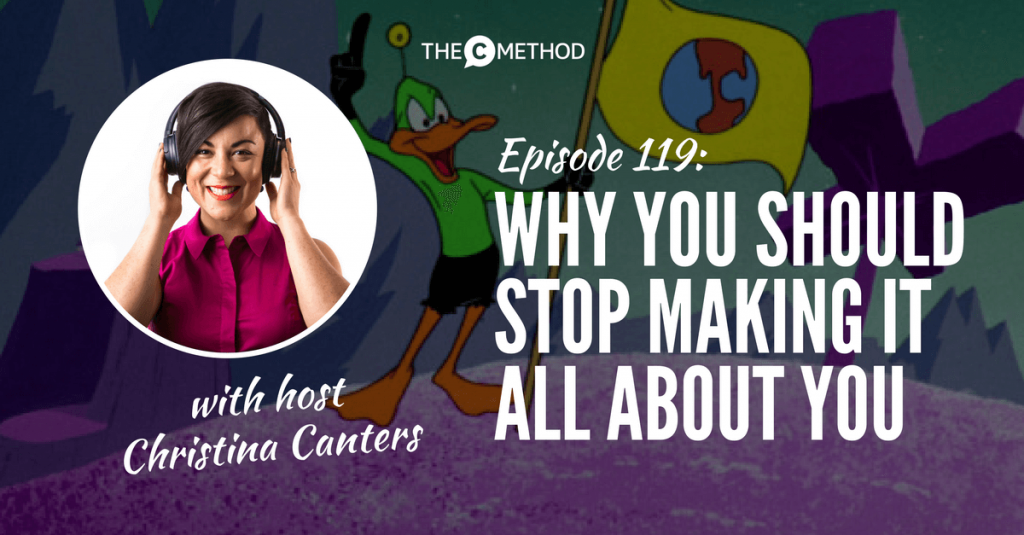 If you want to build unshakeable confidence as a speaker, you've got to stop making it all about YOU.
That's right. Stop it.
I see this all the time in my clients, in other speakers, in people I meet at events, I hear it from podcast listeners, and yes, I see it in myself.
Here's what happens: you go up to present, and these thoughts run through your mind:
I have to perform well
I have to give a perfect presentation
I have to know more than everyone else in the audience
I have to be interesting
…and so on.
What do they all have in common?
They are all about YOU, as in, you the speaker. And I assure you, there is nothing more crippling to your confidence than making it all about you.
Why? When we make it all about ourselves, our presentation become a performance, where WE are the star or the performer, with the sole purpose to 'impress' the audience.
Answer me this: what was the last movie you saw that you didn't like?
I'll tell you mine. It was Alien Covenant (such a terrible movie. There was no joy in that movie. None.)
Now think about — how long did it take to make that movie? How much money did they spend on making that movie?
It was a lot, right? Yet, how quickly were you to dismiss that movie?
Those movie makers tried SO HARD to create something to impress you, yet it STILL didn't work!
In much the same way, when you try to 'put on a show' like some sort of dancing monkey, it's very easy for people to sit back and form their opinions based on your performance. And you're never going to be able to impress everyone. You just can't.
When you make it about your audience, however, they become part of the presentation. They then feel special and valued and included, which makes it impossible for them to hate on you.
Think about a time when you were having a conversation with someone and they really listened and asked you questions and paid attention — you felt pretty special right? Did you think they were stupid or weird or not important? No!
Dale Carnegie, author of How to Win Friends and Influence People, said:
"You can make more friends in two months by becoming interested in other people than you can in two years by trying to get other people interested in you."
It's the same principle with presenting to a group.
How to make your presentation less about YOU, and more about your audience:
1. Stop thinking about yourself as a 'performer'
Instead, think of yourself as a 'facilitator', an 'enabler', or a 'guide'. That way, it makes it more about the 'conversation', or the 'group participation'. You are simply there to guide them through it. Check out Episode 118 on how to think of your presentation as a 'journey' here.
2. Have empathy for your audience
Everyone in your audience has their own issues and baggage. You're not the only one having a hard time! They might be stressed, tired, having a difficult time. So think about your presentation from your audience's perspective. What can you do to make this the best possible experience for them?
3. Shower them with love!
Be excited they are there! They just took time out of your day to come to your presentation! Wow! You should be over the moon. So show them. And when they participate, show them gratitude. Get the room to clap for those who  contribute. Make them feel good about themselves.
4. Ask them what they think
Don't be afraid to ask your audience questions. Get them to raise their hands, talk to each other, share what they learned. If there are experts in the audience, ask their opinions (if the thought of presenting to other experts scares the crap out of you, you may want to check out my 'Overcome Public Speaking Anxiety Course').
5. Be enthusiastic about the message
Take a moment to think about the message of your presentation. What does this message mean for your audience? Why is it important? Arm yourself with the thought that this message is important. YOU just happen to be the person delivering it. And how amazing is that?
I encourage you to implement one thing from this post and see what difference it makes to not only your confidence with speaking, but also your overall effectiveness. If you want to more help with overcoming the anxiety that cripples you before a speech or presentation, join my Overcome Public Speaking Anxiety Course.
Other things mentioned in the podcast:
I'm running a FREE 'Podcasting For Business' workshop at Hub Southern Cross on July 25, 12.30pm. Bring all your podcasting questions! Click here to register.
I'll be speaking at the Podcast Movement conference in Anaheim, LA, August 23-25. Are you a podcasting enthusiast? Haven't got tickets yet? Click here to get them! (NOT an affiliate link)
Want more impact, influence and confidence at work? My 'Confident Leaders' group coaching program may be perfect for you. Next round starts on September 27. Click here to learn more and to apply.