This podcast content is for members of The C Method Academy only. The C Method Academy is our monthly members-only training and accountability program. Members get access to exclusive podcast content, Masterclass 'mini courses', Live Coaching Calls and our private community platform. If you want to rapidly develop your confidence, communication and leadership skills, I invite you to join us! Click here to learn more and join The Academy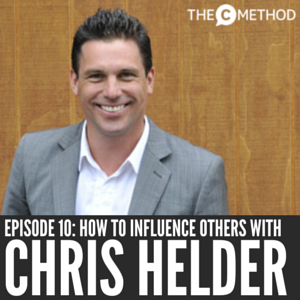 This week I am very excited to be chatting with professional speaker and author Chris Helder.
Chris helps people become better communicators so they can influence others and be more effective at sales and leadership.
He believes that before you can truly influence people, you need to learn how to communicate effectively. See why I wanted him on the show?!
I met with Chris at the Grand Hyatt in Melbourne, where he had just come from delivering a keynote speech. This is what he does, he flies around to different cities delivering keynotes. How cool is that!
We talked about concepts discussed in his book, The Ultimate Book of Influence, including one that he calls the greatest communication tool ever! Yep, that's right. And it's VERY easy to implement.
Listen in to find out more.
Notes from the episode:
Accept a useful belief – the things in the past happen, they were supposed to happen.
Concept of the 'sunset' – a different way of goal setting. It allows us to change our behaviour patterns.
Difference between influence and manipulation
Influence is going into someone's world and ADAPTING to them. It's from a place of appreciation.
We talk about different personality colours, and how to adapt to their world.
FORD principle – greatest communication tool ever!
"Sounds busy" – two words that will help you build rapport. Every time 🙂
How to get someone to share something 'deep' with you – and what to do with it.
Having beliefs that aren't 'useful' overrides our ability to communicate.
People label themselves "I'm no good at small talk" – but is that a useful belief?
Instead say: "I wasn't good, but I'm getting better at it."
As soon as you have this belief, guess what? The behaviour actually follows.
The people who are successful see opportunity (Red Toyota theory)
It's no different with opportunities. Successful people are 'dialled in'. If not, you see all the bad things in the world.
You do things differently when you have a useful belief system.
Energy is a CHOICE. It's a decision.
Concept of: "Act as if". If you could be anyone, who would it be? How would you behave?
Challenge – think about your timeline. What is your sunset? What books are you reading? How are you dressed? Where are you working? Then think about what behaviours you need to implement in order to achieve that.
A video from Chris:
Connect with Chris: