This podcast content is for members of The C Method Academy only. The C Method Academy is our monthly members-only training and accountability program. Members get access to exclusive podcast content, Masterclass 'mini courses', Live Coaching Calls and our private community platform. If you want to rapidly develop your confidence, communication and leadership skills, I invite you to join us! Click here to learn more and join The Academy
When you're in love at work, you're happier. You're more creative, you're more productive, and ultimately, when you're more productive and more passionate, you're more profitable.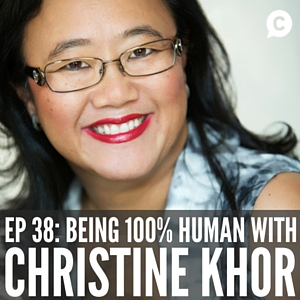 Do you feel like you have permission to be 100% human at work?
Does your boss or do your team members treat you like a human? Or if you are the boss or a manager, do your staff come into work feeling happy, excited, motivated, and free to be themselves?
This concept of being 100% human is something I was very curious to chat about with this week's guest, who, by the way, is a force to be reckoned with!
Christine Khor is a leader in the business world; a passionate entrepreneur who lives for innovation and growth.
Her company, Chorus Executive, specialises in executive recruitment, they also coach and mentor high performing, talented people to help them develop their personal brand and find the right organisation for them.
She is also Chair of the Victorian Development Board of The Hunger Project, an organisation that helps people in poverty stricken countries feed themselves and their families. Remember how I spoke at the Fight for Your Why event? That event raised money for the hunger project, and that's how I met Christine.
The main premise coming out of being 100% human is just accepting that people are people and we can't be robotic and that we have to nurture all the different parts of ourselves.
In this conversation we talk about what Christine learned from her trip to Necker Island with Richard Branson (including what it's like to dance on a bar with the man himself), why it's important to be authentic and 100% human at work, and why it's so valuable to say yes to opportunities, even if there's no money involved. Oh, and I'll also notify you when her book "Hire Love" is released!
I really enjoyed this chat, and I hope you do too!
---
---
Connect with Christine: