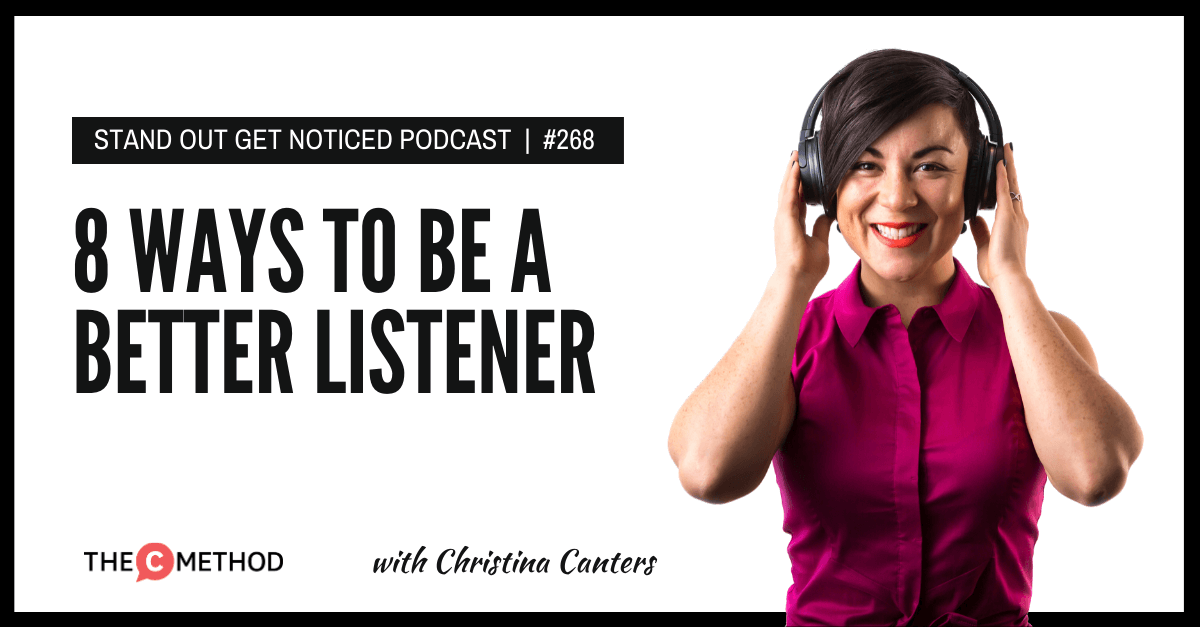 Want to build trust, rapport and confidence with others? You need to be a great listener!
In my opinion, listening is a vastly underrated communication skill. So many clients come to me focused on improving 'what they say' and 'how they say it' – they don't realise, in the words of Steven Covey, that it's best to "seek first to understand, then be understood."
Why is listening important?
It builds rapport and relationships with others
It demonstrates compassion and respect
Your team will trust you more
It helps you to be a better leader, manager and coach
You will resolve issues quicker
…need I say more?
"In times of stress, the best thing we can do for each other is to listen with our ears and our hearts and to be assured that our questions are just as important as our answers."
– Fred Rogers
Listening is a powerful communication skill that anyone can learn – but it takes much more than simply being silent and 'nodding along'.
In this podcast episode, I share 8 simple ways to build your listening skills, no matter what level you're at. Summary is below.
8 Ways To Be A Better Listener
1. Stop making it about you
Instead of listening to others, most people worry about what they are going to say next.
This is making it all about YOU – not the other person (for more on this, listen to my podcast Stop Making It All About You). As soon as you start thinking about yourself, you've stopped listening.
Understand that the value you offer is not always in WHAT you say. Sometimes, you don't HAVE to say anything to add value. Often times, people just need a listening ear.
2. Hold space
This is a nice way of saying STOP INTERRUPTING ALL THE TIME.
This is for the more extroverted people out there – be aware that not all, but many, introverts need silence to gather their thoughts.
As soon as you jump in, they will stop talking and you've just demonstrated you're a terrible listener. Instead, I challenge you to HOLD SPACE for the other person. Avoid lots of "Uh huh", "Yeah", "Oh sure me too!" affirmations. Just shut up and Let. Them. Speak.
3. Listen with your body
"We speak with more than our mouths. We listen with more than our ears."
–    Another Fred Rogers quote (he's the best)
Be aware of what your body communicates when you're listening. Do you tend to look down? Do you absentmindedly doodle in your notebook? Do you slouch back in your chair? Are you (gasp!) checking your Instagram feed? (if so, go sit in the naughty corner RIGHT NOW).
You non verbals make up a GINORMOUS PERCENTAGE of your communication. Some studies say 55%, others say up to 80%. But all you need to know is it's a LOT.
So what can you do? Sit up and lean in. Uncross your arms. Make sure your palms are visible – this indicates you are trustworthy. (For more on this check out the TED talk by Allan Pease below)
4. Fix your resting face
This is similar to Point 3 above – but let's focus on your face for the moment. As we're all doing video calls these days, your face is most prominent on people's screens.
So what does your face do when you're in 'rest' mode? Is it horrendously grumpy? Do you tilt your head to the side and look confused? Is it a blank poker face?
The trick here is to have a 'pleasant' look on your face – relax your jaw and do a little half smile, and SLOWLY nod downwards as the other person is speaking. I learned this technique from the fabulous Louise Mahler.
Someone could be berating you or commending you – but your face stays the same. It doesn't give anything away – but still demonstrates you're listening.
It reminds me of the Penguins from Madagascar – "There's nothing to see here!"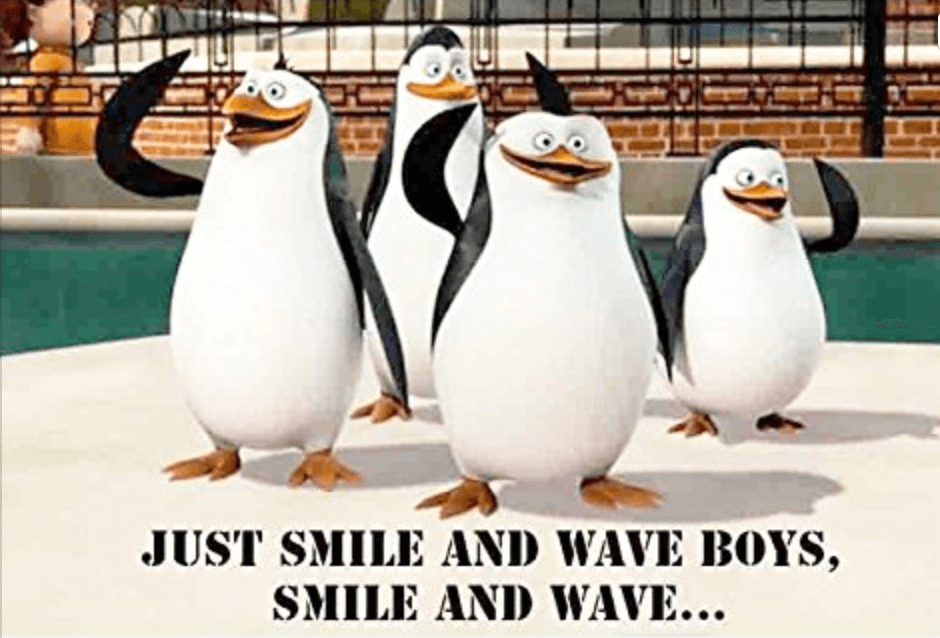 5. Paraphrase
This is brilliant, because you don't need to add anything new. You simply repeat back what they said, to check you have heard correctly.
Once someone has finished speaking, say "Ok, so what I'm hearing is…(repeat what you heard) – is that right?"
Or "So let me make sure I've understood correctly. You want to….(repeat what you heard) – have I missed anything?"
Trust me, it won't sound weird. They won't even notice. All they will notice is how brilliantly you listened.
And it doesn't even matter if your paraphrasing is slightly wrong! They will simply say "Well, it's actually more like…" and they will explain again. But you're still demonstrating that you're seeking to understand their perspective.
6. Validate their feelings
This is MASSIVELY POWERFUL. If a team member comes to you and says "I'm feeling so stressed and overwhelmed…" the worst thing you can say is "Don't be stressed!" or "I don't know why you're so overwhelmed, we went through this yesterday – you already have other people helping you…"
You've essentially told them "I"M NOT LISTENING".
Instead, VALIDATE their feelings. Say: "OK, what is causing you to feel stressed and overwhelmed?"
Or if they explain the situation to you, say: "Oh I can see how that must be really stressful for you." Often times, people just need their feelings to be validated. Your job is not to make them feel LESS stressed, it's to show them you've listened and that you UNDERSTAND where they are coming from.
That is the first step. Once they feel validated, THEN they will be more open to hearing about a solution from you.
Want #7 and #8? Make sure you listen to the episode!