This podcast content is for members of The C Method Academy only. The C Method Academy is our monthly members-only training and accountability program. Members get access to exclusive podcast content, Masterclass 'mini courses', Live Coaching Calls and our private community platform. If you want to rapidly develop your confidence, communication and leadership skills, I invite you to join us! Click here to learn more and join The Academy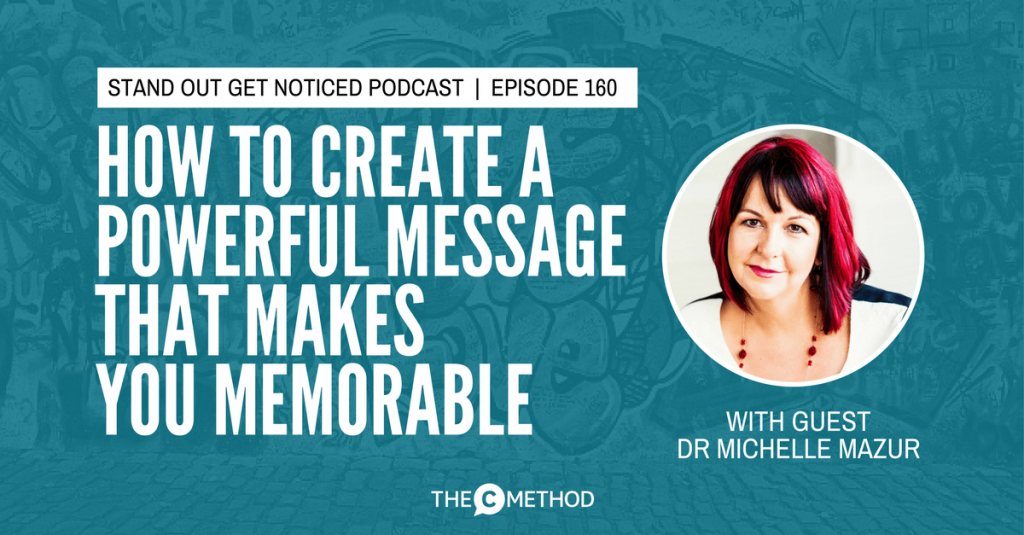 Have you ever watched a speaker and afterwards, completely forgotten what their key message was?
I'm sure it's happened to all of us (yep, even people who have come to my presentations ;)).
Now put yourself in the position of the speaker. You've worked so hard to craft an amazing presentation, you've worked on building your confidence, being engaging and sharing stories…and you can do all of these things well, but if your message doesn't come through, and your presentation doesn't insight ACTION, then, you won't make as powerful an impact as you could.
This is what we're talking about today. And joining me on the show is the very passionate and energetic Dr Michelle Mazur. As the founder of Communication Rebel, she helps her clients find their unique and powerful message, craft their 3 Word Rebellion, create a speech that incites action, as well as create their positioning and pricing.
All her clients have a burning desire to make a difference in the world through speaking, and that is exactly what she helps them to do. She also has an excellent podcast, the Rebel Speaker podcast, so if you enjoy this episode, go subscribe!
In this conversation, Dr Michelle shares why messaging is often overlooked by speakers in favour of delivery, as well as why powerful, effective speaking is so much more than an 'idea worth spreading' (here's looking at you, TED Talks, nudge nudge).
We talk about how to create your 3 Word Rebellion, which is a short phrase that sums up your key message and drives your audience to action. Think catch cries like "Make America Great Again", 'Start With Why' or 'Vote Yes'.
Yep, you can create this for yourself and Michelle takes us step by step through the process. So if you want to make a change in the world and get your message out there, or if you're stuck for ideas as to what your message actually is, then this episode is a must listen. Also get ready for some high energy because both Michelle and I get very excited about this topic!
Connect with Dr Michelle: