This podcast content is for members of The C Method Academy only. The C Method Academy is our monthly members-only training and accountability program. Members get access to exclusive podcast content, Masterclass 'mini courses', Live Coaching Calls and our private community platform. If you want to rapidly develop your confidence, communication and leadership skills, I invite you to join us! Click here to learn more and join The Academy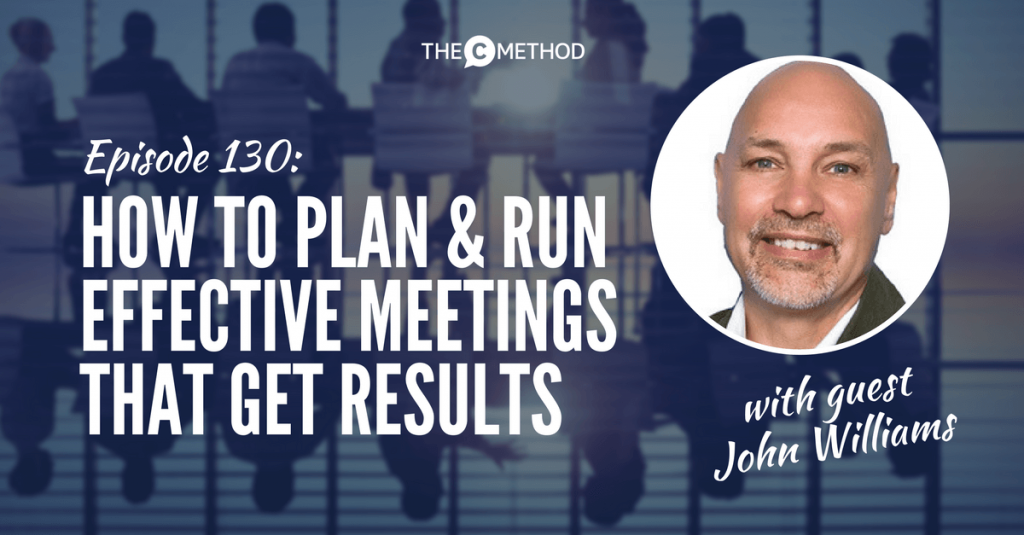 Have you ever been to a meeting where by the end you're thinking: 'What a waste of time! I'm never going to get those two hours back!'?
Or maybe you've run meetings where you felt stressed and unprepared, it ran over time, people rambled on and you lost focus, and you struggled to get the outcome you wanted?
Badly run meetings are a waste of everyone's time. But there IS a way you can make them more effective, useful and productive. And that's what today's episode is all about.
Joining me on the show is John Williams, Director of JHW Pty Ltd, an engagement skills training company. JHW specialises in helping businesses and organisations increase the productivity of their teams through building engagement. In John's words: "Better relationships with our colleagues, clients and stakeholders are not just nice to have, they really add dollars to the bottom line."
Full disclaimer: I helped John set up his own podcast, Engagement Matters, which is on the topic of, you guessed it – engagement skills. I'm his co-host on the show (however John is the main star, of course!), with the goal being to help corporate professionals increase productivity through better engagement. If you get value from this conversation, then definitely check it out.
In this episode, John and I discuss why it's important to plan your meetings, how to do it, and tips for making sure you get the outcomes you want. This can apply to team meetings, job interviews, performance reviews, any sort of meeting you have where are clear result is important.
I never used to plan my meetings, but after I learned this from John, I have found it's helped me a lot, even just with feeling organised and prepared for any difficult questions that may come up. Enjoy!
5 Key Elements of effective meeting preparation:
Objectives – what's the desired end result of the meeting? (Hint: if you can't come up with a clear objective, perhaps there's no need for a meeting at all!)
People – who is going to be there? What is their communication style? This will help determine how you will run the meeting.
Opening Statement – what will you say to open the meeting? Rehearse this line out loud – a strong start to the meeting will get everyone listening and engaged.
Questions – what are the key questions you need to ask in order to achieve the desired objectives?
Objections – what are some potential objections that may come up? It's a great idea to prepare your responses beforehand so you're not caught out on the spot!
Links mentioned in the episode:
Download the JHW Call Plan app (for planning both phone calls and effective meetings)
Listen to the Engagement Skills Podcast in iTunes
Do you want to dramatically increase your influence, impact and confidence at work? Click here to book in a Discovery Call with me; we'll explore whether the 'Confident Leaders' group coaching program is a fit for you. Click here for more info on the program!
Watch: How to save the world from bad meetings: