This podcast content is for members of The C Method Academy only. The C Method Academy is our monthly members-only training and accountability program. Members get access to exclusive podcast content, Masterclass 'mini courses', Live Coaching Calls and our private community platform. If you want to rapidly develop your confidence, communication and leadership skills, I invite you to join us! Click here to learn more and join The Academy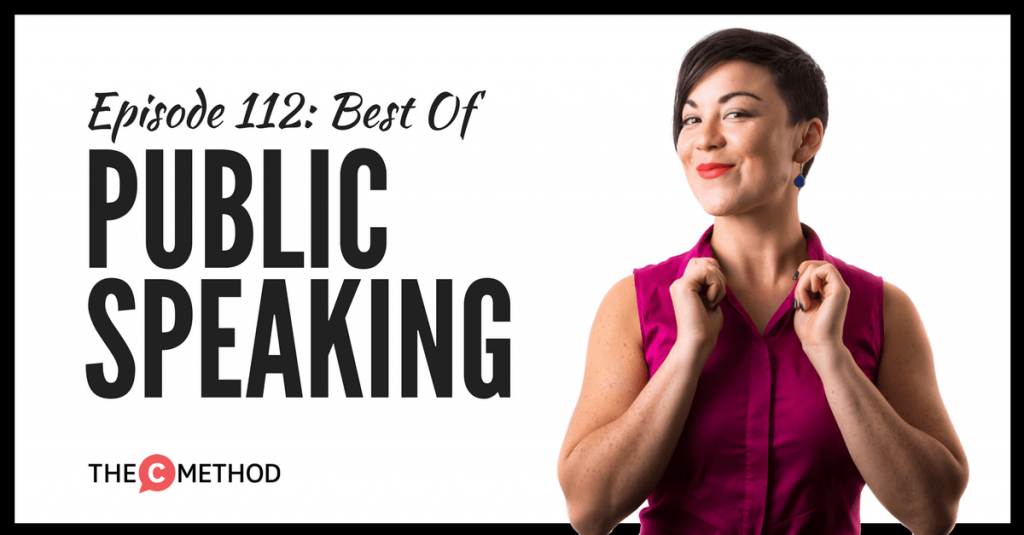 FACT: Public speaking is one of the most effective ways to increase your influence, credibility and success at work.
But what if your nerves and anxiety get the better of you when you're standing in front of a group? What if every time you get up to speak, your heart starts to race, your breath shortens and you feel like the whole world is spinning?
You rattle off some words, the whole thing becomes a blur, and as you sit down you think 'What the hell did I just say?!'
The good news is: you can learn to become a better speaker.
In the resources below, you'll discover how to:
Effectively plan and write a clear and compelling presentation
Reduce your nerves, anxiety and stress around speaking
Feel confident and prepared for any speaking situation
Speak with conviction and authority
The results? You'll have:
Dramatically increased self confidence when presenting
Higher levels of perceived authenticity, personal presence and credibility
Stronger levels of integrity and trust with your audience
Increased ability to sell your and/or your company's ideas
Better team moral as a result of your strong leadership
Ready to take your speaking skills to the next level?
Get started now with these resources:
>> Steal my simple speech and presentation-writing template (free download)
>> How to write a compelling speech or presentation (Public Speaking Mini Course)
>> Overcome Public Speaking Anxiety (course)
>> 9 ways to speak with more authority

>> How to give a speech that 'moves'  (interview with Sally Koering-Zimney)

>> How to handle Q&A like a ninja
>> Storytelling with Hugh Culver
>> Present like a Performer (with Zerafina Zara)
>> Pitching, Performance and Taking Yourself Seriously (with Marcu West)
>> Make Masterful Mistakes (with Nathalie Brewer)