This podcast content is for members of The C Method Academy only. The C Method Academy is our monthly members-only training and accountability program. Members get access to exclusive podcast content, Masterclass 'mini courses', Live Coaching Calls and our private community platform. If you want to rapidly develop your confidence, communication and leadership skills, I invite you to join us! Click here to learn more and join The Academy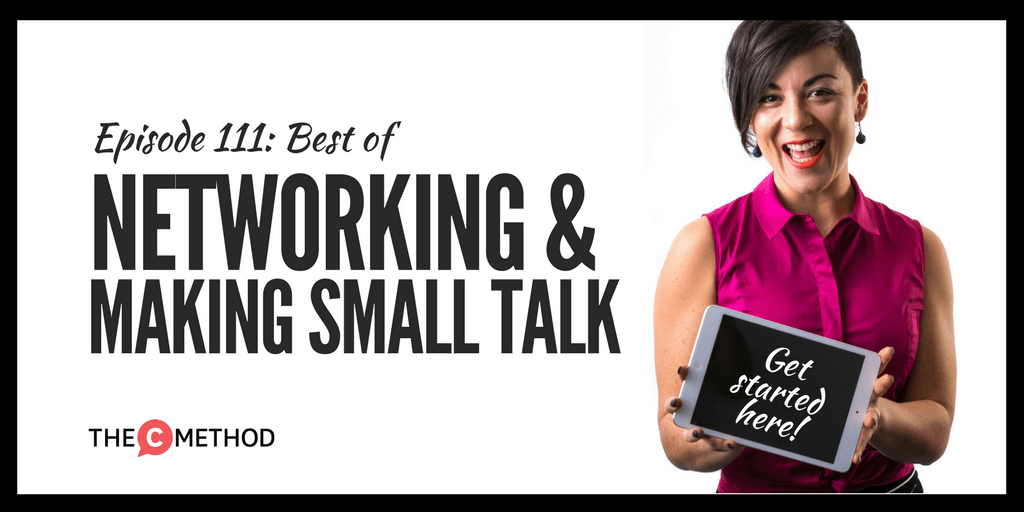 Do you dislike the idea of networking, but know it's important to the development of your career or business?
Maybe you don't see the point in making small talk. Or you 'freeze up' when asked to introduce yourself. Or you simply get nervous approaching people.
It's ok, we've all been there! (Yes, even me, the raging extrovert.)
But I've learned to love going to networking events. After all, you never know who you're going to meet. Do it properly, and you could potentially find yourself with a new job opportunity, valuable connection, or hey, even an awesome new friend.
Unfortunately, 'networking' has gotten a bad rap due to people not being able to do it well. I've seen people push their way into a group, say "Hi I'm Mike, and I do web development, here's my card!" and then walk away. Uh, what?
So I've made it my mission to help talented, ambitious professionals like you improve their conversation and networking skills. Yes, these are skills you can learn. And yes, it will take a bit of getting out of your comfort zone, but, that's where the magic happens, right?
In this episode, I give you an introduction to the topic of networking and small talk, and I share excerpts from some of the most popular (and my favourite) related episodes. If you're a new listeners, this is a great starting point for you, and if you're a regular listener, it will be a great refresher!
If you can implement what you learn and build your skills with networking, you'll have:
Dramatically increased self confidence in networking and social situations
Lowered levels of stress and anxiety when speaking with people
The ability to introduce yourself and explain what you 'do' with assertiveness and ease
The skills and confidence to strike up conversations with anyone
More opportunities, clients and referrals
Get started with these 'best of' episodes and resources:
>> Download the free template: 'Construct Your Personal Pitch'
>> Grab The Confidence Blueprint training program
>> How to suck less at explaining what you do
>> Networking, Habits & Productivity for Creative Introverts (with Cat Rose)
>> How To Not Be Awkward In Social Situations (with Prescott Perez-Fox)
>> Lessons From Networking at Major Conferences (with Kimberley Rich)
>> How to approach people and have incredible conversations(with Andrew Lovick)
>> The Ultimate Tools for Influencing Others(with Chris Helder)
>> Overcoming Shyness (An Introvert's Perspective) (with Chad Bostick)
Share this with your network! Simply click the icons below: